8 Drops You Don't Want to Miss This Week
Featuring Supreme, Takashi Murakami, KAPITAL, Y-3, NUMBER (N)INE and more.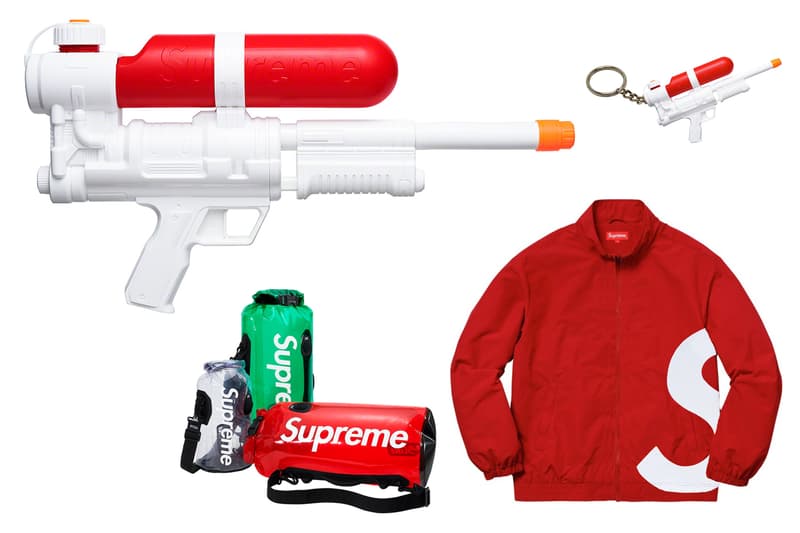 With another week, we have another installment of our product drops series this time marked by Supreme's Spring/Summer 2019 Week 17 release. This week's drop is led by a previously unseen S Logo Track Jacket, Super Soaker 50 Water Blaster and matching Super Soaker Keychain. Aside from Supreme's Week 17 Drop, this week we have an impressive array of special releases, collaborations and accessory launches that make up a selection of must-have street staples.
Standout collaborations this week come from Marni and PORTER, American artist Mark Bode and HUF along with a powerhouse team-up from GOD SELECTION XXX and NUMBER (N)INE. We also have a selection of Matt McCormick's One of These Days SS19 capsule, KAPITAL's residency at 180 The Store in New York and Y-3 Fall/Winter 2019 collection. Finally, we have a selection of limited merch from Takashi Murakami tied to our HYPEBEAST Magazine Issue 25.
Key items this week include Supreme's Super Soaker 50 Water Blaster, the HYPEBEAST Magazine Issue 25 limited Murakami merch, GOD SELECTION XXX x NUMBER (N)INE T-shirts and Mark Bode x HUF Painter's Jackets.
HYPEBEAST Magazine Issue 25: Limited Murakami Merch
To celebrate the 25th edition of HYPEBEAST Magazine, we have put together a selection of limited edition items to accompany the "Mania" issue. Designed by Takashi Murakami, the merch celebrates the thematic artwork with evocative posters, folders, notebooks, postcards and phone cases.
The commemorative drops continue for the 25th edition of HYPEBEAST Magazine. Tying in with our special "Mania" issue, designed by and featuring Takashi Murakami, we have an exclusive array of limited goods that highlight the thematic artworks created by the celebrated artist.
When: Now
Where: HBX
Matt McCormick's One of These Days Spring/Summer 2019 Capsule
LA-based multimedia artist Matt McCormick has put together a new selection of apparel for his label, One of These Days
Embellished with his signature motifs, inspiration from Western Americana and the human experience dress an array of garment-dyed long-sleeve T-shirts, custom dyed fleece sweaters, and short-sleeve T-shirts. Inline with his original works an array of minimalist collaging, illustrations of cowboys, and photoreal graphics of natural phenomena can be found throughout the capsule.
When: Now
Where: One of These Days & Dover Street Market NY, LA
Marni x PORTER 2019 Bag Capsule
Back with another collaboration, PORTER has teamed up with Marni on a concise assortment of padded satchels, shoulder bags, double-sided tote bags, backpacks, pouches and crossbody messengers.
Centered around premium nylon constructions, color blocking with panels of burgundy, olive, brown, navy and yellow serve as the main design point of the team up. Hits of gold zippers detail the bags, complete with leather pulls and ballistic shoulder straps.
When: Now
Where: Isetan
KAPITAL Residency at 180 The Store Capsule
KAPITAL is making its American debut with New York retailer 180 The Store, with selection complete with one-off goods.
Establishing a residency, the Japanese label has crafted reversible kimono jackets, printed T-shirts and bespoke denim from KAPITAL's hand-worked Kountry sub-label and specialized accessories to the Tribeca-based boutique. KAPITAL's iconic bandana patterns, distorted smiley faces and angry felines are found throughout the special collection.
When: Now
Where: 180 The Store
Y-3 Fall/Winter 2019 Collection
Y-3 has returned with an incisive Fall/Winter 2019 collection, comprised of archive pieces from both labels adidas Originals and Yohji Yamamoto. Pulling from garments from the '70s all the way to the '90s, Yamamoto's design language is enhanced with adidas technology.
Functionality is added to unique silhouettes that come in the form of varsity-inspired shirts, baseball shirts with "YOHJI" insignia, coach jackets, long track jackets, nylon pants and muted parkas, Accompanying footwear include the Y-3 Yuben Low that takes cues from '70s low-top courts and Y-3 Kaiwa done in a stealthy in a triple-black colorway.
When: June 20
Where: y-3.com
Mark Bode x HUF Capsule
HUF has teamed up with Mark Bodé on a capsule collection centered around the American artist's original illustrations. Emblazoned across jackets, T-shirts, skate decks and accessories, the trippy comics express an array of colorful graphics.
T-shirts and fleeces are emblazoned with graffiti-style and psychedelic drawings, while hoodies, hats and socks have all been printed with the unique graphics and stylized "HUF" logos. But the real standout has to be the 12 limited-edition canvas Painter's Jackets marked with custom hand-painted artwork. Finally, small branded trinkets like keychains and sticker packs round up the collaboration.
When: June 20
Where: HUF
GOD SELECTION XXX x NUMBER (N)INE Capsule
GOD SELECTION XXX is now gearing up for a collaboration with iconic Japanese fashion label NUMBER (N)INE.
The T-shirts that will lead the collab come emblazoned with a mashup between NUMBER (N)INE's classic Rolling Stones-inspired tongue motif and the "XXX" censor marking. The back of the shirt will be decorated with 13 phrases done in varying sizes of text that reference the enigmatic views establish by former design head Takahiro Miyashita. The same pierced "tongue and lip" logo appears on a selection of trucker hats.
When: June 22
Where: god-selection-xxx.com, n-nine-store.com
Supreme Spring/Summer 2019 Collection Drop 17
Continuing with the deliveries of its SS19 collection, Supreme is back with Drop 17 of its release series. Although this week we don't have any major special collaborations, according to Supreme Community the New York label is dropping a previously unseen S Logo Track Jacket and Super Soaker Keychain.
The aforementioned S Logo Track Jacket, matching polo and shorts leads Week 17 of Supreme's SS19 releases. The accompanying range also features Castelli Cycling Jerseys and Cap along with a rhinestone decorated Basketball Jersey Set. This week's accessories come in the form of a Supreme marked Super Soaker 50 Water Blaster, matching keychain and SeaLine Discovery Dry Bags.
When: June 20
Where: Supreme Online & Retail Stores in NY, Brooklyn, London, France & Japan