Is a Potential Taylor Swift and Drake Collaboration in the Works?
Deciphering a recent magazine photo.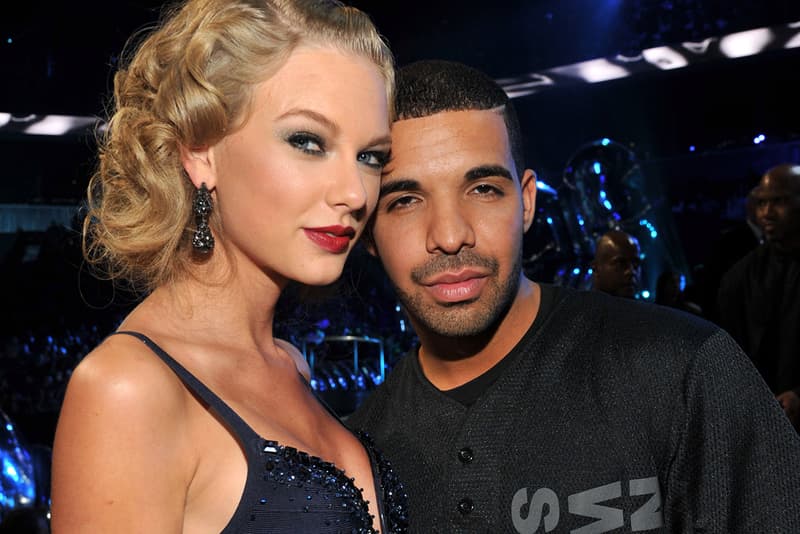 Some fans are speculating about a Taylor Swift and Drake collaboration on its way. The evidence seems pretty convincing after Swift disclosed a few comments with Entertainment Weekly on her new album and how certain artists have been responsible for inspiring much of her sound.
Swift, who appeared on the cover of the aforementioned publication, was photoed in a denim jacket which held a large collection of pins, each referencing artists. Among them are two pins placed next to each other: A scene of Drake from his "Hotline Bling" video and another pin that reads "Track 5." Some have speculated that this juxtaposition is no coincidence and alludes at a potential upcoming project between the two superstar artists. Another hint might be in some comments made by Swift, mentioning "I love that [fans] like the cryptic hint-dropping…Because as long as they like it, I'll keep doing it. It's fun. It feels mischievous and playful." She then goes on to quote some of her favorite lyrics from the rapper while expressing her appreciation for his punchy one-liners.
Scroll below to see a few images recently posted on community fan accounts and stay tuned for more details on the speculated collaboration.
Track 5 features drake??? pic.twitter.com/9WzwNKsMfe

— Taylor Swift Belongs with ME! (@tellmewhy_ts13) May 9, 2019
List of pins was featured on Taylor Swift's EW cover:

• Selena Gomez
• Olivia and Meredith
• Dixie Chicks
• CATS
• CALM
• AWESOME
• FRIENDS
• Daenerys Targaryen and Dracarys
• Sansa Stark
• Arya Stark
• Drake
• Track 5
• I tried
• Dun Dun
• 7 hearts pic.twitter.com/6iABD32kba

— Taylor Swift Facts (@blessedswifty) May 9, 2019
In case you missed it, check out SmokePurpp's new cuts from his revamped album Lost Planet 2.0.