The Best Things to Do in the UK This Weekend and Beyond
All the music, food and fashion you can handle from May 10-16.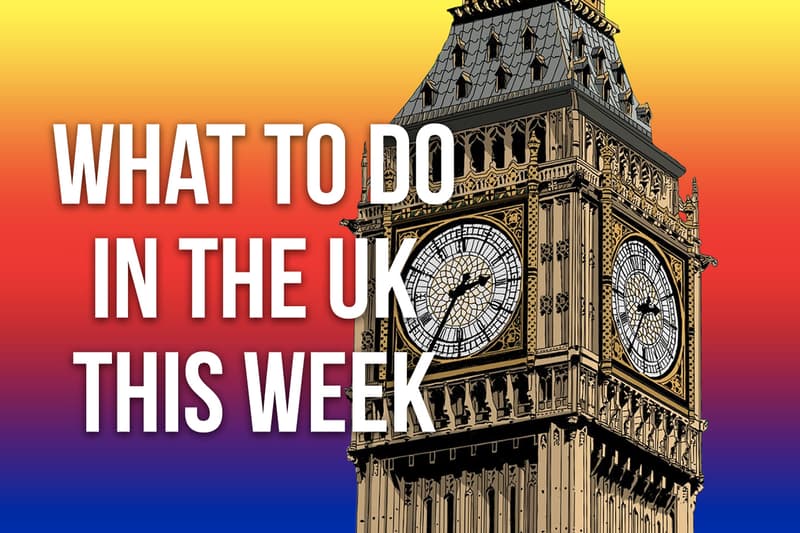 At a loose end for happenings in the UK for the next week? HYPEBEAST has plenty of options for you. There's more than enough happening this week, with a plethora of new art gallery openings, while Wu-Tang Clan make their way to Manchester alongside a host of legends.
There's also more than enough restaurants and exhibitions to visit while you're in the city. So without further ado, here's a list of happenings on the weekend of May 10 and beyond.
Music & Nightlife
Gods Of Rap Feat: Wu-Tang Clan, Public Enemy, De La Soul, DJ Premier
Where: Manchester Arena
When: May 11, 7:30pm
Gods of Rap is the latest tour and combines a host of classic names for an extravaganza set. Fans of old-school hip hop will rejoice at the thought of De La Soul, Wu-Tang Clan, Public Enemy and DJ Premier all in one space, rolling through a plethora of their many hits.
Where: Jazz Cafe
When: May 14, 7pm
Abstract Orchestra are the 16-piece band from Leeds and its making its way to the Jazz Cafe to celebrate MF DOOM's Operation Doomsday, which turns 20 years old. The band will also run through hits from the cult rappers extensive back catalogue.
Food
Where: 187 Wardour St, Soho, London W1F 8ZB
When: May 14
CHIK'N is made by the team behind Chick n' Sours and it will be turning up in Soho. The restaurant will continue the mission of the founders, to "create the best fried chicken sandwich in the f**king world." The menu includes the likes of the Cali Hot Chik sandwich, made with Guacamole, Chipolte Mayo, Spicy Shake, Lettuce, Cheese and the Gangam Style sandwich, made with Korean Glaze, Cheese, Lettuce, Sriracha Sour-Cream, Kimchi.
Where: Coal Drops Yard, Stable Street, London, N1C 4AB
When: May 10
Parrilian is Barrafina's latest addition, a DIY outside grill. You'll be able to create your own food using ingredients from the restaurant. And, if you're not into making your own food, you can order some of the ready-made goods.
Where: 34th Floor, West Tower, Brook St, Liverpool, L3 9PJ
One of Liverpool's most popular restaurants, Panoramic 34 makes the most of its sky-high views. Sample menu items include the likes of Butter Poached Trout and Braised Oxtail Lasagne.
Art & Cinema
Where: 27 Bell Street & 67 Lisson Street, NW1 5DA, London, UK
When: May 15 – June 22
Anish Kapoor's long standing relationship with Lisson Gallery continues with his seventeenth show there. This new collection of works focuses on combining the two directions of his practice. In addition to his sculpture work, there's a host of works on canvas.
Where: 34-35 New Bond Street, W1A 2AA, London
When: May 11-13
Sotheby's is launching an auction of Fine Japanese Art and to mark the occasion, the auction house will host a short exhibition of the works due to go on sale. The goods were created between the 16th and 20th century and comprise of pieces from European, Asian and American private collections.
Frank Bowling: More Land Than Landscape
Where: Hales Gallery, Tea Building, 7 Bethnal Green Road, E1 6LA, London
When: May 10 – June 22
More Land than Landscape is the latest solo exhibition of Frank Bowling's most recent paintings. Coinciding with a major retrospective of his work in Tate Britain, this exhibition focuses on his newer work — an ideal digestif for those who've already taken in the larger show.
Convergence: Recent works by Susan Schwalb and Caroline Kryzecki
Where: Patrick Heide Contemporary Art, 11 Church Street, NW8 8EE, London, UK
When: Until June 1
Susan Schwalb and Caroline Kryzecki  have joined forces for Convergence, the latest exhibition at Patrick Heide Contemporary Art Gallery. Kryzecki solely uses ballpoint pen for her art while Schwalb works with a metal stylus and silverpoint on gesso. The resulting work aims to "respond to their environments with a completely abstract language in remarkable ways."
Fashion and Shopping
YMC, Folk and Oliver Spencer Sample Sale
Where: 2 Chance Street, London, E1 6JT
When: May 10 – May 12
YMC, Folk and Oliver Spencer join forces once more for a blockbuster sample sale. Expect 70% off recent season goods and to be able to stock up on your wardrobe before the start of summer.
Where: Protein Studios, 31 New Inn Yard, London, EC2A 3EY
When: May 10
Whistles sample sale finishes up today and you can still expect to find a host of menswear goods on sample, marked down to very affordable prices.