UPDATE: Virgil Abloh Responds to Criticism Regarding Off-White™'s Lack of Employee Diversity
Social media had some things to say about the brand's recent staff party.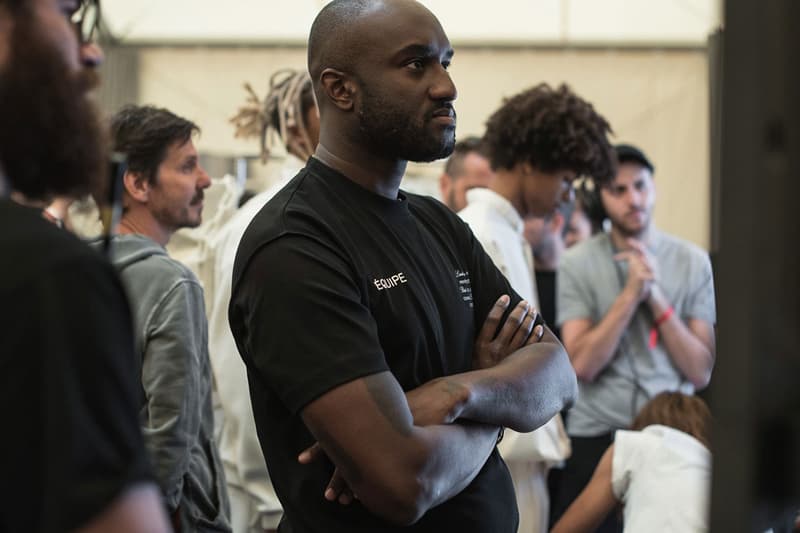 UPDATE (May 3, 2019):  We've recently reached out to Virgil and the designer's rep has provided the following quote from him:
My design team is diverse as the world is big. The video shown was an Off-White ™ dinner at the headquarters in the city of Milan, Italy. This party was to celebrate the hard work of the local Italian team.
Additionally, Off-White ™'s rep also provided the following:
"When questioned about diversity, Virgil Abloh takes pride in being African and American. His design team is diverse, and his practice has been built on making the art and design industry an inclusive community. Fellow designers like Samuel Ross, Heron Preston, No Vacancy Inn – by Tremaine Emory and Acyde Odunlami, Everard Best, Photographer Fabien Montique, amongst many others have been given a platform via Off-White ™. These are just a few of the many global voices and people sitting at the table and helping evolve the brand. Off-White ™ is a black founded and owned business."

"He wishes to use this moment of being questioned to be a moment of reflection within the industry to showcase the talents behind their design entities and push to have a design community that represents the outside world."
Virgil Abloh has also responded to the diversity criticism by adding photos of his friends, members of his team and other creatives he's worked with to prove how diverse Off-White ™ truly is. Additionally, Abloh has also teased his upcoming Off-White x Nike campaign starring South African middle-distance runner and 2016 Olympic gold medalist Caster Semenya.
---
As Fashionista notes, Virgil Abloh is once again in hot water. After defending his Michael Jackson designs for Louis Vuitton, the designer has again stirred up controversy, this time for a series of Instagram Stories taken at an Off-White™ event in Milan.
Abloh's Instagram posts showed various members of Off-White™'s Italian design team. Though Abloh was celebrating the talent of his staff — describing the art directors as a "crazy crazy talented crew of kids" — social media users were quick to point out the lack of employee diversity at Off-White™. Despite a bevy of shots showing a room packed with people, critics immediately singled out the lack of black staff members.
Widespread denunciation is rather uncommon for the Off-White™ CEO, as Abloh's work at Louis Vuitton has received accolades for its inclusive influences and progressive campaign imagery. Though the designer has faced dismissive outcries before, flak for lacking diversity is unusual for Abloh.
The disparagement has even spread to Off-White™'s Instagram, with users commenting on unrelated posts calling out the racially homogenous staff.
A rep for Off-White™'s PR declined to officially comment, asserting that Abloh's Stories showed a mere fraction of the 136 design team members. Check out the images that Abloh took via the Tweets and Twitter reactions below. Off-White™'s management company, Davide De Giglio's New Guards Group, is most likely responsible for the brand's hires — it has not released a statement.
virgil abloh instagram story last night, sharing the team of people that work behind off-white do we notice anything in particular? pic.twitter.com/EVXupnqBOn

— nabel namsö (@nabelnamso) May 1, 2019
Not gonna lie I thought @virgilabloh would have some black people working with him but I'm not surprised pic.twitter.com/TLqb0CEbLb

— lil shorty bulgogi (@wsupden) April 30, 2019
This Virgil Abloh hot take with him having an all white staff is an interesting conversation that is so layered but much needed.

— ya gurl ~ (@Ahkamun) May 2, 2019
Me watching everyone come to the realization that Virgil is indeed not bringing diversity into the spaces he occupies in the luxury landscape because I warned y'all about this over a year ago: pic.twitter.com/vZ7h4mSCe7

— Shelby Ivey Christie (@bronze_bombSHEL) May 1, 2019
Not surprised by this AT ALL (because Kanye and Luka are the only black people he knows ??‍♂️) but it does disgust me… like not one black face, no kids from "Chicago" pic.twitter.com/PTMQatiHpQ

— Shelton Boyd (@flyrebel) May 1, 2019
Mr. @virgilabloh, more diversity, NOW!

— jonathanc__ (@ayewhatsupjon_) May 2, 2019
Virgil Abloh = scam likely.

He legit couldn't find one black male/female with technical fashion design exp/knowledge…surely someone from FAMU, Howard, Grambling could've been a creative asset to the team. Black ppl were so proud and supportive during your launch Bro Smh!

— Faye (@JessSports) May 2, 2019
Virgil Abloh's team mainly being compromised of white creatives makes me think about all the majority white filled offices I've ever interviewed in for a technical design job and feeling superbly intimidated from jump.

— TM. (@Bahz1r) May 1, 2019
Mr. @virgilabloh, more diversity, NOW!

— jonathanc__ (@ayewhatsupjon_) May 2, 2019
All of Off White's art directors & design team is 100% WHITE. " Diversity ".

— The NBA is boring. (@TweetsFromMike) May 2, 2019
Why are y'all surprised that the label Off-White, which is owned by an White Italian fashion conglomerate by the way, lacks racial and ethnic diversity. https://t.co/Q0gEJC3Rr0

— Nipsey the Great | The Marathon Continues!™ (@KwameOlajuwon) May 1, 2019
@virgilabloh literally make clothes for super rich yt kids, not surprised. He uses black people as decorations for his product. He isn't interested in actually doing this *for* black people, no wonder he doesn't hire them https://t.co/xYFvxA3wbz

— Milli (@illimillim) May 1, 2019
Join Our Discussions on Discord
The HYPEBEAST Discord Server is a community where conversations on cultural topics can be taken further.