These Are the Must-See Movies and TV Shows Premiering in November
Disney+ and Apple TV+ butt heads for supremacy.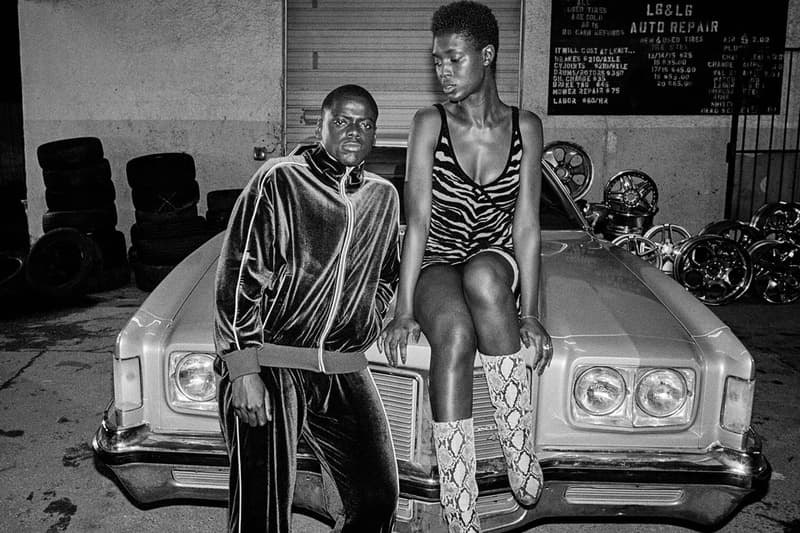 The streaming wars are really heating up in November, as mega entities Apple and Disney swoop into the market at the eleventh hour to get a piece of the pie Netflix has been nibbling on all decade long. Apple is taking the prestigious route by premiering high-concept show For All Mankind, the ensemble-led Morning Show, and grabbing Jason Momoa hot off the billion-dollar Aquaman for a new series called See. Meanwhile, Disney is keeping it family-friendly with its back catalog of classic films and shows alongside its first live-action Star Wars series, The Mandalorian.
Speaking of Netflix, they're keeping it lowkey this month in terms of quantity, but its premiere of Martin Scorsese's The Irishman may steal the thunder from both competing premiering streaming services this month.
Check out the list below, ranging from some of the must-see releases to the more under-the-radar films and TV shows to look forward to in November.
Movies
The Irishman (November 1 theatrical/November 27 digital, Netflix)
Robert De Niro, Al Pacino and Joe Pesci star in Martin Scorsese's The Irishman, an epic saga of organized crime in post-war America told through the eyes of World War II veteran Frank Sheeran, a hustler and hitman who worked alongside some of the most notorious figures of the 20th century. Spanning decades, the film chronicles one of the greatest unsolved mysteries in American history, the disappearance of legendary union boss Jimmy Hoffa, and offers a monumental journey through the hidden corridors of organized crime: its inner workings, rivalries, and connections to mainstream politics.
Why it's worth your time: After decades of accepting these three gangster movie icons would never appear in a film together again, we have been gifted by the cinema gods, and with Marty Scorsese as director, no less. It's a beautiful time to be a film fan, and this three-and-a-half-hour long epic is expected to be a masterpiece. Early reviews call the film Scorsese's finest work in 30 years.
Doctor Sleep (November 8)
This Stephen King adaptation and sequel of the critically acclaimed story The Shining focuses on Ewan McGregor as an adult Danny who's taken on his father's issues of pent-up rage and excessive drinking that dulls his memories and "shining" abilities.
When he decides to use his abilities to help dying people at a hospice, he immediately forms a connection with a patient who shares his "shining" capacity. They both soon learn a quasi-immortal group of people sustain their lives by inhaling the "steam" that comes off of people who shine when they're dying painfully.
Why it's worth your time: Despite the fact that most of its promotional footage showcases remade shots from The Shinning and that Stanley Kubrick is probably rolling in his grave as a result, director Mike Flanagan has proven his merit with Stephen King adaptations in Netflix's Gerald's Game. Also, that Haunting of Hill House series everyone seems to love came from Flanagan as well. So while it may prove disheartening to see this classic film become a franchise, know that its director is one of the greatest minds in contemporary horror and that he may surprise you.
Honey Boy (November 8)
The film is written by, stars, and follows actor Shia LaBeouf's life as he goes from a child star into adulthood, filtered through the lens of fictionalized characters. As seen in the teaser, LaBeouf plays his own father, complete with a receding hairline and sideburns, while Noah Jupe and Lucas Hedges play versions of LaBeouf as a kid and a young adult.
Why it's worth your time: The film will follow LaBeouf through the years during most of his controversial moments, like when he got arrested for public drunkenness in 2017, and his tumultuous relationship with his dad. His own parents have stated the film is tough to watch, as the 33-year-old wrote the movie as part of his rehabilitation program and is titled after his childhood nickname. Nonetheless, the film gives fans hope that the talented actor will regain prominence in Hollywood following its launch.
Ford v Ferrari (November 16)
Centered around the storied rivalry between Ford Motor Company and Enzo Ferrari, the movie chronicles the remarkable true story of American car designer Carroll Shelby (Matt Damon) and British-born driver Ken Miles (Christian Bale). Bale and Damon will highlight the corporate interference, the laws of physics, and Shelby and Miles' own personal demons they had to overcome to create the Ford GT40 Mk.II.
Why it's worth your time: If you're a car guy and expect the folks playing these icons to be like you, our interview with co-star Jon Bernthal may tank those expectations since he revealed none of the cast are into cars. What they are into, and what will make this film accessible, is the human story being told about Shelby and Miles' inner conflicts and how these companies have become staples in the pop culture lexicon as a result of their shady corporate dealings.
The Lodge (November 16)
Trapped inside a cabin by a fierce blizzard, two children and their future stepmother must fight for their lives against an unseen evil force.
Why it's worth your time: This is one of those atmospheric slow-burn horror movies that a lot of our commentators seem to take issue with. So go into this one knowing this is more about the slow-build and ratcheted up tension than it is about producing a formulaic, loud jump-scare every few minutes to remind audiences they're watching a scary movie.
21 Bridges (November 22)
The gritty action cop drama focuses on Chadwick Boseman as an NYPD officer out to capture a band of murderers who set up half a dozen cops to be killed. The footage above showcases Boseman in New York arriving on a crime scene with eight fatally wounded cops. When it's implied the situation may have been a set-up, Boseman orders the island of Manhattan be shut down in order for him to catch the perpetrators.
Why it's worth your time: The Russo Brothers, who wrote this film, aren't merely trying to re-create the landscape of cop drama action movies here. It actually feels like a throwback to the heyday of that genre, where pulpy lines like the ones spewed all over the trailer above aren't ashamed to be uttered.
A Beautiful Day in the Neighborhood (November 22)
After a jaded magazine writer (Emmy-winner Matthew Rhys) is assigned a profile of Fred Rogers (Tom Hanks), he overcomes his skepticism of the famed TV host, learning about empathy, kindness, and decency from America's most beloved neighbor.
Why it's worth your time: Tom Hanks has long since been branded as America's dad and here he's portraying the most wholesome personality television has had to offer. And in 2019, Mr. Rogers remains the one beacon of light to remind us of all the decency this world has to offer. We hope this film honors the man to the best of its ability.
Knives Out (November 27)
The film features Daniel Craig as a suave southern detective named Benoit Blanc attempting to interrogating members of a rich family who may have murdered its patriarch. After crime novelist Harlan Thrombey (Christopher Plummer) dies following his 85th birthday, Blanc and his partner, Troy Archer (Lakeith Stanfield), suspect his rich and snobby family may have had something to do with it.
Why it's worth your time: The film has already generated positive buzz coming out of Toronto International Film Festival, and currently holds at 98% on Rotten Tomatoes. According to Entertainment Weekly, the film is "a silly, stabby, supremely clever whodunnit that only really suffers from having too little room for each of its talented players to fully register in the film's limited run time."
Queen & Slim (November 27)
On an otherwise unremarkable first date in Ohio, the titular characters (played by Jodie Turner-Smith and Daniel Kaluuya, respectively) are pulled over for a minor traffic infraction. The situation escalates, with sudden and tragic results, when Kaluuya's character kills the police officer in self-defense. Terrified and in fear for their lives, Slim, a retail employee, and Queen, a criminal defense lawyer, are forced to go on the run. But the incident is captured on video and goes viral, and the couple unwittingly becomes a symbol of trauma, terror, grief and pain for people across the country.
Why it's worth your time: Don't be too quick to call this a Bonnie and Clyde retread, despite the titles' similarity. The film counts Lena Waithe as screenwriter and Melina Matsoukas as director, marking the debut feature film for both creatives, and with Get Out's Kaluuya is starring, that's enough talent alone to get us on board.
TV
See (November 1, Apple TV+)
In the far future, a virus has decimated humankind. Those who survived emerged blind. Jason Momoa stars as Baba Voss, the father of twins born centuries later with the mythic ability to see—who must protect his tribe against a powerful yet desperate queen who believes it's witchcraft and wants them destroyed.
Why it's worth your time: Out of everything Apple TV+ is shelling out day one, this is by far the weakest of the bunch for us in terms of interest. Early reviews call it a cross between Netflix's Bird Box and HBO's Game of Thrones (Momoa's breakout series), and while there is some appeal toward the notion of Momoa playing a similar Khal Drogo character, the premise may be too much for folks to jump aboard. If you're a fan of the aforementioned properties though, this may end being the show for you.
The Morning Show: Season 1 (November 1, Apple TV+)
The series follows Jennifer Aniston as Alex Levy, a longtime co-anchor who becomes the main after lead anchor Mitch Kessler (played by Steve Carell) gets fired over severe career-ending "allegations." However, behind the scenes, the network is looking for someone newer and younger to work alongside Aniston as her character is declared to have passed her "sell-by date." This ends in Bradley Jackson (Reese Witherspoon) joining her as co-anchor.
Why it's worth your time: This appears to be the highlight series for Apple TV+ with its all-star cast of Steve Carrell, Reese Witherspoon, and Jennifer Aniston. That's actually the biggest draw of the show, but we're hoping to get some insight into the inner-workings of broadcast news stations, which appears to be full of as much office politics and backstabbing as Mad Men.
For All Mankind: Season 1 (November 1, Apple TV+)
For All Mankind from Battlestar Galactica's Ron Moore will showcase the space race between the United States and Russia during the '60s and '70s with an unexpected sci-fi twist pending the question: "What would have happened if the global space race had never ended?"
Why it's worth your time: This high-concept show appears to be the show most suited for Apple—as the show reimagines a technological arms race that changed the future. What if the iPod never came out? Would we be under 24-hour surveillance via our smartphones? Shows that challenge our views and showcase problems—in this case, a tech dystopia—holds a mirror to our society are what we crave for in a series.
Rick and Morty: Season 4 (Adult Swim, November 10)
After the extended break from season three, the animated television series from Dan Harmon and Justin Roiland promises an action-packed return. However, we are only getting five episodes this year, hinted by the "Half the Season you deserve, all the season we can handle" tagline. Catch it Sunday, November 10 at 11:30 p.m. ET.
Why it's worth your time: They're right about that tagline, we probably don't even deserve another season, seeing how the show is responsible for several McDonald's riots (causing hysteria before Popeyes chicken sandwich changed the game). Its toxic fans as of late have also been drawing attention away from the stellar writing going on in the series. Hopefully, this time around we can be more responsible about our love for cartoons.
The Mandalorian: Season 1 (Disney+, November 12)
Directed by Jon Favreau, The Mandalorian is named after a unique race of soldiers from Mandalore (whom Boba Fett acquired his armor) and will focus on a "lone gunfighter" set in the time between Star Wars: Return of the Jedi and The Force Awakens.
Why it's worth your time: Because it's Star Wars, right? We know it's been a rocky road since the release of The Last Jedi. For some, being a fan of the franchise at this point means either hating Disney or happily consuming any drivel Lucasfilms feeds you. However, we're looking forward to a gritty live-action Star Wars series. We just hope the titular Mandalorian doesn't talk much and that it leans heavy into its Western vibes. We also can't wait to see Bill Burr looking silly firing dual laser pistols.
Servant: Season 1 (Apple TV+, November 28)
Servant follows a couple in Philadelphia (played by Lauren Ambrose and Toby Kebbell) as they hire a nanny (Nell Tiger Free) to look after a therapy doll they're using to cope with the loss of their child. Strange things start to happen as the nanny enters their lives.
Why it's worth your time: We're a sucker for anything horror, and feel like M. Night Shyamalan, who is behind this series, gets a bad wrap. We hope this one is pure horror, with a few sci-fi tinges of A.I. Artificial Intelligence.
Harley Quinn: Season 1 (DC Universe, November 29)
The newly single Harley Quinn sets off to make it on her own as the criminal queenpin in Gotham City. She also looks for help from Poison Ivy to joining the ranks of the Legion of Doom.
Why it's worth your time: This sounds like Birds of Prey but with the creative liberty that comes with an animated series to include whatever character you want. Hence Joker, Poison Ivy, and allegedly the Legion of Doom. We hope this is good and a taste of things to come in terms of quality, cause this Harleen Quinzel train isn't stopping any time soon.