Off-White™ Overtakes Gucci as World's "Hottest Brand" for Q3 2019
The Lyst Index places Balenciaga second and Gucci down two places.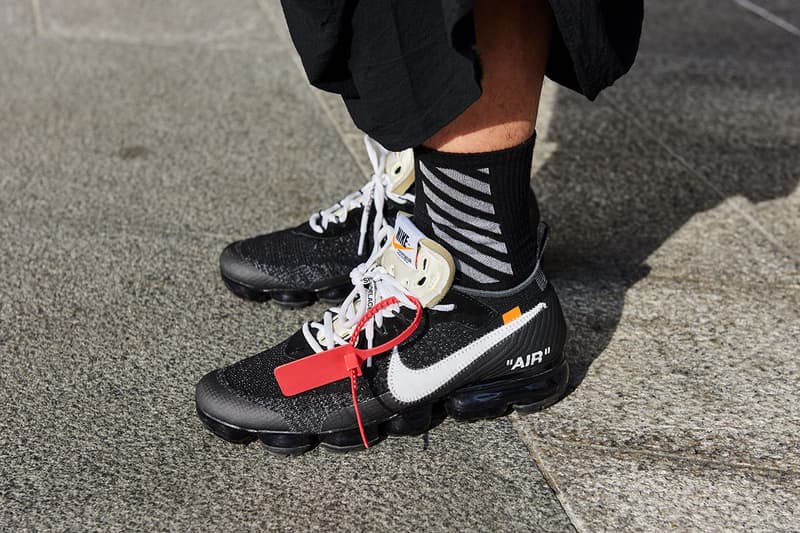 Lyst has released its Lyst Index for Q3 2019, naming Off-White™ as the world's "Hottest Brand" for the second time out of its last four reports.
Overtaking Gucci this year is Balenciaga in second place, with Gucci placing third — two places down from Q2 2019 and the first time for the brand after it has battled between first and second place throughout the last two years. Fourth place was claimed by Versace, moving up two places following a strong year with help from its well-received runway shows, and Prada stayed in fifth place following a strong profit growth of almost 50% in the first half of 2019.
The Lyst Index also outlined this quarter's "Hottest Products," naming the Moncler Bramant Puffer Jacket as this season's must-have. Moncler is leading the luxury puffer market, moving up four places to 16th position on the "Hottest Brand" list and enticing a 92% increase in searches for itself in September alone.
In second place was the Gucci leather belt with "Double G" buckle, Nike claimed third with its Air Jordan 1 Mid SE sneakers, fourth was claimed by the incredibly popular Burberry train ticket print leather card case and fifth place was claimed by the adidas by Raf Simons Ozweego sneakers. The Raf Simons Ozweego contributed a 41% increase in searches for Ozweego sneakers over the last three months, and with adidas' Continental 80 placing third in the women's "Hottest Product" list, searches for accessibly-priced sneakers increased by 170% in Q3.
Elsewhere, Vetements moved into the top ten from 11th place in Q2, with its embroidered cap taking eight place on the "Hottest Product" list. Other standout entry's include Jacquemus, which jumped 37 places this quarter thanks to a 131% year-on-year demand increase, most of which is down to its Le Chiquito mini bag which generated over 12,500 monthly searches during the last quarter. Check out the entire Lyst Index for Q3 2019 online.
In other news, LVMH has offered to purchase Tiffany & Co.