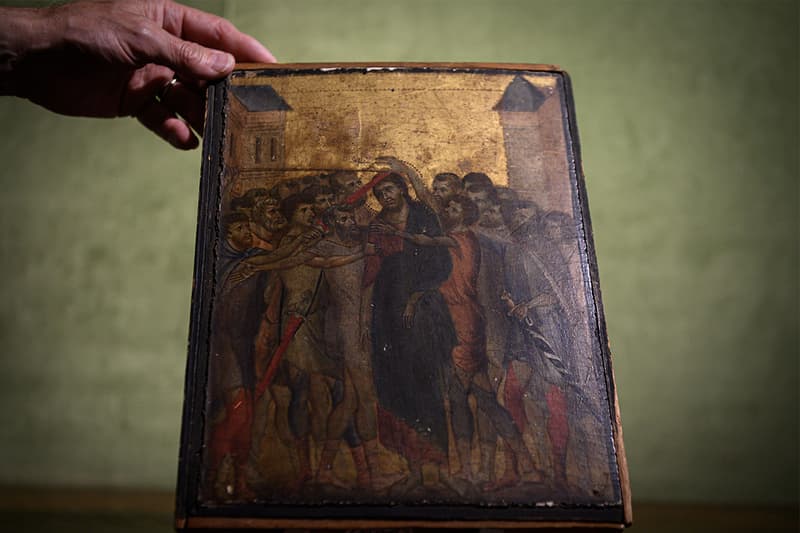 French Woman's Kitchen Painting Turns out to Be Long-Lost Cimabue, Auctions for €24 Million EUR
It was just hanging over a hotplate for years.
---
A long-lost masterpiece from Italian pre-Renaissance painter Cimabue — also known as Cenni di Pepo — has just sold for a record-breaking €24 Million EUR in an auction. The painting, known as Christ Mocked, was discovered just last month in northern France, where it spent years sitting above a hotplate in a French woman's kitchen in the city of Compiègne. She believed that it was no more than just an old religious painting with very little value, but was later convinced by an auctioneer who came across it to have the piece evaluated by experts.
Upon evaluation, which included the use of infrared light to verify its authenticity and similarities to other works by Cimabue, experts valued the painting at roughly €6 million EUR. Surprisingly, an anonymous buyer also from northern France placed a winning bid of a whopping €24 Million EUR (approximately $27 million USD), exceeding the estimated value fourfold. "When a unique work of a painter as rare as Cimabue comes to market, you have to be ready for surprises," commented auctioneer Dominique Le Coent. The hammer price marks the highest amount ever paid for a medieval painting at an auction.
For more things art-related, Jean-Michel Basquiat's Famous Negro Athletes is due to be sold at Sotheby's next month.