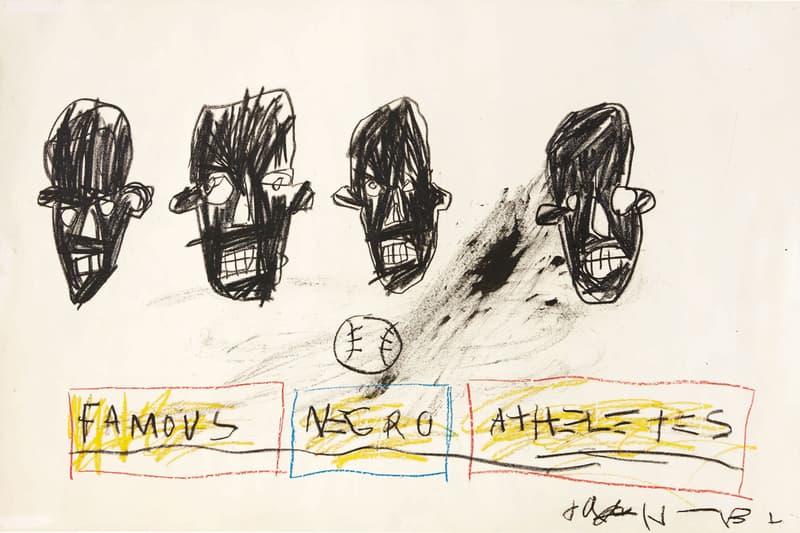 1 of 2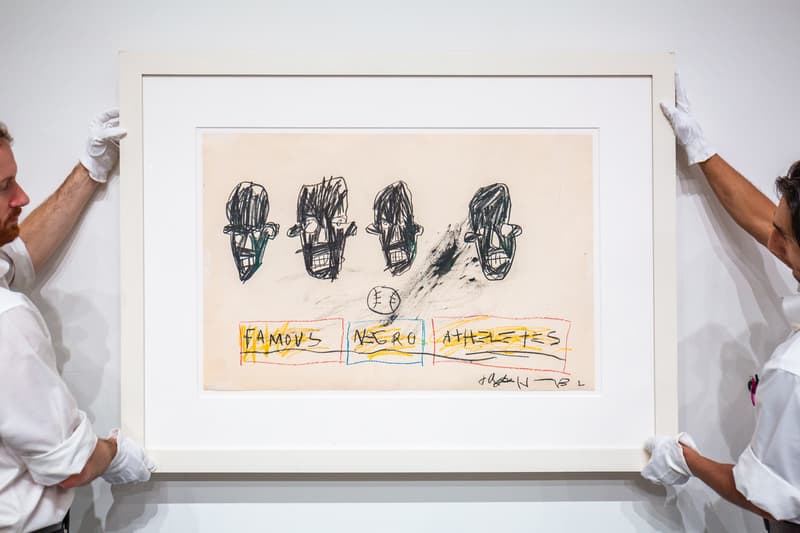 2 of 2
Jean-Michel Basquiat's 'Famous Negro Athletes' Set for Sotheby's Auction Next Month
Estimated to nab up to $3.5 million USD.
---
Sotheby's has unveiled that Jean-Michel Basquiat's Famous Negro Athletes (1981) piece is headed for its forthcoming auction, hailing directly from the collection of deceased art critic Glenn O'Brien. The artist's signature use of unidentifiable figures offers particularly distinctive commentary in this work, reflecting on the idea that certain groups — namely black people — are pigeonholed into specific careers and roles due to society's stereotypes.
"The piece was political in the sense that it presented so simply how society expected black people to be athletes and not painters," O'Brien previously noted of the drawing. Basquiat originally created the work as a graffiti mural in downtown New York, later gifting a paper edition to O'Brien after the two had formed a friendship. Featuring four intensely scrawled faces above a single baseball, Famous Negro Athletes quite pointedly asserts that the sports industry is often one of the few leading outlets for black people — and furthermore, a sense of individuality isn't typically necessary to get the job done.
Since it's creation, the artwork has appeared in exhibitions around the world, including in Milan, Miami and Paris. Most recently, it was featured in Basquiat: The Unknown Notebooks at the Brooklyn Museum in 2015.
Famous Negro Athletes will go up for bidding on November 14 at Sotheby's Contemporary Art Evening Auction in New York. The piece is expected to sell anywhere from $2.5 million USD to $3.5 million USD.
Basquiat's work has long inspired collaborations across several areas. Recently, the MoMa printed some of the artist's graffiti tags on colorful water canteens.