The 10 Best Sneakers From Paris Fashion Week's FW19 Runways
Footwear collabs from sacai, OAMC, UNDERCOVER and more.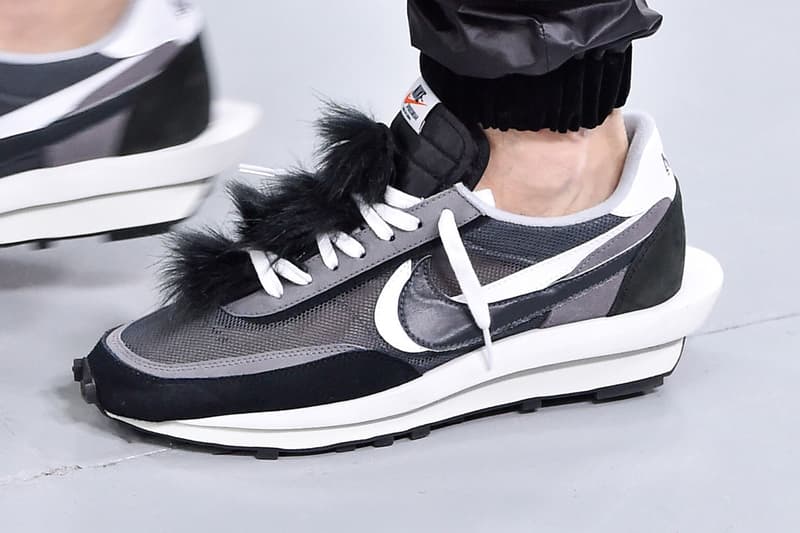 Every season, the world's top designers hit Paris with their latest offerings for men and women, vying to impress fans and buyers alike. Regardless of the presentation, be it for luxury house or independent label, there is one great equalizer: the footwear. With streetwear and so-called high-fashion inextricably intertwined, the shoes worn by models have never been more relevant; they may very well make and break runways for the layman. There is a certain utilitarian appeal — whether you're a capital-F Fashion Fan or just like looking at clothes, we all wear shoes, and it's easier to translate a pair of sneakers into your daily rotation than a high-gloss leather coat or pair of PVC pants.
In honor of the fascination we all hold for the humble shoe, these are ten of the best footwear models seen on (and off) the runway at Paris Fashion Week Fall/Winter 2019 in no particular order. Notably, major sportswear companies helped provide most of the key sneakers below. It should come as little surprise, as sneakers are perhaps the sole item of clothing (no pun intended) that transcend the glitz and glamour of Fashion Week to become universally enticing goods, more so than any bag or jacket.
OAMC x adidas TYPE-01
493 Likes, 5 Comments – HYPEBEAST KR (@hypebeastkr) on Instagram: "#OAMC 가 #아디다스오리지널스 와의 첫 번째 협업 모델 'TYPE 1'을 발표했습니다. 더 자세한 정보는 추후 업데이트를 통해 확인하세요. 사진: OAMC"

OAMC has introduced a series of in-house sneaker designs over the years, but only just recently teamed up with adidas for its first collaborative silhouette, dubbed the "TYPE-O1." A hefty white juggernaut of leather and rubber, the shoe is a logical fusion of adidas' technical know-how and OAMC's eye for functional elegance. An oversized, comfort-minded outsole balances the smooth white leather upper, with the size and neutral colorway balancing OAMC FW19's pattern-heavy layers and flowing trousers.
UNDERCOVER x Nike 720
22.2k Likes, 83 Comments – HYPEBEAST (@hypebeast) on Instagram: "@hypebeastkicks: @undercover_lab's Fall/Winter 2019 runway show introduced a fresh lineup of @nike…"

UNDERCOVER continued its trend of delivering cutting-edge remakes of in-demand Nike shoes, having revised the Waffle Racer and Epic React 87 last year. Alongside an unknown Epic React-style boot, the Japanese brand delivered a selection of eye-catching 720 colorways, mixing speckled patterns with tones of yellow, grey and black. Fat laces add a retro touch to the futuristic sneaker, while understated UNDERCOVER branding on the toe and "WE MAKE NOISE NOT CLOTHES" verbiage on the translucent Air Bag subtly reinforce the collaborative nature.
sacai x Nike "Blazer With the Dunk" & "LDV With the Waffle Daybreak"
30.4k Likes, 235 Comments – HYPEBEAST Kicks (@hypebeastkicks) on Instagram: "@sacaiofficial debuted a new Nike collection during its Fall/Winter 2019 runway show. The lineup…"

Perhaps the most inventive Nike collaboration in recent memory was sacai's Spring/Summer 2019 Nike collaborations, wherein designer Chitose Abe melded four classic Nike silhouettes into two inventive shoes: the "Blazer With the Dunk" and "LDV With the Waffle Daybreak." Returning with slight tweaks for Fall/Winter 2019, the Frankenstein sneakers juxtapose elements of each original design in a single model, yielding doubled tongues, laces, midsoles and Swooshes. The latest iterations arguably improve upon the already-appealing creations, tweaking the sneakers with monochrome colorways, zippered closure and removable fur accents.
Nike Zoom 2K customs by Pigalle
5,062 Likes, 99 Comments – Stéphane Ashpool (@stephane_ashpool) on Instagram: "Show shoes | Pigalle Basketball * Nike Bespoke #pppdiary"

Paris' own Stéphane Ashpool delivered another elegantly louche collection for Pigalle, informing the next generation of effortless French cool by way of metallic purple robes, cozy turtlenecks, trim tracksuits and collarless jackets. While the concepts behind the clothing were lofty, the sneakers were grounded in the brand's sporty heritage; Ashpool outfitted models in bespoke Nike Zoom 2K sneakers dyed exclusively for the show. Though the custom kicks weren't an official collaboration, they underline the strong bond between the Parisian label and the American sportswear giant. Reimagined in dusty pink and pastel blue shades, the classic basketball model toed the line between classic sportswear and more mature stylings, the ideal counterpart for the show's vision of premium leisurewear.
1017 ALYX 9SM x ROA FW19 Footwear
10.9k Likes, 180 Comments – Matthew M Williams (@matthewmwilliams) on Instagram: "Preview of this seasons updated FW19 Hiking boot ? ⛓"

Matthew M. Williams' 1017 ALYX 9SM debuted, among other things, a transformable derby and new Nike sneakers for Fall/Winter 2019, but ALYX's continuing collaboration with ROA stole the show with small upgrades to the covetable hiking shoes. Lush smooth leather uppers, sturdier rubber toecaps and clever eyelet design are some of the more noticeable improvements, with the familiar grippy Vibram outsole guaranteeing safe travels on icy winter terrain. The crown jewel of the seasonal partnership is a mid-height boot sporting a patchy, furry snakeskin-inspired pattern, a shrewd subversion of the current reptile print trend that deftly avoids the realm of costumey kitsch.
COMME des GARÇONS HOMME Plus x Air Jordan 1 Hi Strap
29.4k Likes, 357 Comments – HYPEBEAST (@hypebeast) on Instagram: "@hypebeastkicks: A closer look at the @commedesgarcons HOMME Plus x Air Jordan 1 collaboration,…"

Rei Kawakubo's ongoing joint efforts with Nike culminated in COMME des GARÇONS HOMME Plus' first-ever Jordan Brand collaboration for Fall/Winter 2019, a striking departure from recent running shoe-style silhouettes. The Air Jordan 1 was the subject of Kawakubo's whims this time around, with the iconic basketball shoe reimagined with a tall tongue and removable ring strap. Offered in tonal black and white, the shoes were an oddly satisfying complement to HOMME Plus FW19's goth-indebted designs, granting a sporty contrast to the moody, sequin-splattered looks.
AMBUSH x Converse Chuck Taylor All-Star High
32k Likes, 751 Comments – YOON (@yoon_ambush) on Instagram: "@ambush_official x @converse are made for men and women who fell to earth ??? Inspired by vintage…"

Yoon Ahn's time spent designing Dior's jewelry seems to have amped up the Japanese designer when it comes to her work for AMBUSH, Ahn and Verbal's jewelry-turned-fashion-forward label. Spring/Summer 2019's beachy motif was flipped for Fall/Winter 2019, with models dressed up in heavy jackets, coats and ski pants suitable for arctic environs. Each was clad in a pair of the brand's new Converse collaboration, which riffed on militaristic Extreme Cold Vapor Barrier Boots — nicknamed Bunny Boots for their bulbous shape. The cold weather footwear informed white and black Chuck Taylor All Star '70s, which sported weather resistant uppers, thick outsoles, thin laces and thematically-appropriate prints, complete with all-caps AMBUSH branding on the rear.
White Mountaineering x adidas Nite Jogger
19.2k Likes, 138 Comments – HYPEBEAST Kicks (@hypebeastkicks) on Instagram: "Japanese imprint @whitemountaineering_official unveiled its upcoming Nite Jogger collaboration with…"

Another ongoing collaboration, White Mountaineering's adidas partnership has occasionally leaned more towards the functional than the fashionable, with past collaborative models including the hiking-ready Terrex and Seeulater. This new team-up sees the Japanese brand bringing together the best of both worlds, delivering a graphic take on the eagerly-awaited adidas Nite Jogger sneaker, replete with colorful accents and patterns. Two iterations of the retro-inspired runner hit the runway, one more colorful than the other, though both boast rich textures, thanks to differing panels of suede, mesh, nylon and leather.
Louis Vuitton FW19 LV Trainer Sneaker Boot
2,774 Likes, 110 Comments – DLV (@dlouisvdotcom) on Instagram: "Details on the new FW19 sneakers by @virgilabloh and @office2143 Some crazy stuff. Didn't notice…"

At this point, Virgil Abloh's work for Louis Vuitton is perhaps the most-discussed of any menswear brand showing in Paris — for good reason. Whether or not Abloh's buzzy creations are your cup of tea, the accessories are an objective high point, with the Off-White™ designer undermining classic creations with contemporary twists, like the porcelain chain-abetted soft trunks and shimmering Spring/Summer 2019 Keepall bags. For Fall/Winter 2019, it's all about the shoes, with the retro-inspired "LV Trainer Sneaker Boot" receiving a high-tech upgrade. An electronic display in each tongue plays a different short video, while hi-vis accents in the outsole give the pricey kicks the ability to partially glow in the dark.
GmbH x ASICS GEL-Kayano
null

GmbH paired up with ASICS for an appropriately vintage-looking GEL-Kayano, keeping in line with the German brand's theme of upcycled textiles by way of its retro-cool faded pastel colorway and hefty silhouette. Tonal accents on the upper panels and cushioned midsole break up the appreciably low-key makeup, with strappy eyelets, translucent medial side ASICS branding and rear GmbH tab adding a slight futuristic touch to the throwback creation. Thick laces reaffirm the Kayano's retro runner heritage, while subtle hits of patent leather keep the sneaker firmly grounded with flashy contemporary styling.