The Absolute, Definitive and Correct 25 Best Music Projects of 2018 So Far
Featuring Drake, Let's Eat Grandma, MorMor and more.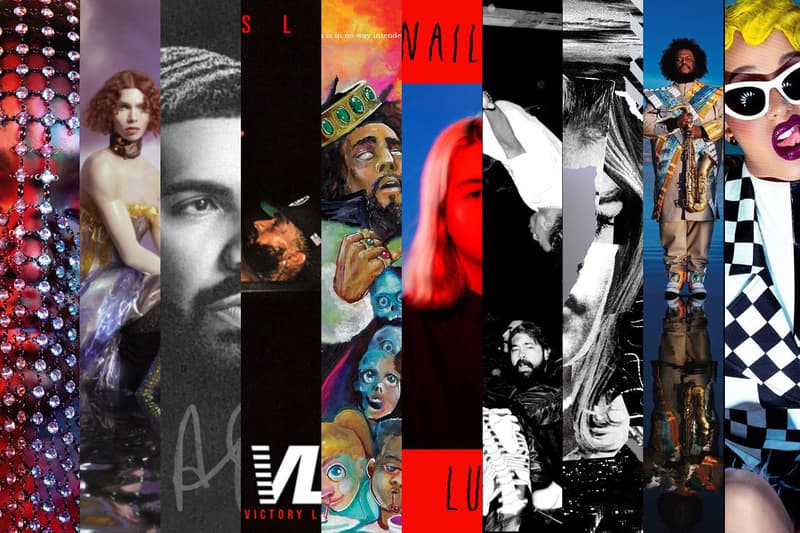 Only halfway through the year, newcomers and returning favorites alike have graced us with heavy hitting musical albums and projects. At the top of the year, all eyes were on Cardi B as she delivered her highly anticipated debut album, fresh off her breakout 2018. Come summertime, Kanye West and G.O.O.D. Music took over, releasing several seven-song projects beginning the final week of May, through the month of June. Meanwhile, new talent has flooded the Indie Rock genre, with acts such as Let's Eat Grandma, Snail Mail and Soccer Mommy stepping into their own. Breakout acts like MorMor have delivered promising first-projects while J. Cole, Kamasi Washington and others have continued to show artistic growth and maturity. Below, in no specific order, the best projects of 2018 thus far.
Editor's note: The cut-off date for albums eligible for contention was July 6, 2018.
Kamasi Washington – Heaven and Earth
Kamasi Washington is one of few jazz artists that has been able to successfully tap into pop culture. Heaven and Earth is the second studio album by the 37-year-old jazz saxophonist and composer. With this project, Washington further expanded on his musical vocabulary, meeting the standards set by his universally acclaimed debut The Epic. Not only is it great genre-bending jazz music, Heaven and Earth infuses fun and diverse elements including Bruce Lee samples and Street Fighter references.
Snail Mail- Lust
Lush is the perfect title for Snail Mail's debut album. Although the project is mostly constructed of guitar, bass, and drums, the sound is rich and stylistically reminiscent of early '90s indie rock. Unlike many of her indie contemporaries, Snail Mail strays away from gimmicks and forced irony, instead delivering a clear sound and message. Ssimple, straight to the point yet distinctly original.
Soccer Mommy – Clean
20-year-old artist Soccer Mommy aka Sophie Allison has dropped one of the best projects of 2018 thus far with Clean. Her songs are personal and vulnerable, speaking on topics like youthful insecurity and infatuation. The album has distinct melodies and powerful lyricism but is contrasted by her chill delivery. While flat and cloudy, her singing is full of character and clutter-free.
MorMor – Heaven's Only Wishful
MorMor aka Seth Nyquest is the next up from Toronto's indie-pop scene. While only five tracks in length, Heaven's Only Wishful is a strong first taste of his sound and aesthetic where digital meets analog and gentle singing resides over hard-hitting drums. What makes the project even more commendable is that it is entirely self-written, recorded and produced; the music video for the title track is self-co-directed as well.
SOPHIE – Oil Of Every Pearl's Un-Insides
SOPHIE's Oil Of Every Pearl's Un-Insides is perhaps the most genre-bending, forward-thinking and left-field pop record of 2018 so far. She uses the Monomachine to create sophisticated sounds that resemble textures like latex, metal, plastic and elastic. In the current age where indie pop artists are more attracted to analog, organic vibes, SOPHIE has done the complete opposite to capture a surreal, purposefully artificial aesthetic.
XXXTentacion – ?
XXXTentacion's career was short-lived due to his untimely passing, but was able to prove to the world that he was more than a "SoundCloud rapper" with the release of ?. The album is a collection of R&B and indie pop songs with topics dealing with depression and heartbreak. Although the album was initially met with mixed reviews, it debuted at number one of the Billboard 200 with 131,000 album-equivalent units. Following his death, the album went from No. 24 to 3, earning 94,000 units.
Kali Uchis – Isolation
With Isolation, Kali Uchis has proven herself to be a major force to be reckoned with in pop music. Combining reggaeton, R&B, funk, bossa nova, and other elements, the project is one of the most diverse sounds in 2018 and is vastly different from her previous releases. It's intimate yet powerful, sad, dreamy and lush, and stacked with strong features including Thundercat, Tame Impala and Tyler, the Creator.
Jon Hopkins – Singularity
Singularity is Jon Hopkin's fifth studio album, following his 2013 Immunity. From beginning to end, through songs fast or slow, ambient or hard-hitting, Hopkins never fails to provide the listener with an aural massage. He displays the perfect balance of tones, textures, and volumes in a highly-effortless way. Breathy vocals are paired with gentle pianos; beats are carefully crafted.
GT – Relentless
Uniting the slickest-hustler-on-the-block charisma and energy of Snoop Dogg with the money-motivated message and mentality of Jeezy, GT has created the stack-or-starve bible for Detroit rap in 2018. Relentless provides game so smooth and direct it fit on a '90s West Coast gangsta rap classic, while charting the highs and lows of street life with weary-eyed soliloquies and battle-hardened reflection.
Nipsey Hussle – Victory Lap
Nearly 15 years after releasing his debut project, Nipsey Hussle has accomplished a rare feat with his first proper studio album, Victory Lap: he's created an expansive body of work that actually reflects the number of times fans have been waiting for it. This cinematic effort is easily the crown jewel of Nipsey Hussle's career, providing the Los Angeles rapper with the sort of magnum opus critics will look at years from now when deciding what he was capable of when he was at his sharpest. Victory Lap's title rings true: this is a full commemoration of a well-won race to the top.
YoungBoy Never Broke Again – Until Death Call My Name
Haunted by the same sort of crime-plagued existences that have become normal for many of Baton Rouge's inhabitants, YoungBoy Never Broke Again combines his city's uniquely-soulful, melodic approach to rap and a gritty lyricism to exorcise his demons and convey his hometown's despair and desperation. Until Death Call My Name is the result of its creator looking up at the black clouds over his head, standing tall amongst the trials and tribulations that are falling down upon him.
Gunna – Drip Season 3
When it comes to the sound of Atlanta, Drip Season 3 acts as a vessel for the hip-hop capital's modus operandi for melodies and hitmaking. While not experimental and boundary-breaking as his label boss Young Thug, Gunna is capable of churning out the same sort of infectious anthems and wielding his flows like an instrument. On Drip Season 3, he provides listeners with mood music for clubs, cars and beyond.
Westside Gunn – Supreme Blientele
Carrying the torch for the Golden Age rappers of years past, Westside Gunn provides an album that keeps the creative method restricted to his craft's bread and butter: hard, head-nod-inducing beats and harder bars. This is the type of album that will yield plenty of internal rewards for listeners as time goes on, and ensure Westside Gunn and the Griselda Records crew a devoted cult following for years to come. Supreme Blientele proves grimy and gritty East Coast rap will always be worth your time.
ALLBLACK – Outcalls
On his previous Kimson project, ALLBLACK turned inward to weather the storm of the struggles brought on by his East Oakland state of mind. On his follow-up, Outcalls, the Bay Area's most talented young rapper opens his eyes to a breezy sunny day after an El Nino-level storm. Carrying a boisterous confidence, he showcases the many sides of his star power and embraces his creative community's like-minded cohorts. Most importantly, he raps so well that his spot at the top of his coast's class is pretty much a guarantee.
Beach House – 7
Cinematic, rich and intimate, Beach House's 7 is pop at its most progressive and powerful. Beach House have proven time and time again that they are always going to be at the forefront of their craft's evolution, and when it comes to conveying emotions through music, this psychedelically-tinged affair provides quite the journey.
Jay Rock – Redemption
Jay Rock might not get his proper mainstream credit, but when it comes to producing hard-hitting, immersive and thoughtful looks at street life, he's one of the game's best. Redemption is best listened to as an autobiography of the Watts rapper's life; no hyperbole or "stretched truth" is necessary here, just heavy truths about struggle and triumph. Jay Rock has come a long way from his Nickerson Gardens upbringing, and this project provides an incredible retrospective of his career thus far.
Playboi Carti – Die Lit
There was no sophomore slump for Playboi Carti who followed up his stellar self-titled debut project with Die Lit, a 19-song album that energy matched the stage-diving cover art. With guest appearances from Nicki Minaj, Young Thug, Skepta, Lil Uzi Vert, Bryson Tiller, Travis Scott, Chief Keef and Pi'erre Bourne, among others plus best-of-the-year visuals such as "R.I.P.," Cash Carti is one of the leaders of the new generation of rap.
Pusha T – DAYTONA
Pusha T has the gifted ability of making selling kilos of cocaine as artful as The Creation of Adam. Push's DAYTONA 7-song LP was the first project of the epic G.O.O.D. Music June rollout and its finest project out of the bunch. Pusha is easily one of the best rappers alive right now and cements his pen game with award-winning verses on songs such as "Santeria" and the now infamous single "Infrared." Some may be tired of the source material but King Push stays consistent and arguably put out his best solo project.
Tierra Whack – Whack World
Tierra Whack is one of a kind. With her wild visuals, color imagination and flexibility in her delivery, she's the closest thing to resemble Missy Elliot. Her new project, Whack World, is the most ambitious project of the year. 15 songs, all a minute long accompanied by 15 vibrant visuals that tap into your inner child. Singer, rapper, creative director, the Philadelphia native could be a star.
Saba – Care For Me
Saba is the definition of consistency. Since 2014's ComfortZone, the 24-year-old rapper has steadily been growing and distinguishing himself from his fellow Chicago peers. He made a leap with last year's Bucket List but this year's project, Care For Me, is spectacularly good. The LP takes an emotional look at a person dealing with inner turmoil following the death of his John Walt, Saba's cousin and co-founding member of their crew Pivot Gang.
Cardi B – Invasion of Privacy
No one knew what to expect of Cardi B when she burst onto the national scene with "Bodak Yellow." Thought to be a one-hit wonder and social media star, Cardi B proved all the haters wrong by consistently making good music and guest features. Now, a year after becoming a household name, Bardi's Invasion of Privacy album proved she's here for the long hall, debuting at No. 1 on the Billboard 200 and providing a second No. 1 single with "I Like It."
Drake – Scorpion
A year after dropping the "playlist" More Life in 2017, Drake is back with Scorpion, a 25-song, two-disc LP that's a split between rap and R&B. Following the beef with Pusha T, Drake uses Side A of Scorpion to address the behind the scene chaos that led to the short-lived feud, especially on records such as "Emotionless" and "Can't Take a Joke." For Side B, Heartbreak Drizzy provides the melodies to your life.
Janelle Monáe – Dirty Computer
Creative and ambitious are the two words that describe Janelle Monáe's Dirty Computer album. Featuring big names such as Brian Wilson, Stevie Wonder, Pharrell Williams and Grimes, Janelle Monáe's latest work is in contention for album of the year. It's a wonderful celebration of self-confidence, queerness and female empowerment.
J. Cole – KOD
Who needs a feature when you can provide your own guest verse? J. Cole's 12-track LP, KOD — which stands for Kids on Drugs, King Overdosed and Kill Our Demons — features Cole's alter ego Kill Edward on two songs, the lone guest on the project. The album tackles a number of topics such as the new generation of rappers, greed, monogamy, celebrity and a tone more. Its an excellent follow-up to 2016's 4 Your Eyez Only album.
Let's Eat Grandma – I'm All Ears
The UK duo of Rosa Walton and Jenny Hollingworth form Let's Eat Grandma and provide a pop music with a breath of fresh air with their latest LP, I'm All Ears. The adventurous album showcases what life is like as a contemporary teenage and is striking because of Let's Eat Grandma's emotional depth. It's an infectious album you won't be able to put down.