Best New Tracks: Kanye West, Gorillaz, Pusha T, The Internet, Drake and More
A beefy week of music.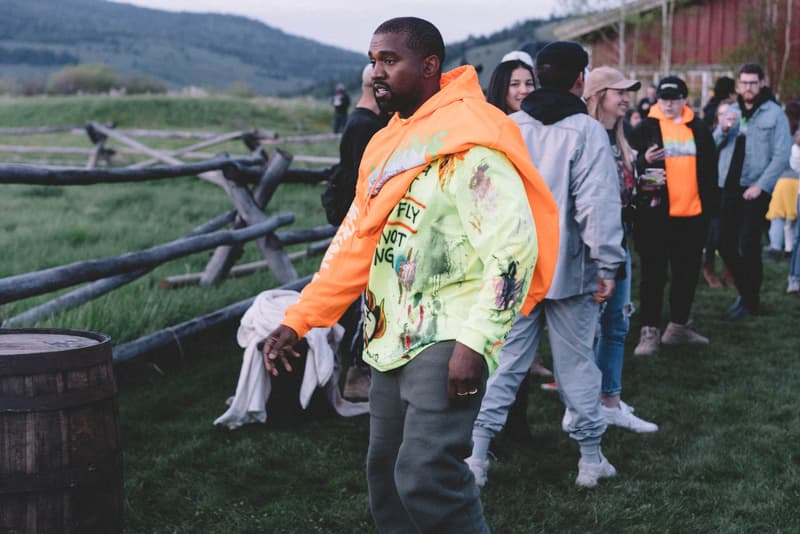 For the latest in our best new music roundup series, we wrap up another beefy week of music, to say the least. Of course, we have first mentioned the elephant in the room, which was the war of words between Drake and Pusha T that put social media folks and music fans in a frenzy. What started as personal jabs soon became more substantial when moms, dads, and kids and baby mother's got involved. Not to mention the controversial blackface photo of Drake that began circulating on the internet which was later confirmed to be an actual photo captured by photographer, David Leyes.
Now despite their widely publicized beef and Kanye's new album dominating most the headlines this week, the past few days were also filled with an assortment of impressive releases from The Internet, Black Thought, Grimes and even Chromeo who laced up a HYPEBEAST Mix. And if you're living under a rock, Kanye West's newest album has actually arrived.
Check out this week's best new releases below and let us know what you think.
Kanye West – ye (Album)
Kanye West's album was nowhere to be found when midnight arrived, but without any notice, the long-awaited project hit streaming services on Friday morning following his much-talked about album listening party in Jackson Hole, Wyoming just a day prior. Titled ye, the 7-track effort features guest appearances from artists including Young Thug, Jeremih, John Legend, Kid Cudi, Willow Smith and Nicki Minaj. As for the artwork – the photo was was shot by Kanye on his iPhone as he made his way to the party in Wyoming.
---
Gorillaz – "Humility" & "Lake Zurich"
Following an unforeseen six-year hiatus, Gorillaz would finally return with Humanz in April of last year. With their creative juices still intact, the Damon Albarn-led act returned with two new singles this week, along with the announcement of a new album for 2018. Both tracks have a funk-inflected groove that's perfect for the summer months ahead.
---
Drake- "Duppy Freestyle" & "I'm Upset"
It goes without saying, but these were tracks that led up to the firestorm of headlines between Drake and Pusha T. This of course, was a response to "Infrared," the final track on DAYTONA that saw Pusha T questioning Drake's credibility on a verse when he said, "It was written like Nas, but it came from Quentin."
---
Pusha T – "The Story of Adidon"
Following Drake's two response records, including an invoice for $100K USD issued to Pusha T, we all knew it was only a matter of time before we heard a response from the G.O.O.D. Music president and on Tuesday night – it arrived. The venomous diss not only addressed Drake, but also his dad, mother, and baby's mother. Not to mention the controversial blackface photo.
---
The Internet – "Come Over"
The Internet shared another track off of the upcoming Hive Mind album this week called, "Come Over." The summery cut was said to be something you can "easily two-step to," as group member Matt Martians explained in a recent interview with Zane Lowe on Beats 1 Radio.
---
Lykke Li & Aminé – "Two Nights"
With just a few weeks out from the release of Lykke Li's So Sad So Sexy album, the Swedish singer has been rolling out a variety of incredible new album songs and visuals over these past few months. This week, the singer shared her latest offering in a collaboration with Portland rapper Aminé titled, "Two Nights." The smooth cut finds the music duo emerged in cloudy, up-tempo ballad as they exchange reverberating, unadulterated melodics.
---
Yung Bans, Lil Skies and Matt Ox – "Montana"
In celebration of his 19th birthday, Atlanta rapper Yung Bans dropped a song this week with his music buddies/internet rap luminaries – Lil Skies and Matt Ox. You'll find the burgeoning rap trio channeling their inner Scarface as they share their personal come-up stories.
---
$UICIDEBOY$ & Night Lovell – "Joan of Arc"
The underground's most popular cult favorites collided for a new joint single this week called "Joan of Arc." $UICIDEBOY$ and Night Lovell have been teasing the track on their social media for days leading up to the release and it doesn't disappoint one bit. The song also coincides with Night Lovell's birthday.