10 Football Kits That Will Take You From the Streets to the Pitch Part 2
As we gear up for the 2018 FIFA World Cup.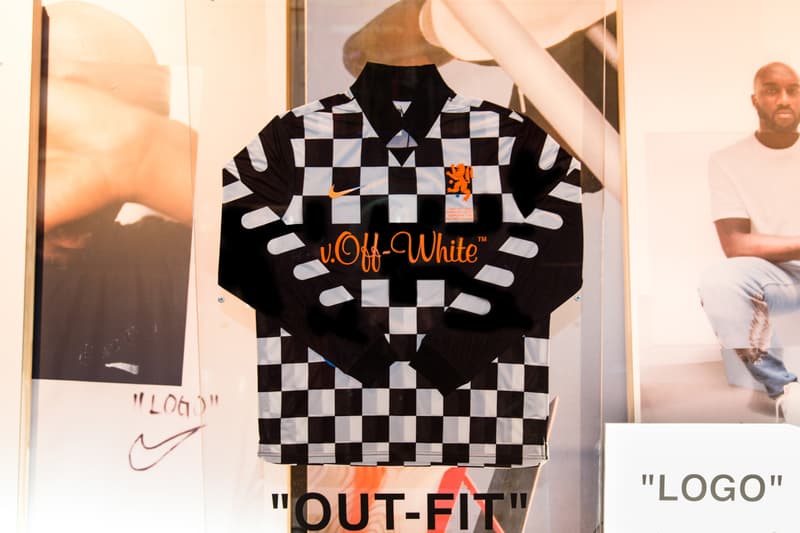 The football jersey trend has seen a tremendous growth in the past few years due to retro kits becoming an influential streetwear uniform. As fashion and football continue to merge, both high-end labels and streetwear brands have turned to the iconic football jersey as a creative canvas, freely experimenting with materials, colors, patches and other striking details.
With only a few weeks left until the 2018 FIFA World Cup, we've decided to compile a part 2 to last year's, "10 Football Jerseys That Will Take You From the Streets to the Pitch" feature. Our newest picks are designed by notable streetwear designers and labels — they're options perfectly suited for either playing the game or as a fresh everyday staple that can also turn heads along the way. Even if you're not a football fan, you can add these sporty silhouettes to your style roster for a bit of flair.
Palace x adidas Originals Spring/Summer 2018
Inspired by vintage footy kits, Palace's latest team-up with adidas Originals for Spring/Summer 2018 will capture the eyes of any football fan, or those looking to step into the jersey trend. There are three terrycloth kits that represent Germany (black, red, yellow), Italy (green, white, red) and France (red, white, blue). Each piece is then dressed with signature touches from both brands including adidas's Three Stripes and Palace's new embroidered tricolor branding.
Slam Jam x Nike "Brothers of the World" Jersey
As part of an ongoing effort to fuse fashion with sports, Nike teamed up with Slam Jam on a special jersey for its "Brothers of the World" campaign. As the sport's most iconic symbol, the football jersey represents a football fan's passion for the game and for their club. Constructed from Nike's state-of-the-art jersey textile, the kit features a gradient of horizontal stripes on the front in black and white, along with Swoosh branding, a custom badge on the left chest, a "SLAM JAM" motif and the number 14 on the back.
Off-White™ x Nike Football 2018 Collection
In celebration of the upcoming 2018 FIFA World Cup and Virgil Abloh's continued declaration of love for football,  Off-White™ and Nike football recently teamed up on a bold footy top. Embracing the sport's athleticism and elegance, the jersey's design sees a black and white checkered pattern with orange brandings found on the Swoosh, "Off-White™" motif, and embroidered lion crest on the chest.
Off-White™ x Vivendii Nike Jersey
As Virgil Abloh continues to show his affection for the Beautiful Game, the Off-White™ founder also partnered with Nigerian streetwear label Vivendi ultra-exclusive Nike jersey. Created as part of a three day pop-up event, the special top was crafted to promote Nike's new Nigerian football team uniform — the piece features a doubled-up Swoosh logo on the right hand side of the chest and Vivendii's logo front and center on top of Off-White™'s signature arrow motif. The jersey also sees black accents on the sleeves and along the seams.
Les Vetements de Football Spring/Summer 2018
NSS Magazine's popular Les Vêtements de Football jerseys are a tongue-in-cheek homage to both high fashion and football. Having just released its fifth drop of the series, the Spring/Summer 2018 line icorporates spoofs on Balenciaga, Vetements and COMME des GARÇONS. The parody motifs are emblazoned on vintage football tops including England and Brazil along with popular club Paris Saint-Germain. One of the standout items is a retro Germany jersey meshed with the Balenciaga logo.
Supreme Soccer Polo Spring/Summer 2018
It's widely known that Supreme is no stranger when it comes to taking worldly references and incorporating them into its clothing. As part of its Spring/Summer 2018 offering, 'Preme released a new football jersey inspired by Premier League's Tottenham Hotspur's kit from the nineties which was specifically worn during the 1992 Winners' Cup. Coming in four colorways, the Supreme Soccer Polo is decorated in pinstripes and a WordArt-styled font, giving it a clear throwback to the decade.
Gosha Rubchinskiy x adidas Football Fall/Winter 2017
2017 saw an impressive collaboration between Russian designer Gosha Rubchinskiy and German giant adidas. Successfully merging adidas Football's sporty tech garments with high-end streetwear designs, the capsule collection resulted in a sporty, yet fashion-forward range. A mixture of Rubchinskiy's signature Cyrillic script and adidas's iconic Three Stripes logo are placed front and center of the jeresey for a hard-to-ignore reminder of this fruitful collaboration.
KITH x adidas Football 2017 Collection
KITH's team up with adidas Football saw a multi-dimensional offering that placed emphasis on KITH's own football clubs: the Cobras and Flamingos. Both teams represented by a unique range of on and off-pitch apparel – the kits are designed with the streets, turf and grass in mind. KITH's hometown Cobras sport a black, white, red and yellow colorway with a snakeskin pattern added as an extra touch. For the Miami Flamingos, a soft color palette of mixed pinks, greys and slate is used.
Alexander Wang x adidas Originals
Alexander Wang and adidas Originals' ongoing collaborative efforts included a revamped football jersey for the duo's Drop 3. Made from shiny jacquard, the colorful top is decorated in an allover print that combines adidas and Alexander Wang logos. The jersey is then finished off with an upside-down Trefoil on the upper chest and signature Three Stripes running along the sleeves.
Lover's F.C x Y.M.C Collaboration Jersey
London fashion house Y.M.C. and Lover's F.C.'s collaborative jersey bridges the ever shrinking gap between football shirts and fashion. Originally making its debut at Y.M.C.'s London Fashion Week Fall/Winter 2017 show, the jersey makes clear nods to vintage silhouettes and styles of the 80's and 90's. Dressed up in a maze-like pattern throughout, a special custom made Lover's F.C badge and five embroidered stars finishes off the look of this collaborative kit.