Twitter Might Offer a Paid Subscription Service Soon
An enhanced TweetDeck for its power users.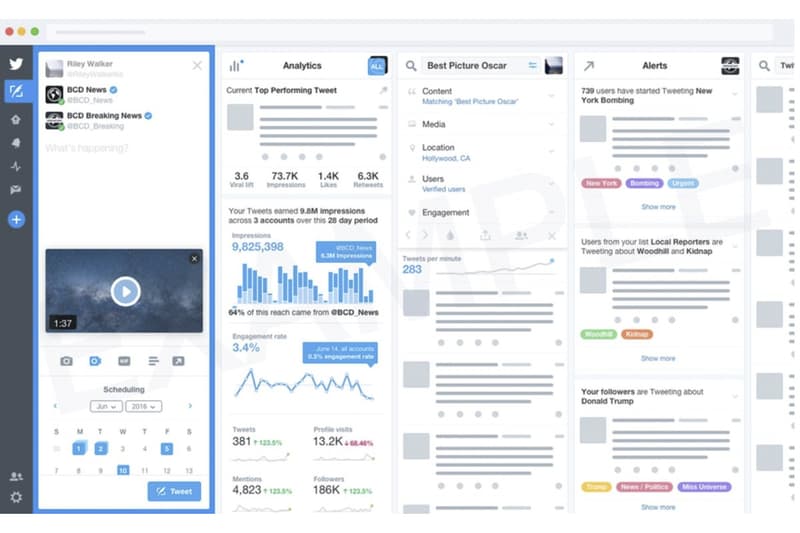 Twitter is considering offering a paid subscription service to its power users, according to sources. The premium service will feature new tools on the TweetDeck — the dashboard application for brands, journalists, news organizations and professionals — that will help users gain more from the Twitter experience for a monthly subscription fee. "We're exploring several ways to make TweetDeck even more valuable for professionals," a Twitter spokeswoman stated. Today, Twitter users have been posting screenshots of surveys and a mock-up of the advanced Twitter service, which shows advanced analytics tools, alerts for breaking news and additional insight on trends and activity of an account's followers. "We regularly conduct user research to gather feedback about people's Twitter experience and to better inform our product investment decisions," says a Twitter representative.
Sources report that the company has yet to begin building the service and that it will be at least a few months until the official launch. The survey is implemented to help plan the blueprints and priorities of the enhanced service. The potential move could help strengthen revenue streams for the social media service, which has been facing declining advertising revenue and a slumping IPO. The core service of Twitter will remain free.
Read Twitter's full announcement below:
"Twitter is considering offering an advanced TweetDeck experience, with more powerful tools to help marketers, journalists, professionals, and others in our community find out what is happening in the world quicker, to gain more insights, and see the broadest range of what people are saying on Twitter. Whether you use Twitter for work or just want to be more informed on the latest news, sports, entertainment, political viewpoints, and information in today's world, this advanced TweetDeck experience will be designed to help you get even more out of Twitter.

This premium tool set will provide valuable viewing, posting, and signaling tools like alerts, trends and activity analysis, advanced analytics, and composing and posting tools all in one customizable dashboard. It will be designed to make it easier than ever to keep up with multiple interests, grow your audience, and see even more great content and information in real-time.

It would also offer extra features such as advanced audience insights & analytics, tools to monitor multiple timelines from multiple accounts and from multiple devices, including mobile, all in an ad-free experience."
Scoop: Twitter is developing an 'advanced TweetDeck' that would be available for monthly subscription fee & feature a range of new features: pic.twitter.com/MlKw8xZlVS

— Andrew Tavani (@andrewtavani) March 23, 2017