Jordan Brand President Larry Miller Tells Us About the Company's Trials and Tribulations
Creating athleisure, the brand's expansion and dealing with the crying Jordan meme.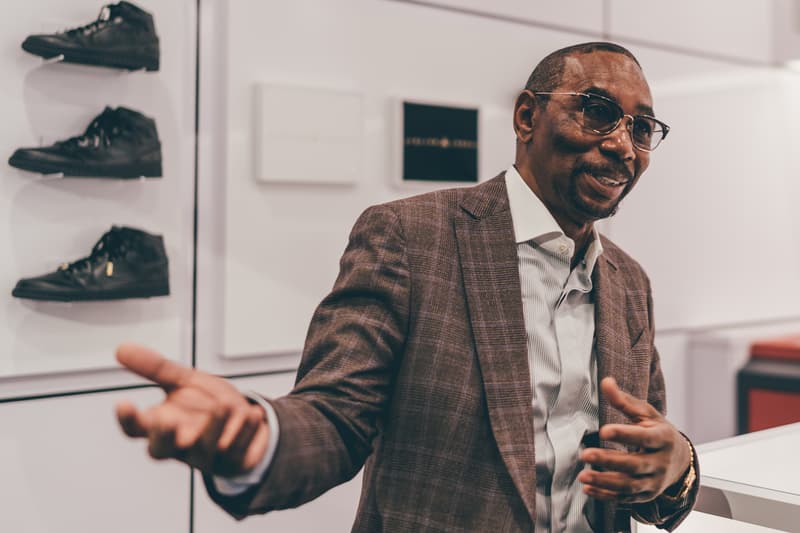 Larry Miller, the Jordan Brand president, first took on the role back in 1998 when Jordan Brand launched as its own entity, having been promoted from vice-president of apparel at Nike. Miller left in 2007 to become team president of the Portland Trailblazers, a role he held until 2012, when he resigned and returned to Jordan Brand, a move he called "coming home."
"Coming back has been amazing," Miller says. "I think the brand has moved significantly from where it was when I left. I think we truly have become a brand, we're at that status now where people view us as a brand." We meet the man at the launch of the Jordan brand store in Paris, which is the company's announcement of expansion into Europe. Two days before the opening Miller was ringside at the Andre Ward-Sergey Kovalev fight in Las Vegas. Miller was there because he's a boxing fan and because Ward is a Jordan Brand athlete. The brand rarely dips its toe into the boxing arena, but when they do they usually go for a unique blend of world-class level skills and affability – the first boxer they signed was Roy Jones Jr. back in 1999.
This signing was part of Miller's strategy to expand Jordan Brand beyond basketball and its eponymous icon. When we asked about middleweight bogeyman Gennady Golovkin, a recent addition to Jordan Brand, he replied that "we've been outside of basketball for a long time. When we first got the Jordan brand started as a separate brand within Nike we had six initial [athletes], including Ray Allen and then we added some non-basketball athletes. We had Roy Jones Jr – who was the best boxer in the world at the time – we had Randy Moss, one of the best wide receivers at the time and we had Derek Jeter. And GGG is just one of the latest to that [list]." The other two athletes rounding out that initial roster list were Michael Finley and Eddie Jones.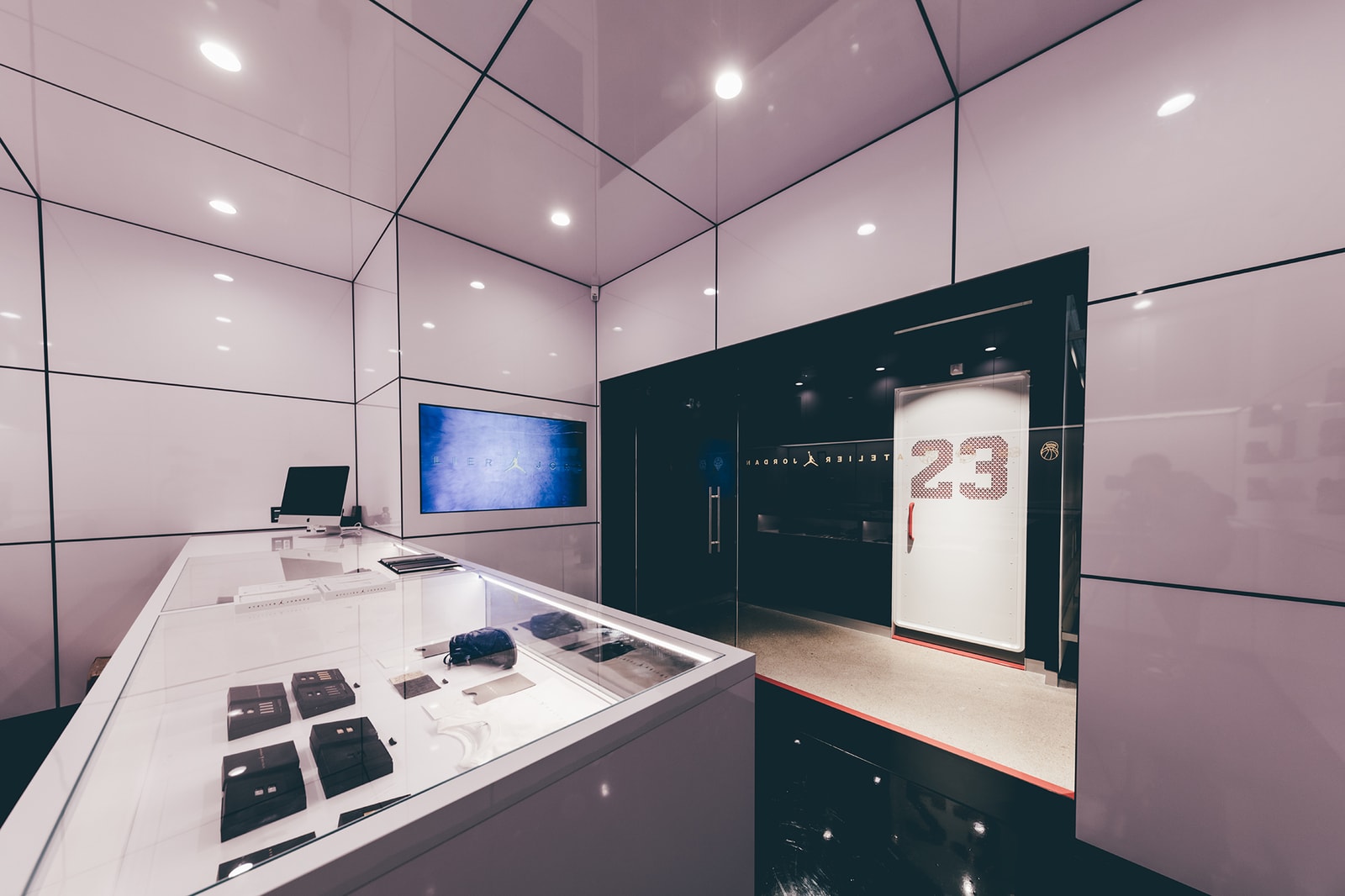 When it launched, the Jordan Brand was part of a bigger Nike expansion, focusing on building ACG, hockey and golf as separate categories alongside the aforementioned brand. In an 1998 Daily News Record article Larry Miller is quoted saying "If Ralph Lauren can do $1,500 suits and sports apparel, I don't see why we can't use Michael Jordan to help us have two separate lines." At the time he'd just been promoted from vice president of apparel to president of the Jordan Brand and his aims were very high, noting that he couldn't see why the brand couldn't be a billion dollar business in its own right.
Nike was undergoing a relatively tumultuous time in the late 1990s. Footwear News reported on the brand's stockholder meeting in 1998, which was met with protesters chanting "sweatshops have to go" outside the venue. Phil Knight chaired the meeting and listed initiatives it had undertaken to combat the issues the company had at that time.
"It's hard to find somebody who encompasses everything that was Michael Jordan, but a lot of these guys are champions."
The launch of Jordan Brand wasn't without (less serious) issues itself. The main problem then was that the player himself was contemplating retirement. In the 1998 Footwear News article Miller spoke about the situation. "I don't think Michael truly knows what he's going to do. What we are doing is approaching the business with a strategy we think will work, whether Michael plays another two years or three years or he doesn't."
When Jordan retired, it brought a new set of challenges to the company. "We lost the best marketing tool we could ever have: Michael Jordan playing basketball and slam-dunking on SportsCenter every night," said Miller in a 2000 Tribune Business News article. After the initial retirement news, the next big change for Jordan Brand was when the man decided to move out of endorsements altogether, telling the Chicago Sun-Times "I'm getting totally out of the endorsement aspect of things, as soon as the contracts are up."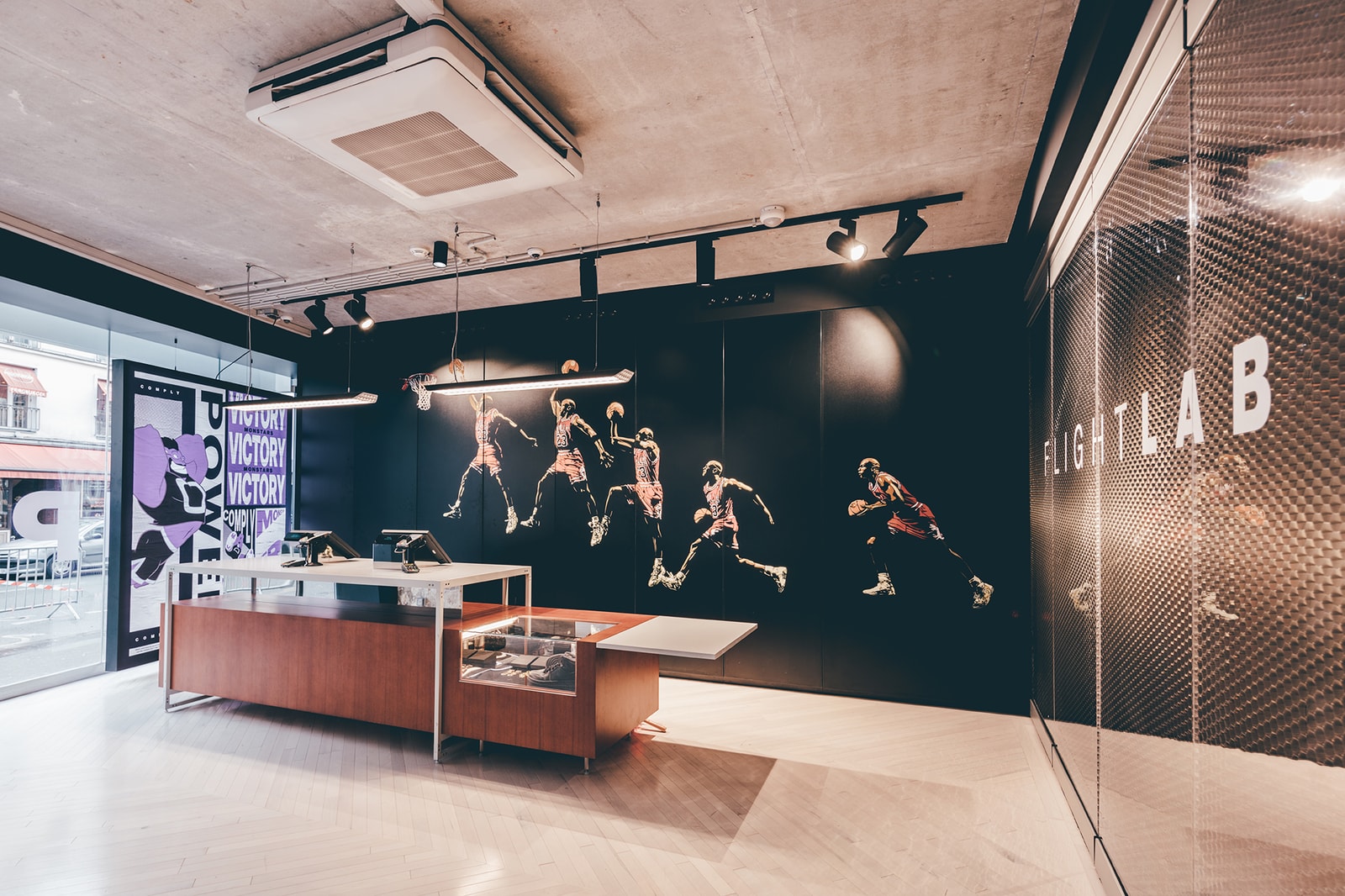 The announcement marked the start of Jordan being a more active part of Jordan brand, with Miller noting at the time that Jordan's relationship with the brand "has always been more than simply product endorsement." The company soon adjusted to that new reality but now it has a new kind of challenge – the fact that Jordan, while still being a highly respected player, is also one of the internet's longer lasting memes.
It's rare that you'll see a president referring to memes, but that's what happened when Barack Obama awarded Michael Jordan the Presidential Medal of Freedom a few weeks ago when he said that Jordan was "more than just an internet meme." Even Jordan Brand collaborator Drake said that "I have become the most memed person aside from the Michael Jordan crying face."
So it's fair to say that not only has one of Jordan's more iconic moments become a meme, but it's become the meme. These things usually gain popularity and then burn out in a matter of days and weeks, but the Jordan meme has only made people get more inventive – using it to illustrate everything from sports losses to Brexit. It's somewhat bizarre to have to ask a brand president about internet memes, but this is 2016 so we had to find out his take on the matter.
"We have a lot of girls and women that love our brand and we haven't shown them a lot of love in return."
"We can't control that," he says while laughing. "People are gonna do what they do. For us, it is what it is." Social media issues aside, Miller notes that one the biggest challenges to the company is to not overstretch. "We've got a lot of opportunities we just need to make sure we've focused on not trying to do too many things at one time."
So, in an age when Jordan may not be as relevant to a younger consumer anymore, signing the right athletes is more important than ever. So what do they look for? "Athletes who represent Michael Jordan and what Michael Jordan brought to the basketball court in whatever field of play they're in," says Miller. "It's hard to find somebody who encompasses everything that was Michael Jordan, but a lot of these guys are champions or they're striving to be champions and that's what sets them apart for us. Someone like GGG who's mild mannered and the nicest guy in the world until he gets in the ring – then he steps up and he's trying to win, he wants to be the champion. Or Andre Ward, I was at the [Ward-Kovalev] fight on Saturday night. Andre is another one that's a champion and has proven to be a champion over the years."
"Our goal is to continue to build new product and to build retros of the future"
The last NBA rookie signed to Jordan Brand is Jabari Parker. "Jabari brought and represents what we think the Jordan Brand represents and is a good representative of the brand. But we're always looking at who are the right athletes to bring into the brand and how can we connect with the right people."
Athlete sponsorship aside, the other potential snag in the road for Jordan Brand is that its retros are almost too popular. So how does Miller plan on dealing with that? "That's something we work on and deal with all the time," he says. "We know people have this love for the retro shoes and that's great because it gives us a great foundation to build on, but our goal is to continue to build new product and to build retros of the future."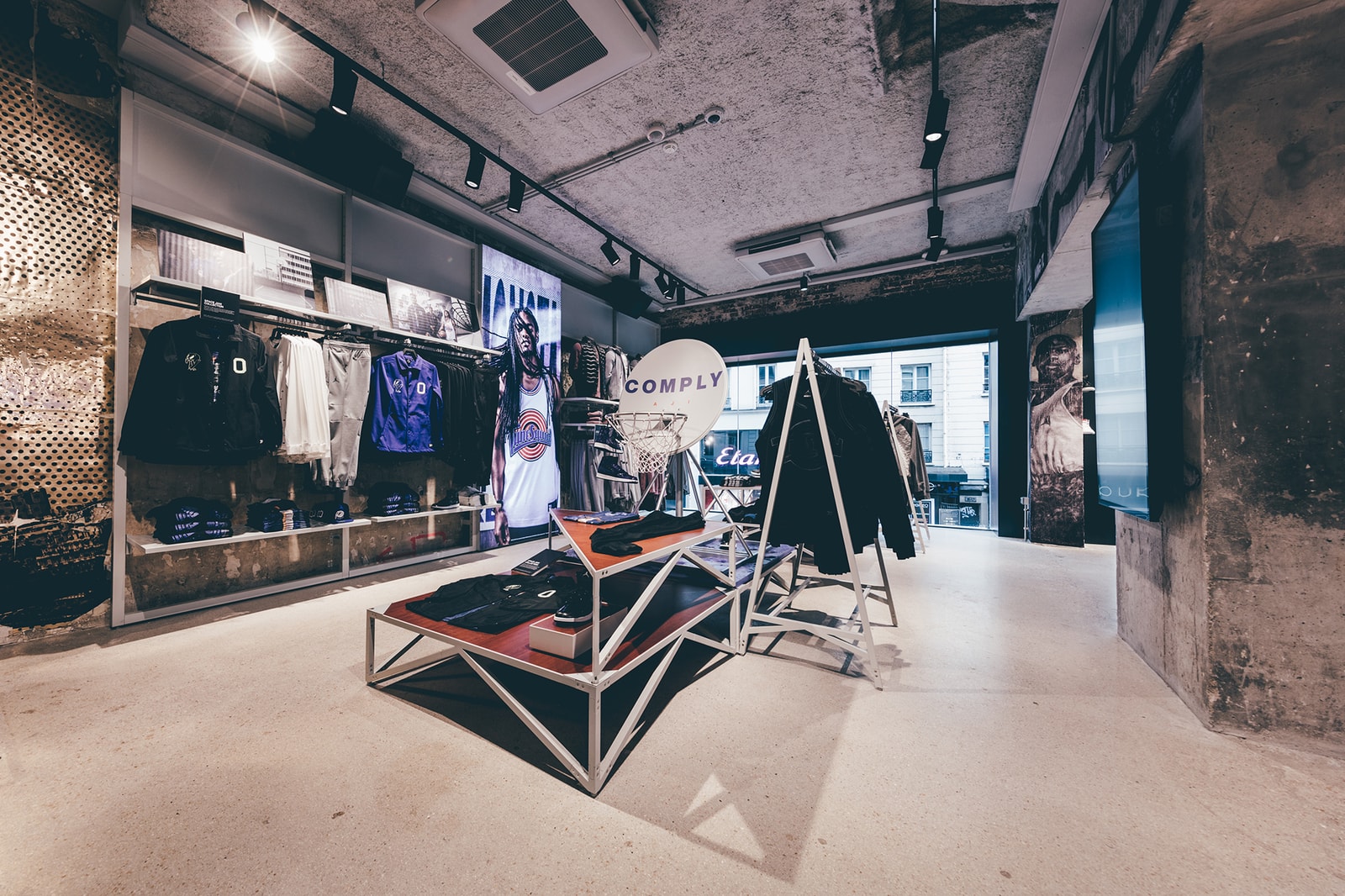 Another point Miller brings up is the desire for products that look good. "To me it's about creating the best performance shoe but also a shoe that looks great when you're not playing basketball or whatever sport you happen to be playing." This description sounds suspiciously similar to athleisure, what does Miller think of that? "I think Jordan and Nike are some of the people who created the whole athleisure [trend]," he says. "People are buying [Jordans] just to rock and wear on the street. I think some of the designer brands said 'hey, they're onto something, let's tap into that' and that's all good. But I just think that we, between the Nike brand and the Jordan brand, set the whole trend in motion."
A byproduct of the athleisure trend is that Jordan can now start doing collaborations with people who aren't athletes with minimal fuss. Two recent collaborations stand out – the Don C collaboration ended up with people braving blizzards in order to queue for a pair of the Just Don x Air Jordan 2s. And then there's the Drake collaboration, which gained a lot of attention. When asked about how that came around, Miller said "Drake's been a fan. We had a relationship with him over the years, so we just had a conversation and said 'it's time to develop something here' and he's been great to work with." Miller indirectly pointed out that the benefits of having a musician on the roster, as they can do things like making a hit such as "Jumpman." If nothing else, it's a long way from other sponsor's musical efforts, such as the terrible-but-catchy "Ya'll Must Have Forgot" by Roy Jones Jr.
One area that Jordan Brand has neglected is womenswear. On the topic, Miller says "We have a lot of girls and women that love our brand and we haven't shown them a lot of love in return." The neglect has extended to sponsorship, with the only female athlete on the Jordan roster at this point of time being Maya Moore. Miller said that "once we go down the path of women's, Maya will be a big part of that [expansion]."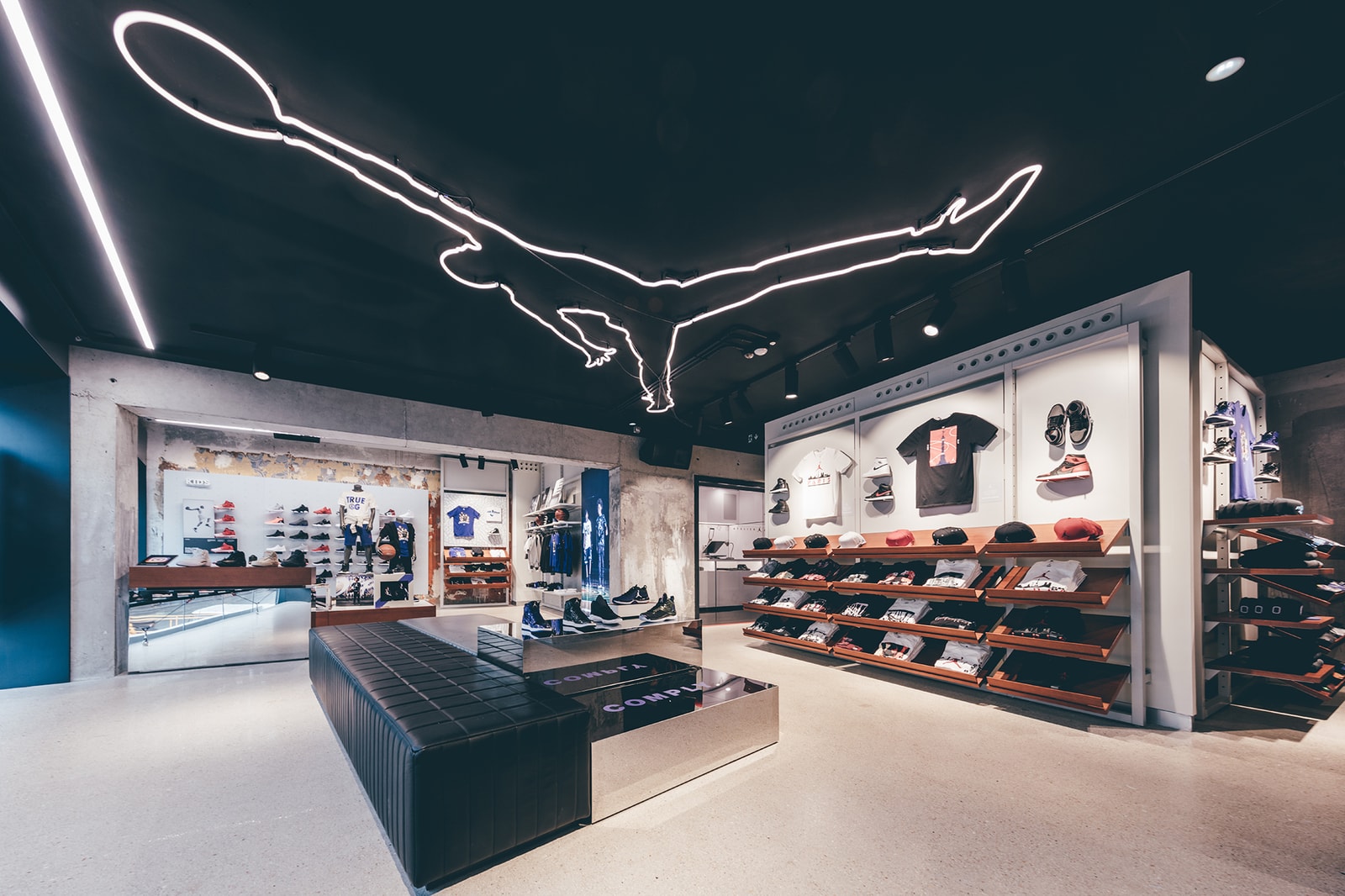 So what's next for Jordan? According to Miller, global expansion. "Our business in North America is a pretty mature market, but there are places like Western Europe and some of the emerging markets that I think are incredible opportunities to take advantage of." And, as the Paris store has shown, they're not planning to do this by halves.