Forget Traditional Retail, Awake NY's Lower East Side Flagship Is a Cultural Hub
As the brand prepares to open its first physical location, founder Angelo Baque discusses the power of community and the key to providing memorable experiences.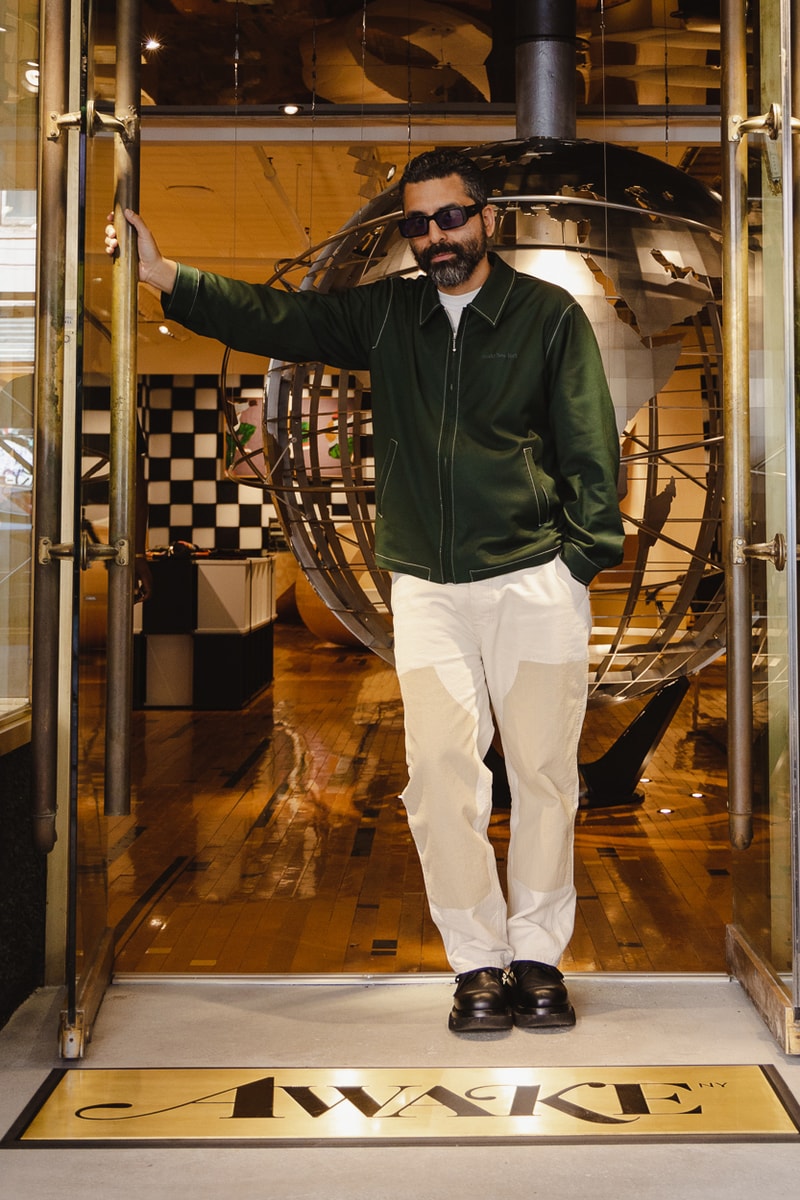 Forget Traditional Retail, Awake NY's Lower East Side Flagship Is a Cultural Hub
As the brand prepares to open its first physical location, founder Angelo Baque discusses the power of community and the key to providing memorable experiences.
There's a certain sort of optimism that comes with a spring day in New York City. You can feel the city shaking off its wintertime slumber and an excitement wafting up from its streets — an excitement that makes you want to see, to do, to explore, to experience. Awake NY founder Angelo Baque knows that excitement well. He's feeling it himself, in fact, with his brand set to open its first flagship store at 62 Orchard Street in the coming weeks.
We're sitting in Awake NY's headquarters, located around the corner from the soon-to-open store. Baque is deep in highly-detailed tales of the Lower East Side, from his childhood trips to the neighborhood for special-occasion suits to his time cutting his teeth on the neighborhood's streets and corners as well as its shops, all soundtracked by the Miles Davis and Thelonious Monk cuts playing through his office speakers (Baque is a John Coltrane loyalist at heart, but notes that he had to give A Love Supreme a "break" because he was listening to it so much).
What makes the Queens native such a powerful storyteller is his conviction and attention to detail, traits that transcend mediums. No matter if it's one of his clothing releases or an interview like the one that's being conducted, you can practically feel the intention pulsing in his voice. There's a definite intensity to Baque, but it's partnered with disarming warmth and openness: he wants you to listen and learn, but he wants you to be comfortable and feel welcome as well. A one-on-one conversation with Baque is a history lesson, a philosophy course and a jovial conversation all rolled into one — fitting for a man who half-jokingly had "Life Coach" in his Instagram bio for several years. And when it comes to his brand's forthcoming flagship, Baque has plenty to say.
Like much of New York City, the Lower East Side, is, for better or worse, in a cycle of constant reinvention. After World War II, it became the city's first racially integrated neighborhood. In the '80s and '90s, it grew into a counter-cultural capital thanks to an influx of students and artists. Soon after, downtown Manhattan as a whole would become a streetwear hotspot thanks to boutiques like ALIFE, Nort and Nom de Guerre plus the legendary establishments that fueled collaboration and creativity like Max Fish. Baque was a product of this "golden era" of streetwear — and is deeply rooted in its history thanks to his time at outposts like Nom de Guerre, Supreme and Stüssy as well as Absurd, his first brand.
However, his history with downtown New York, especially the Lower East Side, goes back even further: when he was a kid growing up in Queens, he and his mother would come to the Lower East Side to buy suits for what he calls "life moments." Now, with the opening of the Awake NY flagship at 62 Orchard Street set for early June, a new chapter of "life moments" is kicking off for the creative polymath. "It's truly a full circle moment to be able to open the first Awake NY store in a neighborhood that's so special to me," he says. "I look forward to cultivating a space that can inspire the younger generation of artists to express and connect through creativity and community."
The Awake NY store is equal parts retail outpost and street culture museum. When you walk in, you're greeted by a replica of Flushing Meadow Park's Unisphere, a nod to Baque's Queens roots. Before the space was Awake NY's flagship, it was a family-owned suiting business (always focused on community, Baque made sure to get the prior owners' blessing before remodeling, and kept some of the original fixtures) so its vitrines, usually used to display clothes, will instead serve as a space for a rotating cast of artworks. Awake NY's community is on display across the inside of the store as well, with graffiti designs from legendary artist JA.ONE, a full-service matcha bar from Rocky's Matcha, and design details from Rafael de Càrdenas, who repurposed wood from a Cleveland high school's basketball court for the store's floor. That's not to mention an extensive selection of Awake NY goods, from the brand's recently-released Summer 2023 collection to exclusive collaborative projects with the likes of Fear of God, Denim Tears and Verdy, among others.
Equal parts experiential and practical, the store is both a new chapter for Awake NY and a callback to the legendary early-'00s New York boutiques that influenced Baque. In an increasingly digital world, Awake NY feels that it's more important than ever to have a physical retail presence, a belief that's firmly in step with the brand's community-focused ethos.
In conversation with Hypebeast, Angelo Baque discussed the space's mission, the power of community, the key to providing memorable experiences and how the store is the beginning of a new chapter for Awake NY.
Hypebeast: How long has the idea of having your own store been brewing?
Angelo Baque: It came to light during my last conversation with Virgil Abloh. We were at a dinner for the first Denim Tears drop with Levi's, and Virgil was like, "Yo, Tremaine [Emory] and I have been walking around the city all day — and downtown needs an Awake store. This isn't the 2003 New York that I remember. The streets need some flavor, there's nothing like Nort, ALIFE or Nom de Guerre anymore. There needs to be something that the younger version of ourselves can hang out in front of."
That sounds like a powerful sales pitch.
It definitely was, but I wasn't really looking to get back into retail during that time. Then he pulled some Field of Dreams sh*t on me and was like, "If you build it, they will come." I was just like, "F*ck … alright, alright" [laughs].
What sold you on the space?
62 Orchard felt like home the first time I saw it. Before we were in there, it was a suit store that had been on the block for over 70 years. It already had so much character and history, and I had a history with the block too. When I was a kid growing up in Queens, I'd always come down to Orchard Street to buy all my suits for life benchmarks, from confirmation to graduation. It's where I learned to haggle too. My mom and I would come down with 50 bucks and she'd say, "Watch: we're gonna get the suit, but we're also gonna get the socks, shoes and suspenders for the same price."
Having your own brick-and-mortar business here must be a real full-circle moment.
Absolutely. It feels like a passing of the torch. The shop is in an area that's so rich with immigrant history. I'm a product of two immigrant parents, and it just felt right when we went in there for the first time. We made sure to get the family that owned the store's blessing as well, of course.
Your personal journey started in retail as well. What did you learn from all the time you spent working in stores?
How to provide an experience. You can be a design and manufacturing wizard, but if you don't know how to sell what you're making it doesn't matter. If you're coming into my store and I'm going to convince you to buy a jacket, the right song has to be playing, the right incense has to be burning, the store has to be pristine. You have to work in a store, preferably several different kinds of stores to figure out what your idea of retail is. I got a free education working in all of those stores — I didn't need to go to FIT to learn how to do merchandising, how to buy products, how to put a shelf together, how to do an art show in the store, how to connect the dots with brands. Everyone I worked for had their own different methods, so it was like being taught by a bunch of different masters. You can take the best pieces of each strategy and make them your own. Don't get me wrong: working retail isn't for everybody, but there's so much you can learn from it.
You're all about sharing knowledge and empowering your community, and that community-focused mindset has been a core tenet of Awake NY since the day it was founded. How is this store an expansion of that mindset?
I want the store to be a home, a space for kids to come, hang out and soak up game where they don't have to buy something to belong. I couldn't afford to buy anything from many of the spaces that I hung out at when I was coming up, but they still treated me well. I used to hang out at Union, and Chris Gibbs gave me a free T-shirt once because he knew I couldn't afford to buy anything. That moment, and the experiences I had there, like meeting Tremaine Emory on the bench out front, changed my whole trajectory. I'd love for my store to provide those same experiences to the next generation.
I also really think of those mom-and-pop spaces that we used to have in the Lower East Side that are gone now, the kind that would always welcome you no matter how much money you had in your pocket. Places like Bobbito's Footwork where I got my first pair of Dunks, Fat Beats where I'd buy my vinyl and Canal Jean Company. I don't want that history to be erased. It's important for any New York kid, specifically a kid from the outer boroughs like me, to feel like they can belong and not feel this pressure to have an expensive outfit on.
"The most important part of community building is taking action: initiating, cultivating and nourishing your community."
With that being said, do you view the Awake NY store as a community center of sorts? It seems like, in some ways, it's a physical manifestation of your brand ethos.
I think the store will naturally be a community center; after that, the rest of it is on us as a brand. How do we build on that idea? Let's be real: both you and I know that everyone likes to use "community" as a f*cking buzzword these days. What I've been saying a lot recently is that the most important part of community building is taking action: initiating, cultivating and nourishing that community. The goal is to partner up with someone like a Levi's, a Clarks, a Dr. Martens, a Nike, and give our community something that's consistently enriching, providing information, knowledge and transparency to empower the people that support us.
Now that you're in the position to provide those experiences, how do you let everyone know they can be a part of what's going on? Streetwear can still be a pretty intimidating and egotistical space.
Well, before anything else, you have to feel welcome. That welcoming attitude is part of our brand ethos, and we hired a really dope crew of local kids to work at the store and provide it. You really need to have the gift of gab. Even if you were to come into my store and I said "Hey Ross, how are you doing? How have you been?" Little questions like that make someone say "oh sh*t, this dude really gives a f*ck about me," and start building a relationship.
"With us, there's no hidden agenda or intention … besides being kind, it's important for me that Awake always be sincere."
Of course, there's a business aspect to owning a store too — you have to sell stuff to keep the lights on. Do you feel that financial success comes naturally when the store has a kind and welcoming vibe?
I do think that sincerity is missing in retail nowadays, and with us there's no hidden agenda or intention. If you're a customer that wants to support Awake, then you're part of our community and I want to get to know you. People would come into our pop-ups and be bugged out that I was standing there in the store, getting sweatshirts for customers or talking sh*t to my friends when they came in. That was so inspiring to me, that people were surprised I was actually there, right in the middle of everything. Besides being kind, it's important for me that Awake always be sincere.
Do you find that being accessible has become more difficult as your profile and the profile of your brand continue to rise?
No, thankfully. I find that the key is having really solid people to work with, and I think I've got the best team I've had in [Awake NY's six-year history] around me. Everyone around me knows my expectations and how hard I work. You do what you've gotta do to get the job done, and that ethos has carried me through every job I've ever had, from folding T-shirts to working at Supreme.
What's the biggest change you've seen in retail since you first got into it?
Businesses in our world had more of a DIY spirit 20 years ago. You'd go into a store in the Lower East Side or even SoHo, and even if someone only had a hundred-dollar budget to merchandise their store they'd f*cking crush it. I think of Kim's Video on St. Mark's Place — they didn't have a merchandising team, they had a few bits of paper and a Xerox machine, but they made it work. You look at these old Jamel Shabazz photos of the way windows used to be displayed, and you see rows of shoes and Stetson hats. That's a lost art. I'll only see that when I go to places like Paris or Madrid. We don't have any of that in New York anymore and it used to be the norm. That stuff is all experience and memory, and those things are still indelible in my mind. I think people still want those experiences and memories because I want them [laughs]. You want to walk into a store, hear a song from a band you didn't know about and smell a new scent that you haven't smelled before. That experience stays with you.
James Jebbia once told you that a brand needs a physical space to be taken seriously. How did you interpret that, and why does it resonate with you?
At this point in Awake's growth, it's hard for us to communicate exactly who we are if we don't have a physical space. We can continue to say that we're from New York, that I'm from Queens, that I grew up coming to the Lower East Side and that our brand is all about community, but I feel like we need to be …
"People can come in [to our store] and say 'Oh, this is Awake. This makes sense. I get it.'"
Showing it?
Yes, exactly. I think people are getting to know our brand story and history, and now it's like, "OK Angelo, what else do you have?" I look at the landscape here in New York, and I say this respectfully, of course, but I don't think we have any competitors here. That's not because I think we're better than anyone, it's because we're doing our own thing and giving our own interpretation of streetwear, just like all the other successful New York brands and shops are. I don't think there's any better way to really showcase that than having a physical space. People can come in and say, "Oh, this is Awake. This makes sense. I get it." Having the opportunity to do that here in New York, to communicate like that, pushes me harder to make something that feels special and intentional.
And it's a tough crowd here too — people are going to support, but they have high expectations.
110%. There's always that healthy bit of New York skepticism. They're like, "If you're going to make me leave the crib and come to your store, I better be impressed" [laughs]. Everyone here in NYC is doing a great job. There's no room for mediocrity in New York retail.
In the past, Awake NY would use pop-ups at spots like Procell and Dover Street Market to tell its brand story. Now that you have a permanent space to tell that story, is the storytelling mindset different, or do you view it as an expansion of the story you'd tell at the pop-ups?
Ownership is really the key difference. We can do whatever we want now. When Awake was in Procell and Dover Street Market, we'd have to work within clearly defined parameters. It goes back to that DIY mentality: I'd have a $500 budget to make the space look as cool as possible. We'd be paying out of pocket for those pop-ups, so we had to be super mindful. There's a whole lot more freedom now that we have our own space, and with that extra freedom comes an even greater need to show and prove.
"I want [customers] to be inspired first and foremost … if the store gives then that spark of inspiration, I'll be happy."
How do you think — or hope — that people will feel when they set foot in your store for the first time?
I want them to be inspired, first and foremost. I want them to have an "oh, sh*t" moment. If they don't walk in and say, "Oh, sh*t," then I haven't done my job. If the store gives them that spark of inspiration, I'll be happy. If they buy something too, even better.
Is it more important than ever to provide an alternate experience in a world where you can get almost anything you want or learn almost anything you want to know with a few clicks of a button?
I feel like there's somewhat of a "formula" these days, and that it's important for us to offer an alternative to that. It would be great to show kids that it's OK to be a little disruptive. I'm not saying that we're redesigning the wheel with our store, but I do believe it's a little different — that we're focused on community, conversations, and experiences rather than just pushing you to buy something. It's also important for me to show that you can be from here, that you can look like me and that you can own your own store too. I didn't have those examples growing up, and I want to be sure that we provide them. You'll definitely be able to catch me hanging out at the store.
It really helps when you can see the heart of something — see the "why" behind it instead of just being told that it's cool.
That's important too. If you're coming to Awake, you're not coming for hype. You like the work that we're doing, both the work that pertains to the clothes and the work that has nothing to do with the clothes. I feel like we've been really consistent over the past six years, and it's really clear what we stand for and stand behind. The store will continue to tell that story, and I'm really, really stoked.
What's your "north star" goal for the store?
People hanging out in front of it! [laughs] If I can look outside my office window and see people chillin' out front, that's the biggest win I could ask for.