For Balenciaga, Looking Back is the Only Way Forward
But will Demna's decision to focus on the fundamentals for his Winter 2023 collection salvage the House's reputation?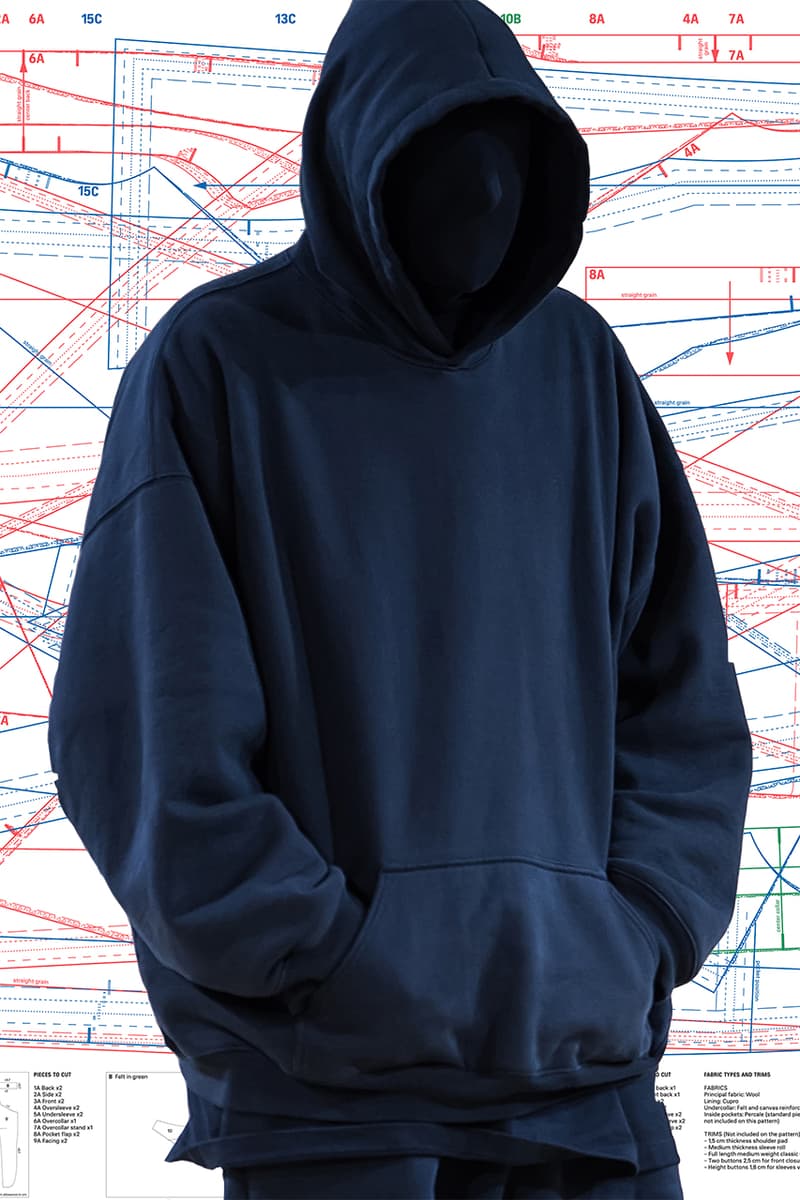 For Balenciaga, Looking Back is the Only Way Forward
But will Demna's decision to focus on the fundamentals for his Winter 2023 collection salvage the House's reputation?
As Christian Dior said, Cristóbal Balenciaga was "the master of us all." Aged just 22 when he opened his first Haute Couture atelier, the Spanish designer's vision and taste level transformed an archaic industry, and even more so when he opened Balenciaga in 1937 — a brand far from what you know it as today.
But after shutting its doors in 1968, Balenciaga was never the same. It went to the depths of fashion House hell by selling branded perfumes, and was later bought by German conglomerate Hoechste. Little else happened until Nicolas Ghesquière got hold of the reigns in 1997, marking the beginning of Balenciaga's illustrious run of both bringing in and creating cult designers within its walls. Ghesquière's tenure is without fail the most collectible of Balenciaga's contemporary archive – with another headline-making stint from the controversial Alexander Wang's stint as Creative Director from 2012-2015 – and today, we have Demna, continued to stir the creative pot at Balenciaga until it became charred and overcooked.
As you're probably aware, Balenciaga and Demna's controversy has had more twists, turns and revelations than an episode of Keeping Up With the Kardashians. Following on from Summer 2023's "The Mud Show" – which opened with Ye, the rapper and fashion mogul whom Balenciaga has since departed ways from – came a slew of problematic campaigns that riled social media. From BDSM teddy bears to documents in the background of a separate campaign detailing the Supreme Court case ruling of United States v. Williams, which heightened federal protections against child pornography, the campaigns were, ultimately, of poor decision-making and even poorer taste.
Since setting the internet on fire, Balenciaga has made considerable attempts to show change. It and its parent company, Kering, partnered with the National Children's Alliance, Demna spoke out in a tell-all Vogue interview, and through it all, products have continued to sell out. The latter is of particular poignance, because such furor for Balenciaga's products is the Demna effect, arguably the sole reason why Balenciaga was the "hottest brand in the world" for three consecutive quarters between 2021 and 2022.
Demna cut his teeth at Antwerp's Royal Academy of Fine Arts, the same institution that gave birth to the legendary "Antwerp Six" – Ann Demeulemeester, Marina Yee, Dries Van Noten, Dirk Bikkembergs, Dirk Van Saene and Walter Van Beirendonck – as well as Raf Simons. After graduating, Demna worked under his former teacher WvB, before moving to Margiela and then Marc Jacob's Louis Vuitton. With little formal training, the small-town boy from Georgia had scaled a ferocious fashion design ladder, ascending from student to LV's women's ready-to-wear designer. By 2014, he founded Vetements with his brother Guram Gvasalia.
Vetements sprung onto the scene with enviable success. It hosted its first Paris Fashion Week runway show for Spring 2015, opening with Demna's friend, muse, and collaborator Lotta Volkova (who also used to work with Demna as Balenciaga's stylist), and went on to create cult items like the DHL T-shirt, hosted a show inside a McDonald's restaurant, and dressed all of the most important celebrities at the time such as Ye, the Kardashians, Justin Bieber, and Rihanna.
Joining Balenciaga in 2015, Demna's mission was to create a House steeped in a luxurious past re-dressed for today. Think adidas collaborations and Helly Hansen Haute Couture parka jackets presented alongside flamboyantly ornate jewelry, little black dresses inspired by Cristóbal's designs, a selection of it-girl handbags, and a whole lot of viral moments.
As the House said itself, Demna's Fall 2016 debut was "a new chapter… a reimagining of the work of Cristóbal Balenciaga – a wardrobe of absolute contemporaneity and realism imbued with the attitude of his haute couture." For Demna's first menswear collection, Spring 2017, he told Dazed that the designs were "a little wink to the idea of where the tailoring comes from, the perfection of tailoring that I wanted to break with this collection." Indeed they were: the "Cristóbal Coat" was a sharp, boxy, elongated piece of outerwear that held a piece of paper in its chest pocket, a motif that nodded to the kind of notes Mr. Balenciaga would document when making his collections.
As the years passed, Demna's Balenciaga grew into a behemoth trendsetter. It was no longer a brand; but rather an incubator of taste-making. The Triple S singlehandedly kickstarted the dad sneaker rage, logomania ran wild and gave way to iconic pieces like Balenciaga's Bernie Sanders-inspired "Political Campaign" graphic, and more recently, the House has used Demna's Georgian heritage and its cultural influence to be evocative and emotional, per the dramatic Winter 2022 runway show.
But where did it go wrong?
In a recent Vogue interview, the designer admitted that his work "has been seen as provocative," with items like the Trash Bag-bag rubbing people up the wrong way thanks to its astronomical price point, let alone the bondage bears. Demna is the first person to acknowledge where he has taken Balenciaga, and perhaps why it became fashion's go-to meme: "Often in my work, I reference things that are somewhat mundane and relatable and easy to understand, and over time, that approach is why we've become associated with pop culture. Of course, there is also the celebrity aspect, but I have to say, I have never thought about dressing celebrities or aiming my designs at them. Actually, I was quite opposed to it for a while, until the brand grew in a certain way, by which point it was inevitable [we'd work with them]."
In hindsight, maybe this is not Balenciaga, by Demna – nor Balenciaga's terms. "Being part of pop culture brings virality to any subject, so the viral aspects of that subject can end up having a massive impact," said Demna in Vogue. This is why, for Winter 2023, the House is looking to realign with its past to help steady the direction for its future.
At the backend of 2022, the House used its ever-changing Instagram feed to show black-and-white footage of Cristóbal Balenciaga's collections from the '60s. It was a hint at what was to come, with Demna looking to reflect what he has done with the return of Balenciaga Couture by distilling it into his ready-to-wear line.
The Winter 2023 show is a few days away, and much more is known about what's to come than previous shows have let on. For example, Demna has said that the set will be "intentionally simple" so showgoers can focus on the clothing, and that the experience will be stripped back to the "essentials: collection, sound, light." He also said it's "more in line with who [he is]." And it's true; his early work at Balenciaga was a diluted version of Vetements' viral mania, combined with Balenciaga's chic and classy nostalgia and the designer's own tastes, ones influenced by simplicity and tweaking traditions.
As a result, the upcoming collection won't just see Demna looking back at Balenciaga's past, but his own. We know he can make clothes that are technical and desirable for their craft, not their virality, as proven by his Couture collections, and this is likely to be the focus for Winter 2023. Explaining what the collection will actually look like, the designer has said it is "an evolution" that is seldom seen in RTW.
Tailoring is a focus. Leading up to the show, Balenciaga has teased multiple invitation graphics based around pattern cutting – one of which is downloadable as a PDF that can be taken to a tailor and made into a "Regular Fit Jacket." It alludes to the concept of cutting, deconstruction and reconstruction, and ultimately, the fundamentals of tailoring – in turn, representing the rich roots of a historic House such as Balenciaga.
Elsewhere, the collection is said to focus on the silhouette. Again, this is something Demna does with ease, time and time again showing us that he can create shapes that are both elegant and subversive, per many pleated maxi dresses, the C-jacket, or archive-inspired bags. And rounding out his list of motifs for Winter 2023 is, as Demna said, "the way I see modern elegance."
Balenciaga is looking back, and this move could mean one of two things. Re-writing its own set of rules might push its current audience away; a lack of branding and TikTok-able designs that its crowd has subscribed to for almost half a decade will certainly throw its pop culture identity up in the air. And from what Demna has said, said choices are likely to be made on Sunday, March 5.
But by doing so, Balenciaga is also eschewing hype appeal in favor of creating a story of longevity, something archival fans of the brand will appreciate. Luxury labels from Gucci and Prada to Louis Vuitton and Dior have echoed elements of Balenciaga's path to dominance, creating collaborations and "affordable luxury" items for a young, brand-obsessed consumer. By stepping away from this, and welcoming its past with open arms, Demna is not just recognizing the ethos of his House, but celebrating it.
As a result, Balenciaga ironically resets the tone for the fashion industry. Proven by the likes of LOEWE, Burberry, AMI, Ferragamo, and Raf Simons' Prada at international Fashion Weeks of late, we are stepping into an era of reduction, simplicity and refinement.
Balenciaga is trying to redeem itself, and in doing so, it is showcasing Demna's abilities as a designer. There is nowhere to hide when the collection is taken back to basics as the brand welcomes a shift away from being in the spotlight for all the wrong reasons by reclaiming its identity from the past.
Eight years ago, Demna reshaped Balenciaga and the fashion industry with his fresh take on modern luxury. This weekend, all eyes will be fixated on Balenciaga's Winter '23 collection, and whether he can do it all over again.