Burning Man Reveals Temple for 2023 Festival
"The Temple of the Heart" has been designed by Ela Madej and Reed Finlay.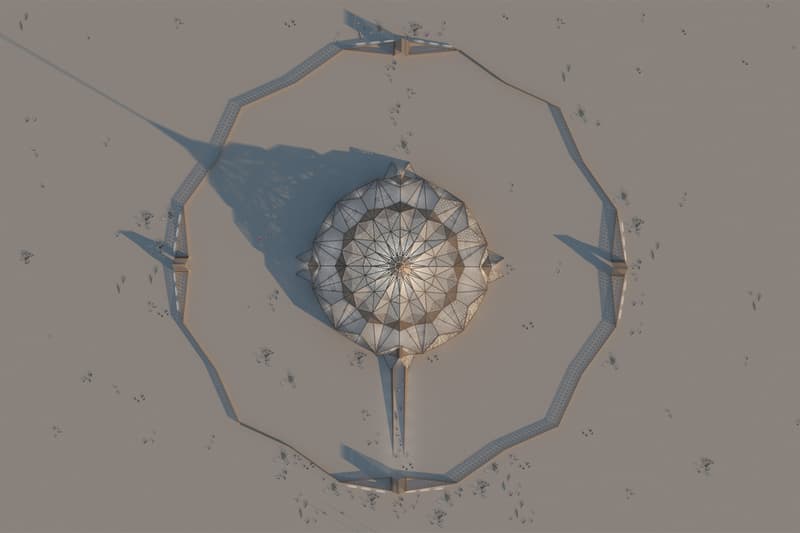 1 of 3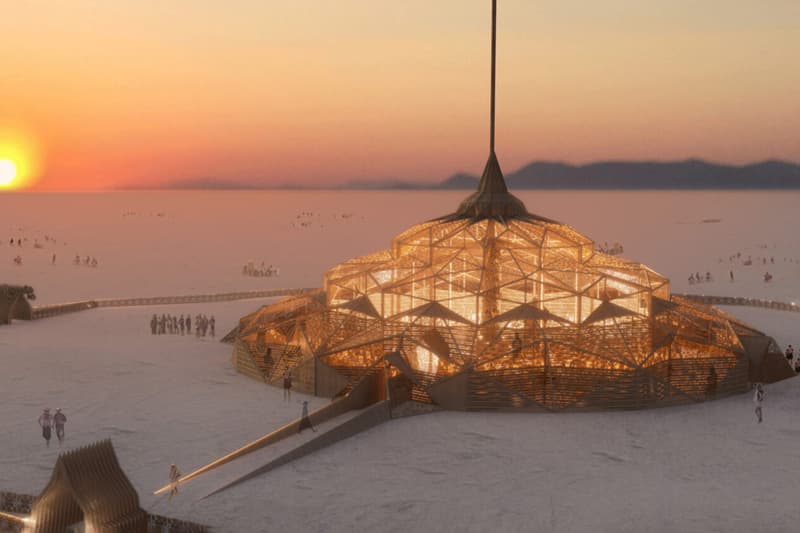 2 of 3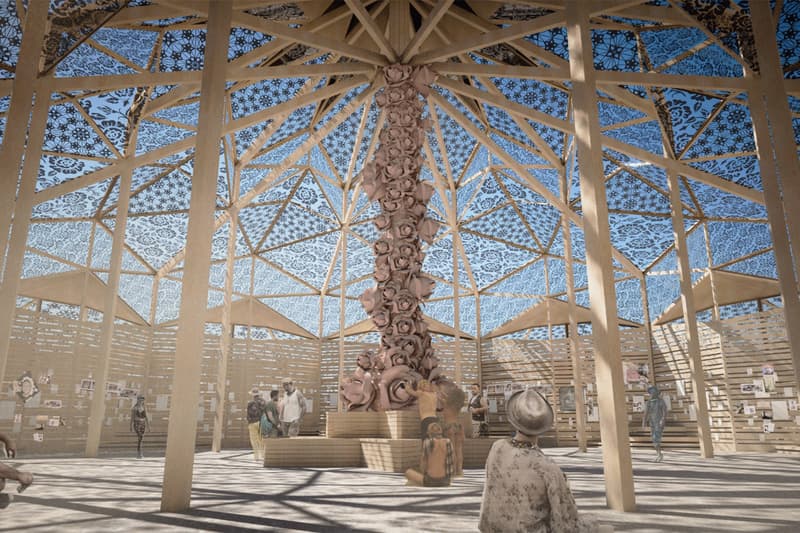 3 of 3
Three years since it last announced a new physical structure, the temple for this year's Burning Man has been revealed as an "upside-down desert flower", designed by Ela Madej and Reed Finlay.
Titled Temple of the Heart, the structure's design has been heavily influenced by floral motifs, and sees 12 points gathered around a central "Heart Chamber". The overarching flower theme continues beyond the shape of the pavilion itself, and inside, traditional floral lace patterns from Eastern Europe will be used on the ceiling panels, in reference to Madej's Polish heritage.
Visitors can enter the Temple of the Heart via one of four entrances, each surrounded by a fence and gates that create courtyards around the main structure. Once inside, they can enter the "Outer Ring", which is dotted with 12 alcoves complete with built-in seating – intended to be a space for relaxation, stillness and reflection.
Past this corridor-like section is the Heart Chamber. Here, the designers have created a focal point dubbed the "Rose Altar", which will be lit to create a glowing-from-within-appearance and will be scattered in approximately 100 large and medium-sized wooden roses.
"In bringing this Temple to the playa, we want to experiment with how much of our hearts we can insert into Her in the next eight months," Madej says. "The Burning Man Temple is the most remarkable place for deep sharing, grieving, and celebration," Reed adds, "and we feel a great responsibility to provide a space that respects those profound experiences."
This year's Burning Man Festival is set to take place in Nevada, from August 27 to September 4. The organizers will soon launch a Kickstarter campaign to support the construction of the temple and are gathering interest from volunteers who will help bring it to life. "We always look for a design that allows unskilled volunteers to make meaningful creative contributions," the organizers say. "Temple of the Heart's central altar will allow for people without build experience to participate in a significant way."
In other design news, an exhibition titled The Original is set to bring 100 design classics together under one roof.