The Rise and Fall of Burberry Golf
How the nova check conquered country clubs in the early 2000s.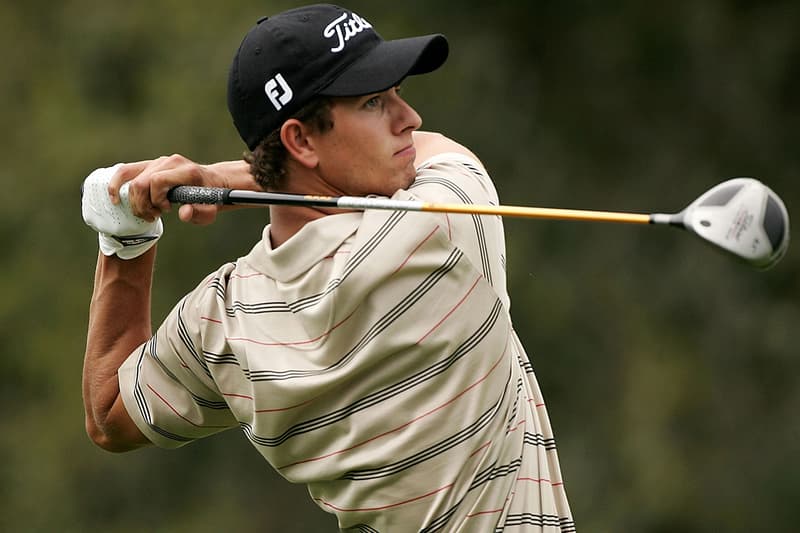 The year was 2000 when golfer Adam Scott turned professional. Tiger Woods was already taking the PGA TOUR by storm, fending off established contenders like Ernie Els, David Duval and Lee Westwood. While Tiger was the chosen one, Scott was seen as a worthy adversary with what many thought was the perfect golf swing. It was an electrifying time in golf, one that people look back on nostalgically for the rivalries, the personalities and the drama.
Watching highlights from the epic battles between Adam, Tiger, Ernie and others, it's hard not to notice how golf style has changed. Comment sections often see remarks like 'What happened to golf fashion?' and 'bring back the baggy fits.' What you come to realize is that people don't just miss the competition, they miss the style too.
Back then, micro textile patterns popular in menswear – houndstooth, herringbone, windowpane and nailhead – were often used. Cotton was still the primary fabric, and cuts were relaxed. Pleated trousers were secured with dark leather belts with western-style plated buckles and tipping, and saddle shoes were choice. On the brand side, Nike, adidas, FootJoy and Ralph Lauren vied for supremacy, but a new player was appearing on the horizon: Burberry Golf.
How It Started
It was the perfect storm for Burberry, and it all started when a new golf-crazed CEO, Rose Marie Bravo, came into leadership. To lead the design team, Bravo chose Paul Rees, while Tim Dally would be responsible for global sales, both of whom spoke with Hypegolf to dish their insights into the brand. There was just one final piece to the puzzle. Burberry needed an ambassador who could represent the brand authentically. And with Adam Scott they found that, and more.
"Once the main brand was aware of our involvement with Adam they wanted to use him in their menswear," said Rees. "So they would dress him up all the time at a function and in the Burberry main line." And it's easy to see why. With his chiseled features, dark hair and trim silhouette, Scott looked just as natural striding the fairways as he might walking the runway. He was a young heartthrob, entirely uncontroversial from a PR standpoint, laid back and easy to work with for the designers and he even had the game to back it up too. Adam Scott was the face of Burberry Golf. "He fitted the brand, that quintessential kind of Britishness about the brand," added Dally.
With the machine of Burberry branding and advertising behind it, Burberry Golf had everything necessary to succeed in the US, Asia and beyond. Although Burberry was having an identity crisis in the UK, globally the brand was taking off. Because of the Scottish roots, tartans and plaids are an easy sell in golf, and Burberry's was an elevated version. Nova check polos were flying off shelves in country clubs everywhere. In a span of about seven years, Burberry Golf would turn $100k in profits into a $100 million USD.
"In a sense it brought lifestyle to golf…Did it have a competitor? I'm not so sure."
Among the keys to that, says Dally, was Burberry's refusal to diffuse its lines as adjacent brands like Ralph Lauren were doing. "We didn't do that with Burberry Golf. While it was an integral part of the brand, it was never diffused into a cheaper line. So it retained its high luxury profile, and it was almost on its own from a price point of view…So it just sat alongside the global luxury brands."
How It Evolved
Burberry Golf sat adjacent to the menswear department, but there were some key elements that differentiated the two. Aesthetically, anything with a check was selling, but the design team was given creative license to push it further. "We had kind of a little element of freedom back then," says Rees. "We'd offer the check in the traditional camel, black and white with the poppy red. And then we could also do it in three different colorways. So we would have the base check, then we had a blue version, then we had a pink or a green, whatever trend or seasonal color we fancied."
Tiger may have made the mock neck famous, but Scott also sported it regularly throughout the 2000s. "They were just starting to come around in 2003," notes Rees. "We started to see a lot on the PGA TOUR and then we would just add a little bit of piping on it." The golf department continued to meet and exceed its revenue targets, and ownership saw no reason to mess with a winning formula.
Initially, larger silhouettes were used to accommodate for the movement of the golf swing in lieu of stretch fabrics, and other features like articulated seams were utilized to create extra layers of movement. Before the advent of technical fabrics, Rees and his designers would source the finest mercerized cotton from Italy. "Mercerized means it's extra finely twisted, so it's super thin. So the great thing about that was it's really breathable fabric to wear." The brand would continue to evolve under Rees's leadership and with the help of Scott's feedback, helping it stay out ahead of the competitors from a performance standpoint.
"I kind of like that [golf fashion is] more exciting now and that people aren't going by the same rules."
Scott would come into the showroom in London where Rees and the team would collect his feedback on what he liked and didn't like, which would then be fed back into Dally and sales. After one particular tournament, Scott commented that the pants needed more breathability, so the heavy twill was replaced by a fine microfiber. Over time, the baggy silhouettes were brought in and tailored to his liking. As advancements were made in textiles, new performance features were integrated further.
How It Ended
The question is, if Burberry Golf was doing so well, then why isn't it still around? Despite the company's ongoing success in the US, globally the brand's image was suffering and product was becoming diluted. As part of a new global strategy, Burberry took everything back in house, reining in the fragmentation that had taken place over the years. This meant Burberry Golf was placed under the Burberry Sport umbrella. In time, Burberry exited the golf market altogether, and all of its country clubs accounts were lost. It's a tale of corporate restructuring that's as old as time, and Rees and Dally would reunite with Scott later at Aquascutum.
Reflecting on his years at Burberry, Rees is proud of the work he did. And comparing the golf fashion arena of the early 2000s to today, it's like night and day. "Back then it was slower. We didn't have social media, so the salespersons were much more important. But now there are a lot more trends because people see it and they can just use it straight away, especially on social media. So I think it's more diverse now and I think that's a healthy thing."
This dynamic has led to new brands like Bogey Boys, Malbon Golf and others entering the space with a DTC model, allowing them to move quicker, and keeping pace with trends in real time. "I kind of like it that there's lots of new brands coming up all over the place and they're using viscose and rayon, a lot more rich fabrics," says Rees. "And I kind of find that it's more exciting now and that people aren't going by the same rules."
Zooming out further, it becomes easier to see the impact Burberry had on the current day landscape. Because unlike other established brands like adidas, Nike and FootJoy, Burberry was a fashion brand making golf apparel. They were selling an image. "In a sense it brought lifestyle to golf," says Dally. "Did it have a competitor? I'm not so sure, possibly Ralph. But it didn't directly compete with any golf brands because it was lifestyle, and then we turned it into golf." And as the London label continues its resurgence in streetwear circles in 2023, it begs the question: could Burberry Golf make a comeback?