Adobe Doubles Down on AI with Over 100 New Features Announced
We caught up with Scott Belsky, Adobe's Chief Strategy Officer, for a conversation on the convergence of creativity and technology.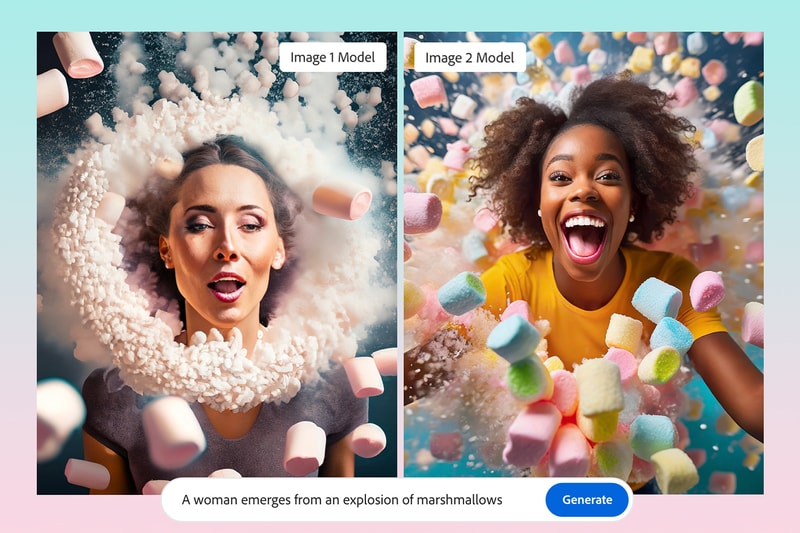 1 of 3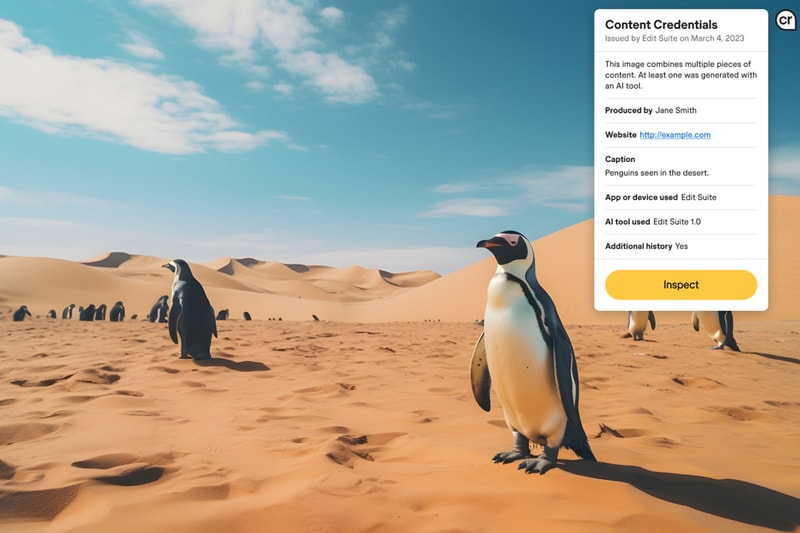 2 of 3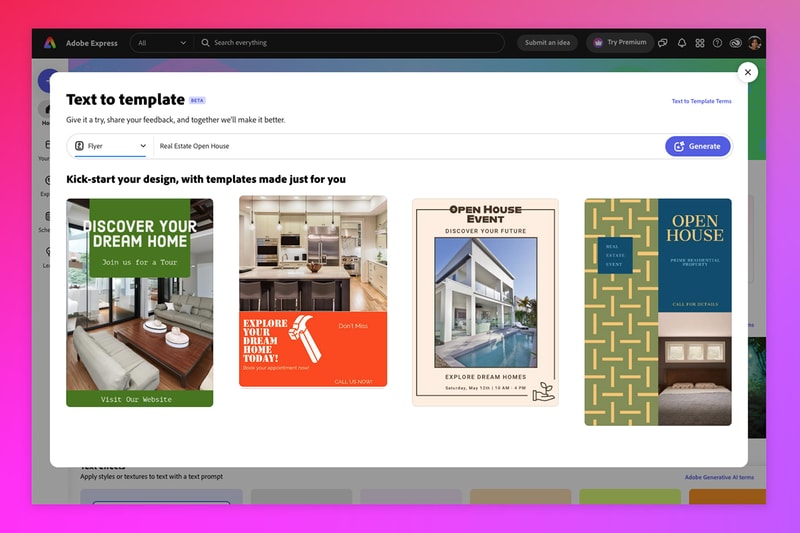 3 of 3
Adobe recently announced over 100 new features across its suite of Creative Cloud apps, doubling down on AI as a tool and creative aid across many of its core applications including Photoshop, Premiere Pro, Lightroom and more. Adobe's AI image generator, Firefly, which launched in March this year, has been updated with three new generative models for images, vectors and designs – users have collectively generated over three billion images using the software since its launch. The company has also added new pro-level features and functionality to Adobe Express, its free cloud-based media creation application, reinforcing the company's desire to democratize access to design tools in order "to change the world through personalized digital experiences", with a focus on web-based and on-the-go creativity.
Testament to both the interest in generative AI as well as to the pace at which innovations are happening in the space, Firefly has received a triple update with three new image-generating AI algorithms covering images, vectors and design. The new Firefly Image 2 model builds on the original with a larger model capacity that delivers faster processing speed, twice the resolution, and higher-quality photorealistic images that render key elements like hair, skin texture and facial features in a noticeably improved way. Adobe has also launched the "world's first generative AI model for vector graphics", the all-new Firefly Vector model, allowing users to create fully editable vector graphics for use in Adobe Illustrator. The third of these three updates comes in the form of the Firefly Design model, a text-prompted template creator that will allow users to generate designs (such as flyers, birthday cards etc.) in multiple formats and sizes by simply describing what they need. All of these new models can be tried now via Adobe's Firefly beta, and will be making their way into Creative Cloud apps soon.
As well as the new generative vector model for Illustrator, Adobe has created a couple of new AI-powered tools to help speed up workflow. One of these, Retype, is a feature that can identify fonts in a matter of seconds and turn static text on an existing piece of content into editable text; the other, Mockup, allows users to virtually place vectors onto real-world objects for a visual preview of what the final product could look like. While some of these example may be uncommon use cases, Adobe CEO, Shantanu Narayen, referred to the company's latest AI-based updates as its users "creative co-pilot", helping them with the otherwise time-consuming, mundane tasks involved with design work.
Moving away from software, Adobe also debuted a dress that could change design whilst being worn. Project Primrose, as it is known, was announced as a "wearable and flexible, non-emissive textile" technology which can display designs created within apps in Adobe's creative suite. It was modeled by Christine Dierk, its creator and one of the company's research scientists, and – though still in its early days – the company's ambition is that the material can be incorporated into traditional clothing or even furniture.
Whilst the concept of AI and the various guises it takes is nothing new, 2023 feels like the year AI was firmly imprinted onto our collective consciousness. AI has been everywhere this year: from Paul McCartney using it to make a "final" Beatles song and Coca-Cola launching an AI-created new flavour, to Disney allegedly using AI to create a poster for the latest season of Loki and – of course – the rise of ChatGPT. Like any new technology, AI has polarized opinions, but for both Adobe and its users AI has very quickly shown its potential to be a creative tool, and over the past few months AI has been implemented into most of Adobe's key applications in some form.
Hypebeast recently sat down with Scott Belsky, co-founder of Behance, and Adobe's current Chief Strategy Officer and EVP, Design & Emerging Products. We discussed the evolution of creativity and its convergence with technology, AI, and what this all means for creatives – you can read the interview below.
What are some of your favorite Adobe innovations that can benefit the up and coming creative?
Even just five years ago, it was really hard for someone to be able to work in more than one category. If you spent time learning Illustrator, you probably didn't know Premiere Pro. It takes a lot of time to really master and understand one of these products, but I feel like we've made a lot of improvements over the last five years that are making them easier to learn and easier to use. New interfaces like the action bar, new technologies like generative fill, and all that kind of stuff. Also new apps like Express that allow you to take something from Illustrator, [move it] to Photoshop, then add motion and turn it into video. This is allowing creators that used to work in one category start to work across every category. And so, to me, that's one of the most important innovations for the next generation of creators.
Content has almost become a language. Do you think that content, today, is an evolution of human communication?
I definitely think that creative content is a vehicle for meaning. I mean, look at memes, [they are] a vehicle for knowledge that is sugar-coated for easy consumption and quick spread. I think the reason why memes are so effective is that they pierce through all of the noise and all of the learning curves that someone would have to go through to understand the message. I think that the advent of the meme is probably much bigger than we realize. So, yeah, creative content –  imagery or video – is such an effective means of knowledge transfer.
What do you think the effect on creativity will be if the AI is more "I" than its user?
These tools are only as good as the ideas you have and how to use them. What's changed now is that there's less friction to get something from your head into something that's visual. Those who just prompt an image and then use it [as it is] can only be so good, but if you take it into Photoshop, do some iterations, explore variations and pick the one that you think is most effective, that is the creative process that makes something really special. In some ways what's happening now is that the floor has gone down and more people can actually get into creative expression, but also the ceiling has gone up – there are more capable [people] for each person that's in that box. The technology will become more intelligent, but I think the real question is what makes creativity effective? It's ultimately creativity that moves us, right? Creativity that just seems redundant, doesn't move us at all and you don't care. But something that captures your imagination and pulls at your heart, that's effective creativity, [and it's] going to continue to come from humans because it has to be governed by story and craft and meaning and emotion. People overplay the intelligence of these tools; they're really meant to augment and help us hop, skip and jump through our creative process.
Do you think technology has leveled the playing field in some ways?
Creative confidence is probably at its peak at the age of five; everything we do gets put on a refrigerator and gets the adoration of our parents and teachers. And then soon we realize that there are people around us with better skills. There's people around us that are critics of our work. And, for some reason, creative confidence just goes down. I think that's why most of us stop creating, or stop drawing, past the age of 10. Most of us never define ourselves as creative in our adult life, but I think that that is fundamentally changing now.
Creating on-the-go is a focus for Adobe. Is there something you see in creative apps today that you would have never imagined was possible a few years ago?
Absolutely. The interoperability between our products, the ability to drag in something from Illustrator or Photoshop into Express and just keep going and make it a template for other people to use. That stuff required so much plumbing and took us years under the hood. Having Photoshop and Illustrator available on the web… I mean, these products weren't even saving cloud documents five years ago – and now they're available as web applications. The integration of generative AI capabilities at our fingertips, the quality of the outputs and how fast the quality has gotten better has totally transcended my expectations.
What do you think the next 10 years will bring in terms of technological advances that will impact creativity?
I'm very excited about immersive mediums. We're all still focused on the 2D world, and I know that people are excited about the [Apple] Vision Pro and the Meta Quest 3, but until there's mass adoption of those products no one will fully realize the potential of immersive experiences. But, once we do, there will be a massive platform shift that's going to redefine social apps, dating apps, relationships, and shopping. All of these fields are going to be completely reimagined. You're gonna be able to go to a mall in your living room, literally enter any store and have a fully immersive experience – explore anything without leaving your home if you want to. You're going to be able to have entertainment experiences that involve you and are more personalized to your interests. These are things we're leading up to right now that I think are going to change everything. But we're still in the pre-adoption phase of those devices.
Have you seen a cultural shift in terms of creative jobs being more accepted in the mainstream?
I think it has changed for a few reasons. Number one is the creator economy, and how successful people have been who have become businesses or brands in and of themselves. The second thing is creativity has always been sort of this elusive thing that no one understands and very few people feel they can access, but as access to creativity becomes more democratized more people have an understanding of its importance and, maybe, more respect for people who pursue it for a career. People that stood out in previous centuries [did so] based on how productive they were. The more productive you were, the more successful you were. I feel like we're shifting from a world in which people succeed based on their productivity, to a world where people are going to stand out and succeed through their creativity. So much of productivity is going to be offloaded to computers that people are going to stand out through ingenuity. I think we're going to be a world where creativity is no longer confined to an art class once a week, but it's permeated throughout every curriculum. And I think the idea of going into a creative career will be far more understood and respected.
Do you think creativity is more important today than it was 100 years ago?
I think so. If you think about just how complex the world is these days – the geopolitical problems, the environmental problems, and all these things that we're facing – it's creativity that helps us understand it. We need help to understand [these events] through infographics and stories and movies and documentaries. If you think about anything that gets us passionate about something, or anything that really moves us to take action, it's ultimately done by someone who's creative. I don't feel like there's any more noble disciplines to help us navigate the future than those that can craft experiences.
With technology moving faster than ever, watch this space for more updates as they arrive. And, in other news, check out our latest weekly tech roundup.