Sole Mates: Ye Chun and the Nike Air Foamposite One
Tianjin COLOUR's founder touches on his hometown's fervor for the classic silhouette, his favorite Air Jordans and more.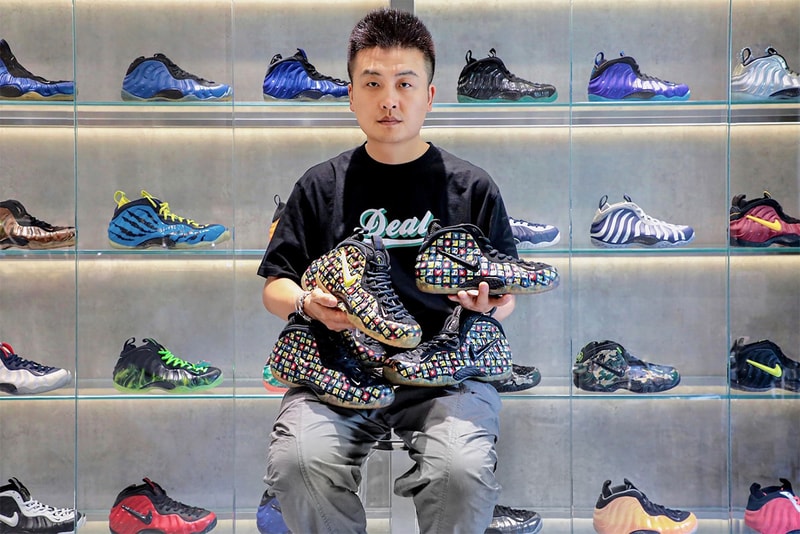 Sneakers have almost always been admired on a global scale, but few cities in the world can identify with a certain silhouette so strongly that it confidently claims it as a piece of their culture. Once folks hear "New York City", they automatically think about Timberland boots and Nike Air Force 1s. Los Angeles is most commonly associated with the Cortez. And Tianjin — a coastal destination in Northern China — is strongly tied to the Nike Air Foamposite One. In relation to the latter, Ye Chun — founder of sneaker boutique COLOUR — thoroughly understands the relationship between his hometown and the classic basketball-turned-lifestyle silhouette.
The sneaker business owner is an ardent collector of Foamposites, and even has sample pairs in his possession from before the Eric Avar-designed offering made its debut to the public in 1997. He's religiously studied nearly everything about the beetle-inspired kicks from its origins to its pathway into the mainstream. And he's one of the first people to recognize its profound impact on his local community and Tianjin culture, so much in fact, that his city named itself the "hometown of bubbles" — unofficially declaring the model as its own.
In this latest installment of Sole Mates, HYPEBEAST sat down with Chun to talk about his plethora of rare sneakers, how he played a pivotal role in bringing Tianjin-influenced Air Foamposite colorways into fruition and more.
HYPEBEAST: What got you into sneakers?
YC: I'd say it really started back in 1986 when I first started watching the NBA, and that's when I started to feel attracted to what sneakers the players were rocking. I gradually started to pay closer attention to Michael Jordan's miraculous performances and how his sneakers played such a huge role in his career, and I've been immersed in the sneaker space ever since.
At that time, everyone was wearing brands like Huili and Pisces, and having a pair of basketball shoes could almost be described as a "dream" for ordinary families like mine. Getting into this line of business can somewhat be considered compensation for the things I missed out on during my childhood.
Do you remember what your first pair of sneakers was?
The first pair of sneakers I owned was the Air Jordan 2 Low "Chicago", which was given to me by Wang Zhong, another manager of DEAL at the time. I still think that the Air Jordan 2 ranks amongst the top nine in the Air Jordan series. It's definitely one of the most comfortable.
As a veteran of the Tianjin sneaker circle, what do you think has created the inseparable relationship between the city and the Foamposite?
I think there are three inseparable relationships between Tianjin and Foams. First, sneaker culture was actually divided into northern and southern ends in China, and the colder environment in the north is what helped sneaker culture start. The Nike Air Foamposite One was very popular in many northern cities thanks to its futuristic shape and thermal properties.
As an important coastal port city in the north, Tianjin has always been a transit point for goods. Back then, when Foams couldn't enter China via Nike's official channels, they flowed into parts of Tianjin through unofficial channels, and the city has been inseparable from it ever since.
Secondly, the family conditions of the children in Tianjin at that time were average, and the children paid special attention to the durability and cost-effectiveness of sneakers. Foams have very durable materials, are simple to take care of and have extreme comfort given the double-layer Zoom Air cushioning, which is why it undoubtedly became one of the most popular products in Tianjin.
We heard that you've got plenty of rare Foams in your collection. What're your thoughts on seeing the model's evolution?
Most definitely. As many of you know, Nike Foams officially debuted to the market in 1997, but we've got sample pairs of the OG "Royal Blue" colorway from 1995 and 1996. There's subtle differences in the shape and branding that few people have ever seen before, and it's been a joy to see its original shape and details.
What is the difference between the sneaker culture in Tianjin from other cities in China like Beijing and Shanghai?
I think the sneaker culture in Tianjin is relatively special. The sneaker culture in this city has the same forward thinking as the northern cities and the acceptance from the southern cities. Beijing and Shanghai can be considered cities of two extremes, and Tianjin falls somewhere in between.
For the sneaker culture in Tianjin, "bubble" is the root.
The Nike Air Foamposite One "Tianjin Spray", which came out in 2015, skyrocketed the city's passion for "bubbles" to its peak. Did you play any significant role in helping this shoe come to life?
You can certainly say we played a part in its roll out. One time Gentry Humphrey — former president of Nike Sportswear footwear and apparel products — unexpectedly visited COLOUR in Tianjin. We had a chance to chop it up and show him all of the Foams that we had been collecting over the years and he was thoroughly impressed with our passion for them. After he saw that, he made sure the city of Tianjin got its own special colorway of the Air Foamposite One — the "Tianjin Spray."
It's been 18 years since COLOUR opened its doors in 2004, what changes in Tianjin's sneaker culture have you witnessed, and are Foams still a prominent model in today's scene?
In the past 17 years, there have been countless sneaker events, big and small. We have seen the rapid development of sneaker technology, the replacement of basketball shoes and running shoes, the revival of Air Jordan 1s and SB Dunks, and the popularity of co-branded sneakers. But no matter how the times develop, there is always a group of young people wearing Foams in front of Tianjin COLOUR. For the sneaker culture in Tianjin, "bubble" is the root.
We know that almost all of DEAL's stores are expanding under the names of DEAL or WZK. Only COLOUR still maintains the original store name and there is only one store in Tianjin. Does this represent some kind of persistence in your hometown of Tianjin?
DEAL, WZK, and COLOUR are three store IPs that belong to the same DEAL group. DEAL and WZK are more representative of services and consumers across the country, while COLOUR is a local sneaker culture deeply rooted in Tianjin. The culture of each city is unique, so the IP of COLOUR has always been unique, representing the original intention of Tianjin sneaker culture.
COLOUR recently updated and upgraded its logo. What is the meaning behind the new insignia?
The new Logo of Tianjin COLOUR still uses four colors of red, blue, green and yellow, which represent our key attributes. However, the stories we have with sneakers over the years constitute our true color.
This issue of Sole Mates was originally posted on HYPEBEAST CN and has been adapted accordingly.
---
This installment of Sole Mates is a transcription and translation of an original article from Hypebeast China, which was first written in Mandarin and was translated using Google Translate.