Open Road: 2021 fragment design x Maserati Ghibli S Q4
Understanding fragment design helps to decipher the what and why of this collaboration.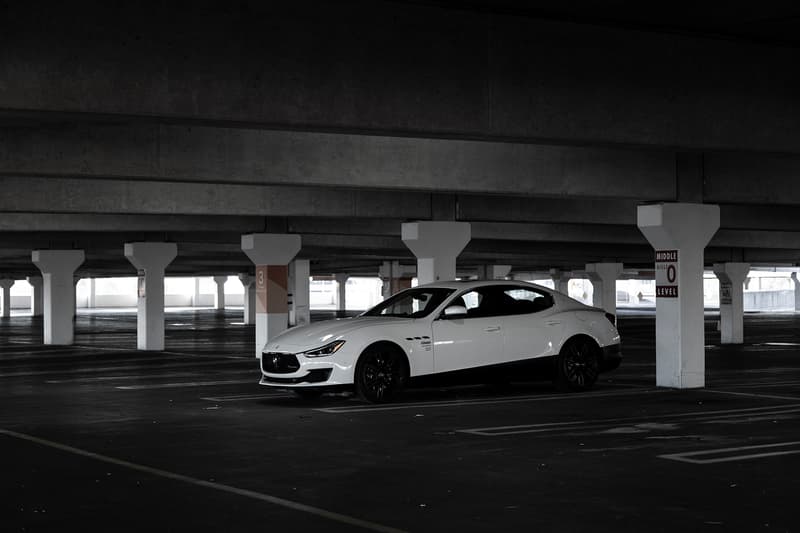 For car enthusiasts, driving is about more than just the technical specifics. Open Road explores not just what these cars do, but what they mean. Whether it's an old, new, or exotic model, HYPEBEAST is looking beyond the stats to unpack the simple pleasures of automotive.
---
"But what's different about it?" That was the main comment heard from friends when the two-toned fragment design x Maserati Ghibli S Q4 rolled into their driveway. While the Trident bears a bit of prestige and luxury to anyone who's aware, a collaboration with the Japanese streetwear brand raised a few eyebrows and questions, particularly what the partnership entails and why. To understand these questions, it's more important to take a step back and understand fragment design.
Without giving an entire history lesson on the legendary "house of hype," fragment design is the brainchild of Hiroshi Fujiwara, widely regarded as the Godfather of Streetwear. The brand works with established companies in fashion, footwear, retail, design, technology, art, now cars, and even food. For your brand to get the acknowledgment from Fujiwara is the highest honor; for it to have the thunderbolt co-branding is paramount to being knighted.
But fragment doesn't work with just anyone – for any partnership to occur, not only does there need to be a history behind the brand to tell, there also must be a story and strategy behind the product itself. fragment design's job is to then find an avenue to tell the brand history and elevate the product being offered, all without changing its formula or overlying identity; a tall ask for brands with established histories such as Maserati.
With fragment collaborations, you'll often find a subtle change and addition that, as a whole, adds a new dimension to the product. What does that actually mean? The practice may seem simple and "lazy" to some, but the technique is more along the lines of "elevation through a mutual respect."
Take for instance one of the collaborator's most coveted pieces: the Nike Air Jordan 1. Regarded as the most highly sought after sneaker collaboration in its catalog, the fragment design x Nike Air Jordan 1 collabo utilizes an unaltered Jordan 1 Retro High silhouette, unchanged colors which have been previously seen in heritage releases, and only adopts the dual thunderbolts embossed into the rear quarter panel for distinction. That's it.
Strategically, a collaboration should be a blend of two brands, with what they do best, coming together to create something great.
Jordan brand lovers appreciate the respect shown for the sneaker's shape and timeless colorway, and fragment design addicts desperately chased the button-sized insignia to show these weren't just your average Royal Blue Jordan 1s. It was all the shoe needed to be elevated, and the result is one of the footwear game's most hyped sneakers, then and now.
So is that what's going on with the fragment design x Maserati Ghibli S Q4? The best way to approach this collaboration is to not see it from the polarizing ends of a Maserati diehard, or a fragment design fanatic. It's best to see it as the car itself, what it's capable of, and what the collaboration does to all parties as a whole.
The Maserati Ghibli is the brand's "entry level" offering, one that gives a taste of both performance and luxury without going extreme to the MC20 super car, or the well-rounded Levante SUV. Its 3.0L twin-turbo V6 with 424 hp and 428 lb-ft of torque is plenty for the urban streets, while all-wheel drive, a factory Limited Slip Differential, 8-speed ZF automatic and 20" wheels all provide a sense of sportiness that could easily get you in trouble. Nevertheless, the Ghibli has received mixed reviews, some of which praise it for offering "classic sports sedan vibes" while others are confused by its price-tag-to-cheap-interior ratio.
The fragment design collaboration applies the following for a distinctive flair: a bi-colored exterior that's glossy "Bianco Pastello" white at the top and matte black "Vero Opaco" at the bottom, a scripted front grille badge, "coding" at the front fender, a circular 3D fragment design thunderbolt badge at the rear quarter, matte black "Urano" 20" wheels, and "fragment" embroidery stitched into the luscious sport seats. Additional options that proved to be nice touches include the shark blue seat belts, a classy dark navy blue chronometer at the center dash, and a healthy mix of Alcantara, although cloth still found its way to the headliner and pillars for reasons unknown. Hiroshi spoke to us exclusively about the project and explained his approach towards the design, that he "wanted to channel the vibe of old Maserati models from the '60s and '70s," but wanted to keep it modern and drivable for the streets of today.
The car presented a lot of positives; the drive was smooth and power was plentiful, although it could have used a bit more sportiness in terms of handling and throttle response. Luxuries like the highly-responsive infotainment system, ultra-comfortable seats, symphony-esque Harmon Kardon sound system and more made the ride feel special. Friends were certainly wowed by the feel that this was a six-figured Maserati, all while not drawing too much attention to it at car parks and around town. That being said, onlookers noticed something about it was unique, enough to ask "is that the Hiroshi one?" at a set of lights.
As a whole, it felt different, special, and all-the-while distinctive. In other words, it was what Maserati does well, only fragment design "elevated" it without changing the original formula.
And in the end, isn't that what a collaboration should be? Strategically, it should be a blend of two brands, with what they do best, coming together to create something great. It shouldn't be a new recipe, and it shouldn't be a dramatic shift one way or the other. But, it should encompass everything correctly without making things worse and, if possible, it should be noticeable to those who know, without going overboard and shouting it out to everyone.
So in essence, this is par for the course for fragment design. Maserati's "accessible" Ghibli S Q4 is given a bit of glitz and glamour, to make it something special but not a departure. It's what the product wanted, not what it needed. For Hiroshi and his team, it's a new level of achievement to inject themselves into the car industry, after recently conquering the oceans with Yanmar.
So, next up for fragment design: space? Only time will tell.
Be sure to read up on our previous Open Road, where we test drove – for three short hours – the hardcore Lamborghini Huracán STO.