Open Road: Lamborghini Huracán STO
Three hours in one of the most hardcore street-legal cars available today.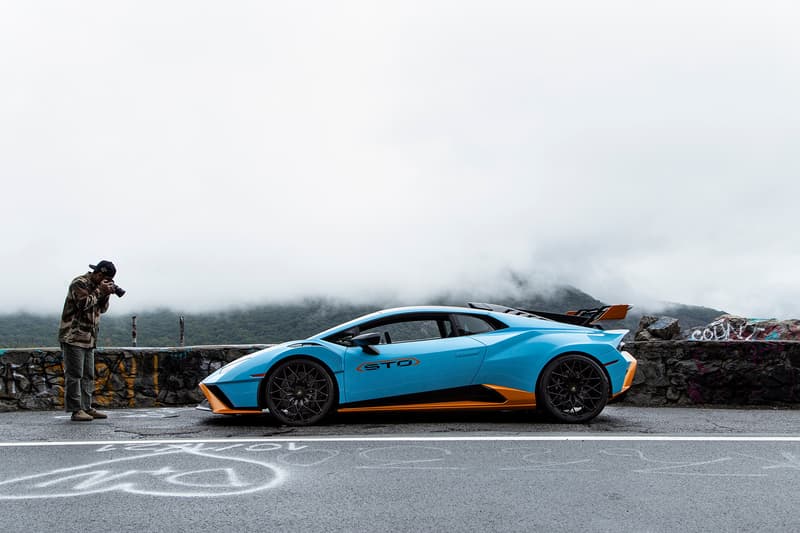 For car enthusiasts, driving is about more than just the technical specifics. Open Road explores not just what these cars do, but what they mean. Whether it's an old, new, or exotic model, HYPEBEAST is looking beyond the stats to unpack the simple pleasures of automotive.
---
"This is rear-wheel drive… right?" I asked as I approached the car, humbly parked on a busy, construction-filled Chelsea street. "Yes, the STO is rear-wheel drive only," replied the public relations rep. I smile and nod behind my facial mask in acceptance, all while gulping and nervous of what I was about to face for the next three hours.
Lamborghini was kind enough to lend us a final production model version of the 2021 Huracán STO, its most hardcore street-legal version of the "entry-level" Huracán sports car. While car enthusiasts tend to go for the most extreme version either for clout or "the thrill of it," the more humble, casual driver will always be a bit wary on the inside as they hear horror stories of others' super cars wrapped around a tree, parked in a ditch or, God forbid, set ablaze on the side of I-95. So was the STO my first experience with "the most hardcore" version of anything? No, but that day I was a bit more cautious.
These cars may be pretty and they may appreciate in value over time, but your responsibility as an owner of a purpose-built car such as the Huracán STO is to give it its purpose: DRIVE IT.
For those unaware, the Huracán is Lamborghini's "entry-level" sports car and was first introduced in 2014 as a mid-engined, four-wheel drive coupe that put out 600+ horsepower from the Gallardo-sourced V10 engine. Over the years the Huracán received upgrades and designations, evolving – pun intended – into the Huracán EVO which pumped out more horsepower and eventually made way for the car's first rear-wheel driven variant, the Huracán EVO RWD. The STO, however, is viewed by most as "another level" to its brethren.
Is the "Super Trofeo Omologato" simply an "evolution" of evolution? Not quite. Yes, it's rear-wheel drive and yes it's still a Huracán underneath its bold blue/orange livery-clad exterior, but it's also barely street level – it is a homologation of Lamborghini's race cars after all. Everything is different: the tuning, the suspension, the body, the weight, the handling characteristics, down to even the lightweight bolts and redesigned hinges. In fact, it's so special that the front end needed a new term, "COFANGO" – an Italian amalgam of "cofano" and "paragango" or hood and fender – to describe its race car-esque, front-hinged clamshell design. For all intents and purposes, it's a completely different car.
All of this information presented to me during the car's briefing put things into perspective, especially as I had to dodge NYC afternoon traffic, dance around Midtown's infinite potholes, slither through construction work which seems to sprout up on every street you need to take, and encounter a small patch of rain which ironically began once we hopped in. Even the reps at Lamborghini had to make sure the lifting suspension was already set before I took off, "because there's a massive raised piece of tarmac on the corner of 26th!" But nevertheless we had three hours with the STO all to ourselves, to go anywhere we wanted, and to experience as much as we could with the track-prepped super sport.
And to our surprise, the STO taught us a lot in 180 minutes, give or take.
1 of 6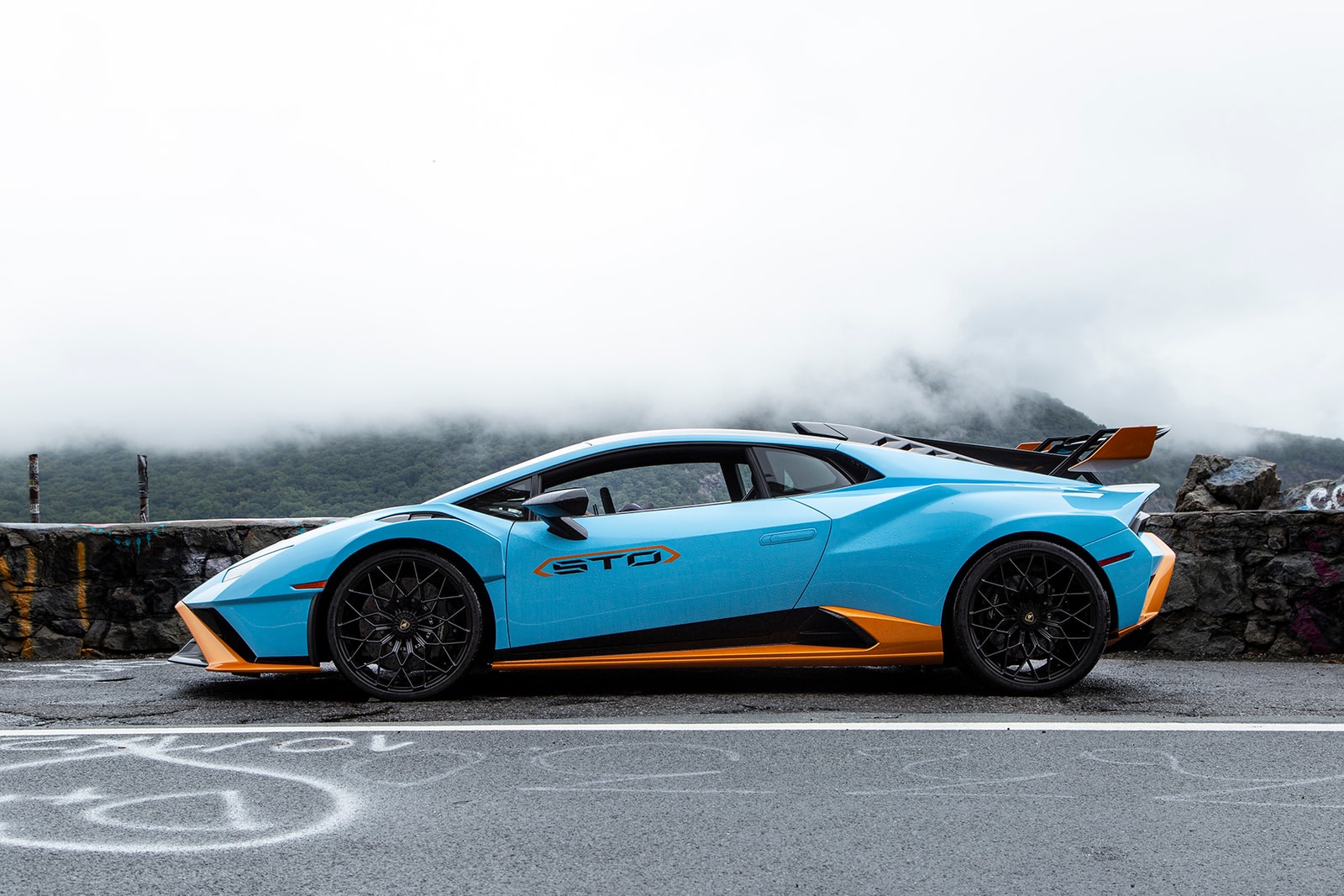 2 of 6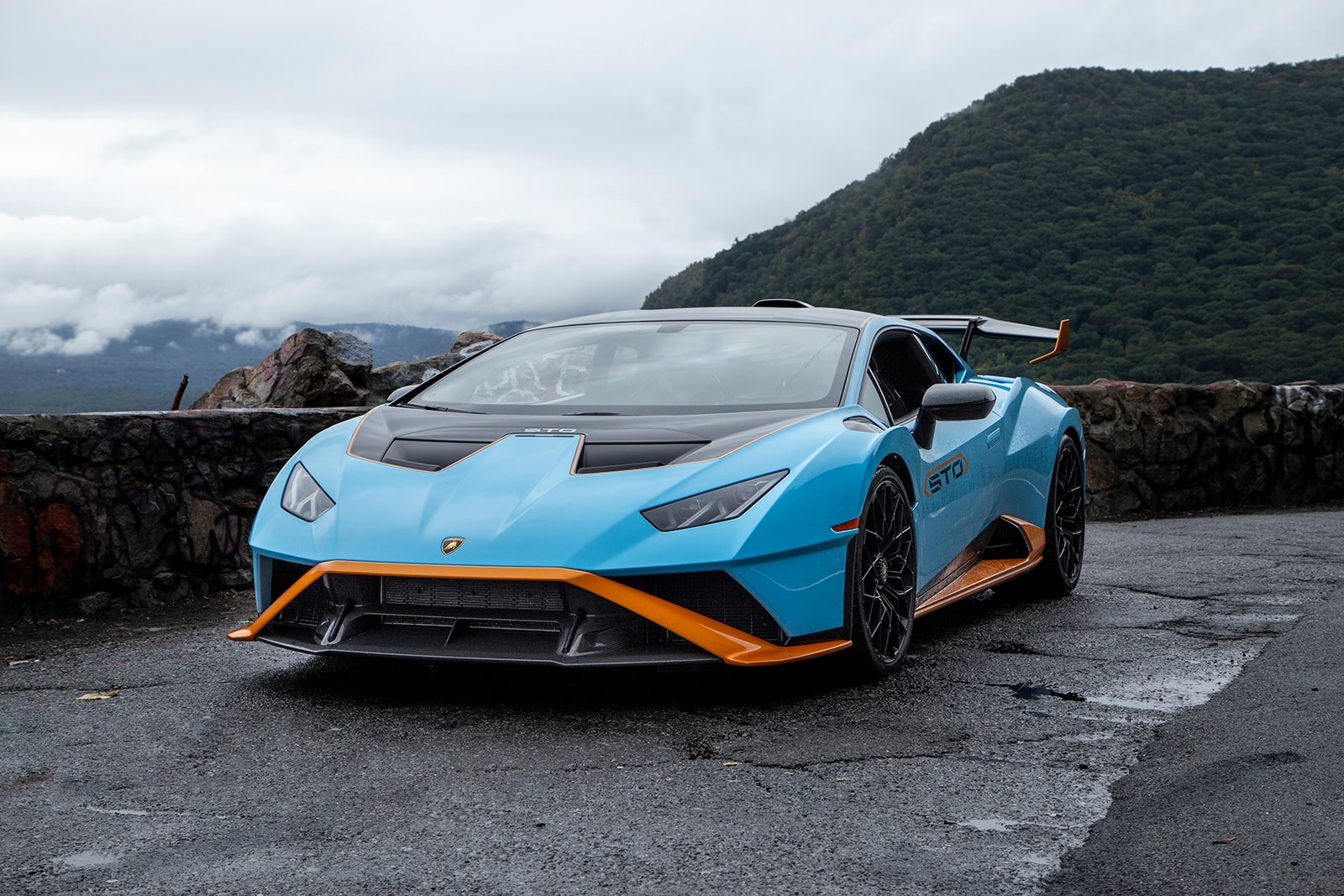 3 of 6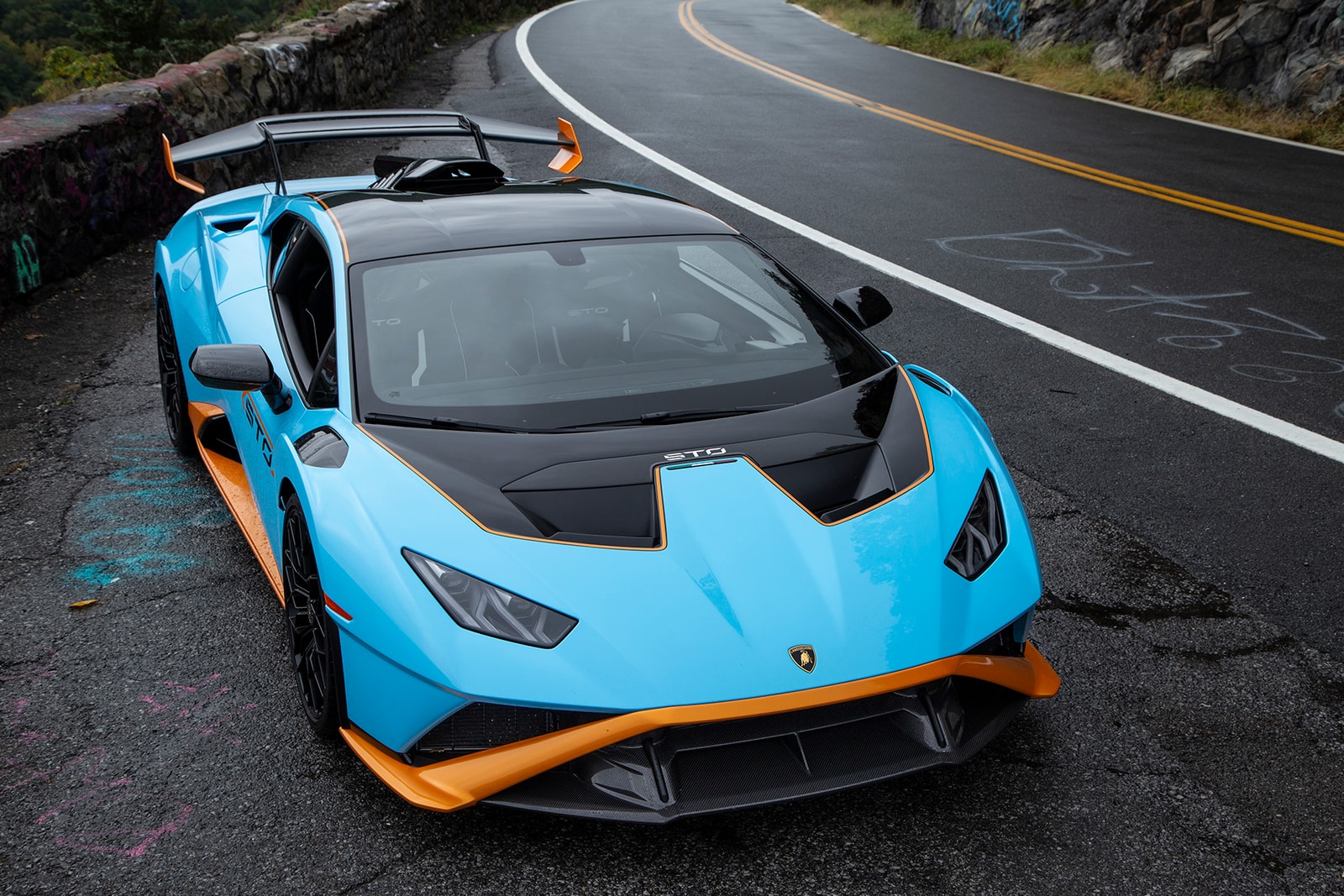 4 of 6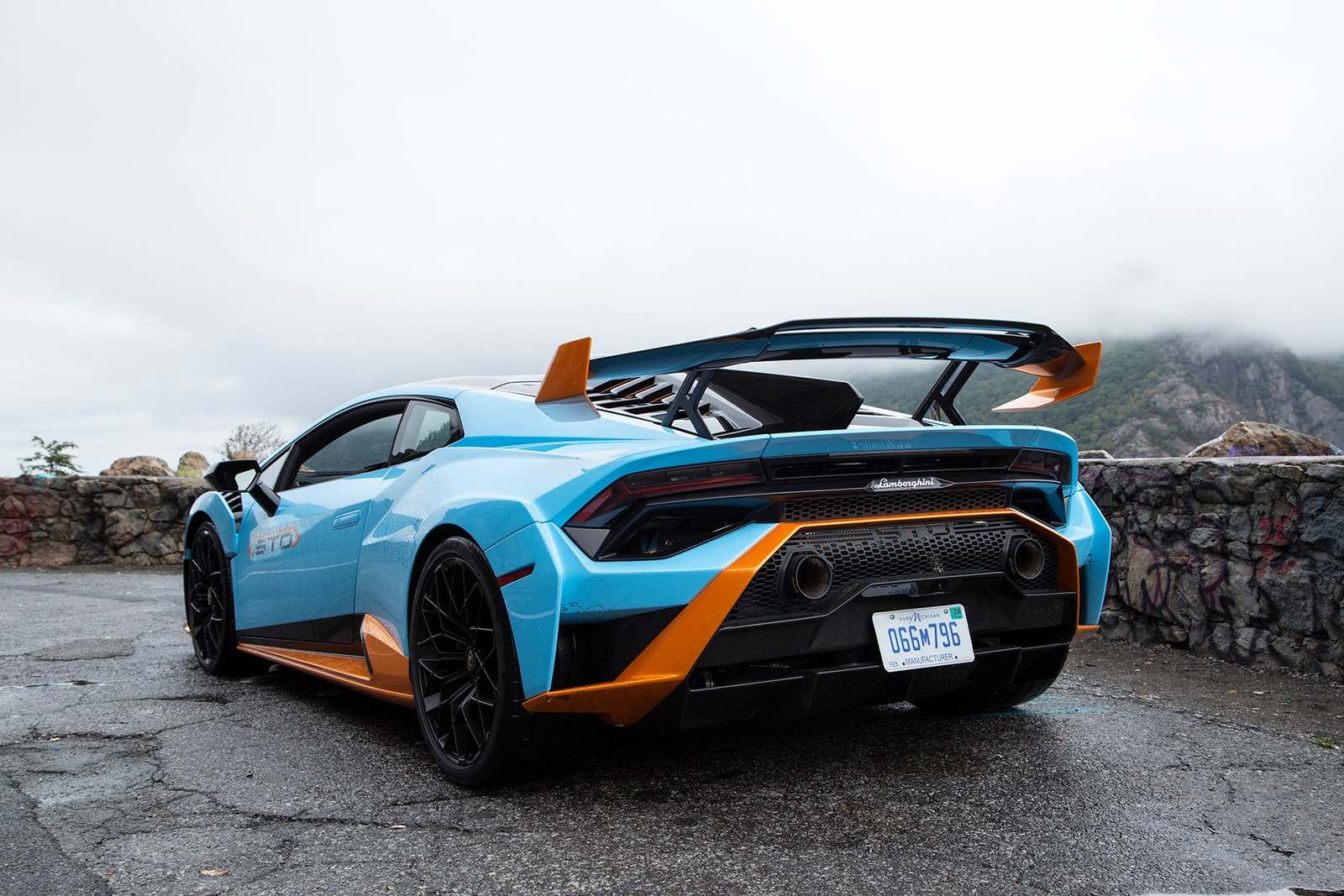 5 of 6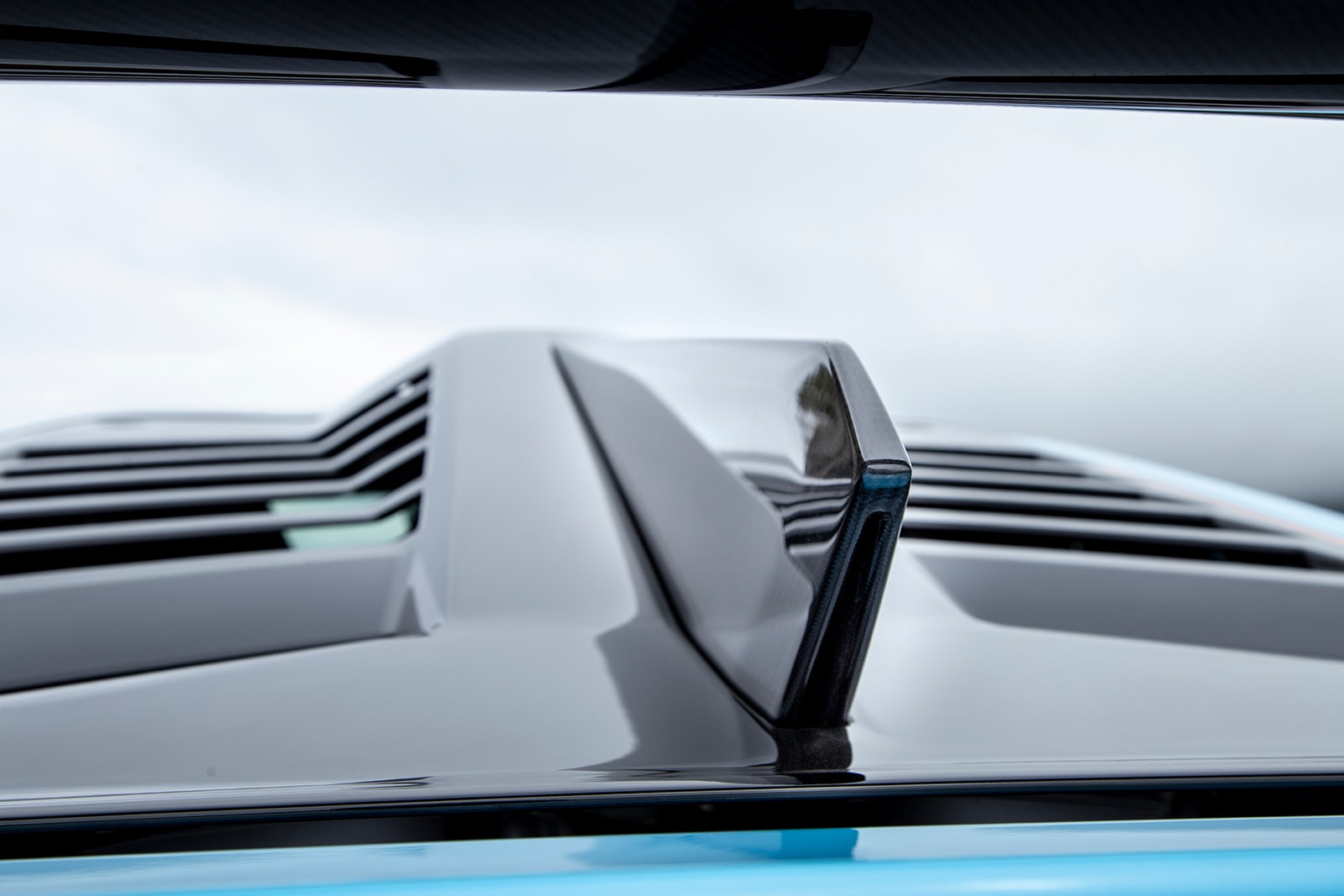 6 of 6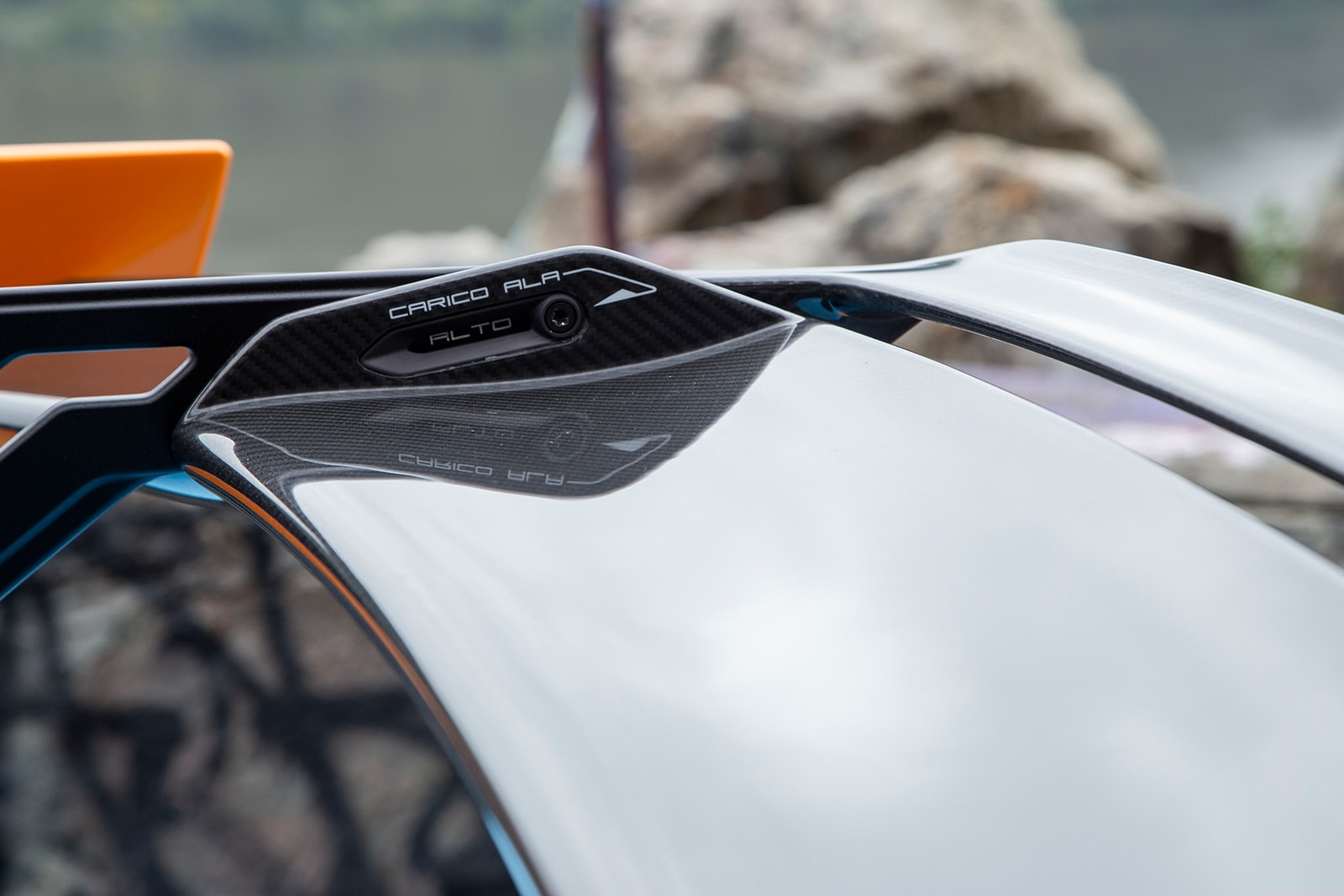 Firstly, we learned that car companies, Lamborghini included, understand their audience and their potential trepidation towards ultra hardcore vehicles and allow for a little bit of fun while still finding ways to keep you safe. Changing our drive mode to and from STO and TROFEO modes allowed for black-and-white differences in vehicle dynamics, but once the rain rolled in, the wet weather-friendly PIOGGIA mode felt like a sigh of relief, which barely allowed the wheels to spin as we gunned it in second down a damp, secluded straightaway. So while the rear-wheel drive may be a "handful" on poor road conditions and when speeds exceed legal limits, the STO felt unexpectedly controllable; a surprise when its closest rival is another track-ready homologation from Stuttgart, Porsche's GT2 RS which harkens back to Porsche's "Widowmaker" days.
We also learned the responsibility you have when owning something this extreme. If you're a casual driver, you probably don't need 640 horsepower going to just the two rear wheels. You don't need a body that's almost entirely built out of carbon fiber. You don't need aerodynamics hardcore enough to generate close to 1000 lbs. of downforce at v-max. And you certainly don't need the BLUE LAUFEY full external livery that costs $37,800 USD on its own.
If you do opt for this specific car, in its specific specs, in its specific looks, you should have a plan for it. Learn all about it. Track it. Bring it to cars and coffee. Let your (close) friends experience it. And most, most importantly, DRIVE IT. These cars may be pretty and they may appreciate in value over time, but your responsibility as an owner of a purpose-built car such as the Huracán STO is to give it its purpose.
In our three hours with the STO, we tried to do as much as we could without bringing it to Watkins Glen International and really giving it the beans. Live-ability: the STO isn't going to help much with daily errands, as the front clamshell – the only area of the car with any bit of external storage – has enough room for a helmet and maybe some gloves. It's loud beyond measure, both visually and aurally. Police will notice you, as was the case with us and a kind, accommodating sheriff of Orange County NY who "had to get a photo of this for my kids." But for the casual enthusiast, it's an experience you most likely won't have for three minutes, let alone three hours.
So it was our responsibility to rev the nuts off it, to turn off the traction control and spin the tires, to let the back end loose a little, to fiddle with the on-board fire extinguisher, and to wave at everyone who gave us a thumbs up – Lil Uzi Vert included, as we passed him on 27th and 10th.
As such, our three hours felt like a glorified test drive around the block, but we did the best we could. In short, be courageous and responsible with your opportunities, and always respect purpose.
Be sure to read up on our last Open Road feature, when we experienced the Land Rover Defender 90 V8 outside of the busy streets of London.