Kalvin Phillips Isn't Stopping the Fight Against Discrimination
"The Yorkshire Pirlo" on taking the knee, EURO heartbreak and Leeds United.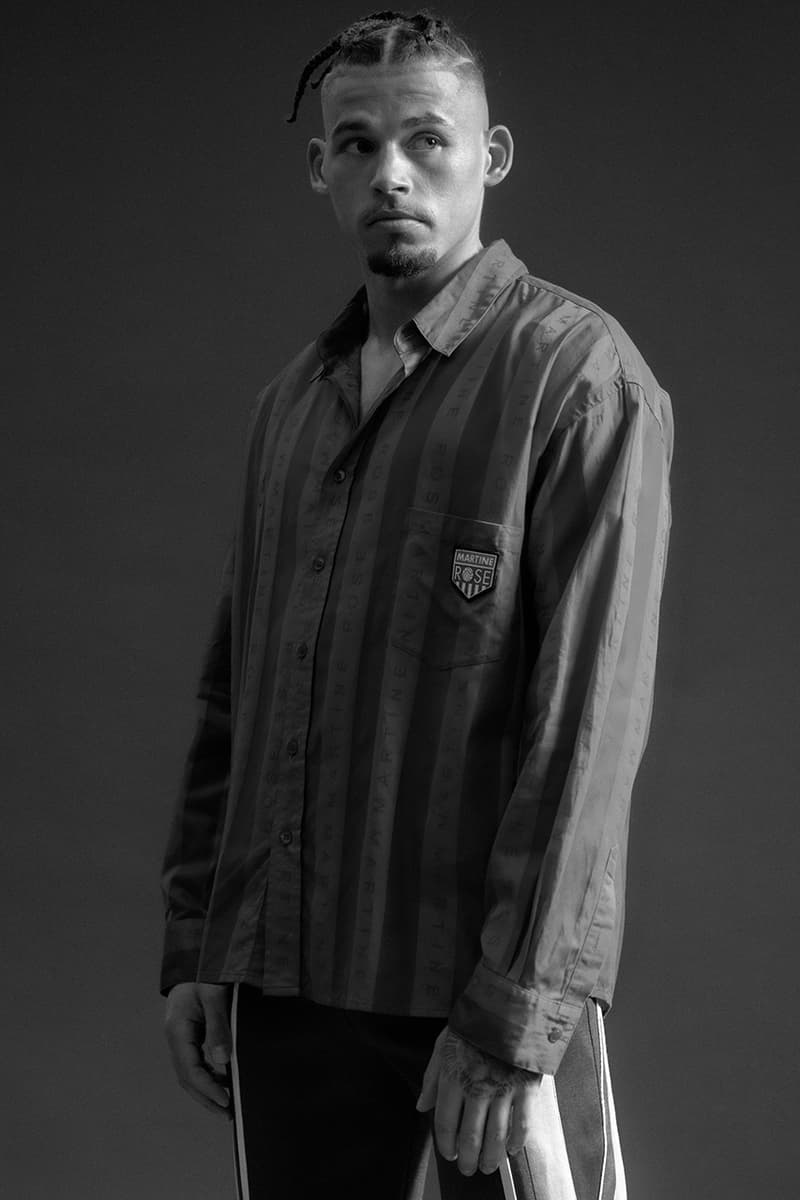 Kalvin Phillips Isn't Stopping the Fight Against Discrimination
"The Yorkshire Pirlo" on taking the knee, EURO heartbreak and Leeds United.
Golden Generation is a new series showcasing how footballers are making change off the pitch. Now more than ever, players are blurring the boundaries between football, music, fashion and politics. This new generation of footballers are more than just athletes: they have become role models with a passion and a purpose. The era of "stick to football" is over.
---
Kalvin Phillips is in bed. More specifically, he's speaking to HYPEBEAST over a Zoom call from his bed. But after what has been undeniably the most tumultuous, highly-pressurized twelve months of the 25-year-old's career to date, it's well deserved.
When Phillips was handed his first international call-up in August of last year, he became one of only three players this century to do so without ever kicking a ball in the Premier League. At the time, questions were raised around his lack of top-flight football. Since then though, he's more than answered his critics: making 17 international appearances, including starting every game in England's EURO 2020 campaign.
Garnering rave reviews for his seamless step-up, Phillips was also named as England Men's Player of the Year for 2020/21. "There were rumors of me getting a call up, but I never thought it would actually happen," he admits. "While I knew it was a possibility with the way I was playing, the likelihood of it was still slim."
Phillips' modesty when it comes to discussing personal accolades epitomises the new less ego-driven era of the English national team he's a part of. He's humble in the way he speaks of his work on the pitch, but ambitious and committed to what he's doing and saying off it. Like so many of his team mates, he speaks eloquently and beyond his years.
It's proven a valuable asset to have so far for the team, amidst a particularly high-intensity year for the sport. In the aftermath of England's EURO 2020 final defeat to Italy which saw them lose on penalties after misses from Bukayo Saka, Jadon Sancho and Marcus Rashford, the trio were deluged with a barrage of online racist abuse, while the latter also saw a mural honoring his work to end child food insecurity defaced. This abuse has since been overpowered by love and affection towards the trio, and has also prompted a stronger political debate about racism in football and wider society.
One way in which the Premier League and England continues to show its ongoing support for the movement for racial equality is by taking the knee prior to kick-off, something it's done since June 2020 in the wake of the killing of George Floyd. Despite calls from various parties for it to be scrapped, the Premier League confirmed it would continue taking the knee this coming season — a decision something Phillips couldn't agree with more.
"I believe in it [taking the knee]," he says. "We're standing up for discrimination that shouldn't be in football. The more we try to educate the current and upcoming generation, the better. It's the only way that in years to come it will eventually get kicked out of the game. The authorities can always do more, not just when it comes to taking the knee, but any form of discrimination".
"We're standing up for discrimination that shouldn't be in football. The more we try to educate the current and upcoming generation, the better".
Since making his debut in the UEFA Nations League last August 2020, the Leeds United midfielder has become integral to the country's international set-up — so much so that he started in every one of England's games leading to the final. Reflecting on the experience, Phillips spotlights the round of sixteen as the most daunting for him, despite the weight of a nation on the team's shoulders during the final at Wembley. "I felt more nervous when we played Germany in the last sixteen than I did for the final," he says.
"If we'd been knocked out at that stage there would've been a lot of backlash from the fans and the media, especially with it being against our old rivals. When we reached the final we kind of knew what we had to do, and knew what we had already achieved. Obviously we were gutted to lose, but a draw was the fair result. In the nature of the game, I don't really like a penalty decider".
While Phillips' career as an international footballer may still be in its infancy, his domestic career is well underway. Since joining his hometown club of Leeds United as a 14 year old back in 2010, Phillips has gone on to make over 200 appearances for the club, playing a vital role in its return to the Premier League in 2020 and their subsequent survival the following season. While he admits it was always his dream to play for the club he and his family had grown up supporting, he wasn't always convinced it was going to happen.
"As a young kid, you always want to represent your city. I grew up supporting Leeds and had always wanted to play for them, but before I did I never thought it was going to happen," he says. "I'd been to Huddersfield and didn't fancy it and had had a lot of clubs asking my Sunday league team about me, but nothing ever came of it. When I was 13 I realised there was going to be a point soon when I had to start thinking about a life of not being a professional footballer — luckily Leeds came at the right time and I've not looked back".
It's no coincidence that Phillips' recent rise has come following the arrival of Argentinian manager Marcelo Bielsa to Elland Road. Considered one of the most influential coaches in football, "El Loco" — a nickname garnered thanks to his flamboyant formations and signature style of play — is someone Phillips cites as a big part to his success.
"When he first came in, I didn't know much about him, apart from that he'd coached Newells Old Boys back in Argentina and was considered a God," Phillips recalls. "The first day he came in was an eye opener for everyone. One of the first things he said to me was that he'd be switching my position. I was a bit surprised as I had been doing pretty well as a box-to-box number 8, but I was never going to say no to him and had to trust the process, which turned out to be something I'm very grateful for. He's a manager who doesn't really get too close personally, but he just lives and breathes football".
Phillips' transition to a deep-lying playmaker has also seen him hailed as "The Yorkshire Pirlo" after the now-retired Italian Andrea Pirlo, a footballer thought of as one of the greatest deep-lying midfielders of all time. While Phillips is flattered with the alternative title, it isn't one he necessarily expected, describing the way the two play as "totally different" and instead admitting his inspiration mainly came from two-time FIFA World Player of the Year Ronaldinho, not just for his talent, but his love for the game too. "The way he enjoyed his football and played with a smile on his face was amazing, you don't see that anymore," he said. "He'd look like he was just doing tricks for fun, he was that good. That's what it's all about, isn't it?"