The Best Supreme x The North Face Jackets
The 15-year-long partnership between Supreme and The North Face has produced more than a few memorable jackets, so Hypebeast rounded up the best of the best.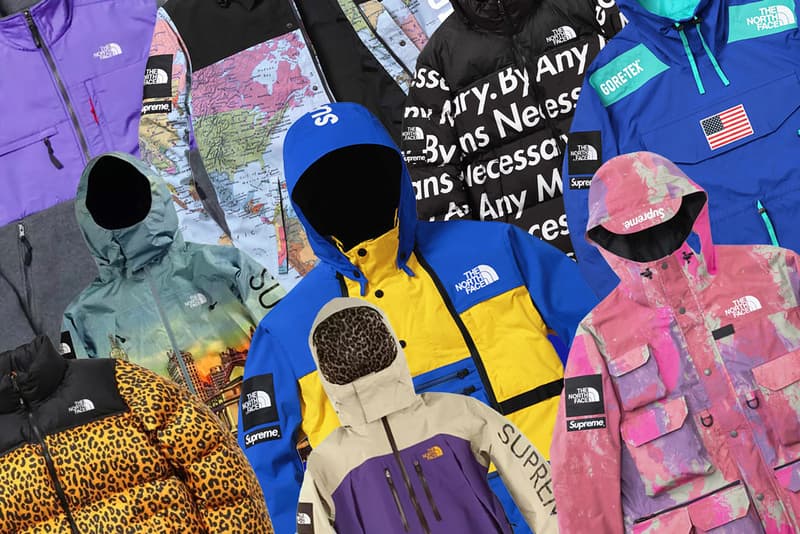 Collaborations are a key piece of every Supreme season, and, for the last 15 years, few Supreme collaborations have been more consistent and impactful than their efforts with The North Face. Since the two first joined forces during Supreme's FW07 campaign, they've cranked out new collections like clockwork, dropping at least one co-created capsule per season and blessing legions of intrepid fans with a unique blend of high-performance tech and streetwise sensibilities. One may be a mountaineering brand that was born as a retail store for mountain climbers in San Fransisco while the other grew from a scrappy skate shop in Lower Manhattan to a zeitgeist-steering streetwear company, but both are fiercely loyal to their signature aesthetic and boast a long history in the Big Apple. This imbues their collaborative efforts with cultural capital to match their bold designs and high-performance tech, and has helped several of their creations achieve grail status.
In 2022, Supreme and The North Face are closer than ever. They're under the same umbrella — VF Corp acquired Supreme in 2021 and TNF in 2000 — and are celebrating a decade-and-a-half of partnership. After dropping a Steep Tech-infused collection with wild prints in October they're set to debut a second set of apparel and accessories on Black Friday, so we've rounded up nine of their best jacket offerings, from heavy puffers to cozy fleeces and light shells from the last 15 years (plus one honorable mention) in chronological order below.
FW07 Summit Series Jacket
Supreme's FW07 season was the first time the brand teamed up with The North Face. In the aughts, collaborations between brands were usually small — a handful of carefully-curated items instead of the mammoth co-created collections that have become de rigueur in 2022, and the first Supreme x The North Face offering hewed closely to the pared-back ethos of the time with two takes on TNF's waterproof Summit Series Jacket. Though the offering may have been small in size by today's standards, it was far from small in style. Each jacket featured a bright-and-bold color scheme that gave off plenty of '90s spirit, and boasted a non-italicized version of Supreme's Futura logo running down its left arm. The pièce de résistance, however, was each jacket's leopard-print liner, a detail that had never been seen on TNF products prior to the collection's release.
SS08 Summit Series Jacket
Supreme's very best items — both collaborative and in-line — often channel the indescribable energy of New York City, and for their SS08 season, they brought high-wattage NYC style to two more takes on The North Face's Summit Series Jacket. Titled the "Day and Night" collection, the jackets displayed a watercolor-style painting of the Midtown Manhattan library in two vastly different shades: the "Day" matched a cool sky with a warm sunrise and full-color printed graphics, while the "Night" supplied a much more muted greyscale iteration of the same graphic. High-quality images of these jackets are almost as difficult to find as the jackets themselves, as the're legendary pieces that can fetch up to five figures on the aftermarket.
FW08 Denali Fleece Jacket
This list may have started off with two waterproof shell jackets, but the Supreme x TNF partnership goes well beyond rain-repellant garments. The first time the two partners came out of their "shells" was when Supreme revamped TNF's classic Denali zip-up fleece jacket as part of its FW08 collection. Though lacking the water repellency of their forbearers, these three Denali fleeces were plenty warm thanks to Polartec's ultra-rugged 300 fabric, and plenty appealing thanks to three striking color schemes — cream and sport blue, charcoal grey and purple and a sea green/fuchsia combo that would make Barney the Dinosaur proud. This collection set the tone for future Supreme x The North Face fleece collaborations and is still one of the partners' most highly sought-after efforts today.
FW11 Nuptse Down Jacket
Supreme seasons slither between sublime subtlety and striking style, and during their FW11 offering, they added to the latter category in a major way by taking on The North Face's iconic Nuptse Down Jacket for the first time ever. Featuring a full leopard-print pattern across a yellow, green or grey body and black detailing on the shoulders and collar, the jacket's style was inescapable and its tech was just as good thanks to a ripstop nylon body stuffed with 700-fill goose down. Besides its still-potent looks, the inaugural Supreme x TNF Nuptse's ascention to icon status was aided by a co-sign from Drake, who wore the grey version in his video for "The Motto," a celebrity co-sign that's was one of Supreme biggest pop culture moments of the early 2010s, arguably only superseded by Tyler, The Creator, rocking a Supreme camp cap to the VMAs that same year.
SS14 Expedition Coaches Jacket
Supreme and The North Face went international for their SS14 collaboration. A launching point for a brand-new TNF outerwear piece dubbed the Expedition Coach's Jacket, the collection included four colorways: a fan-favorite full-color map print that looked like it was lifted straight off of a social studies teacher's globe, a bright yellow, a cool aqua blue and a stark black. Each also featured a packable hood, co-branded details and front/rear detailing that showed off six flags from across the world — China, the USA, Russia, the United Kingdom, Japan and Italy. The collection, especially its map-printed jacket fetched high aftermarket prices and today stands as one of the key items from Supreme's 20th anniversary year.
FW15 Nuptse Down Jacket
"By Any Means Necessary" is a potent phrase that's lived three main lives. It was first uttered in French intellectual Jean-Paul Sartre's 1948 play Dirty Hands in regard to abolishing social classes, then spoken by Malcom X in a 1964 speech at the founding rally for the Organization of Afro-American Unity in New York City during the height of his fight for racial equality and most recently used by Supreme in their FW15 collaboration with The North Face. Though an expensive piece of co-branded outerwear is a much different medium than speeches or plays spotlighting human rights, the collection did display Supreme's inherent subversiveness and long-running push for community empowerment. Displayed in Supreme's signature Futura font across red, yellow and black puffers that were the star of their collection, it made a bold and powerful statement in a uniquely Supreme fashion.
SS16 Steep Tech Hooded Jacket
Before streetwear's full-on love affair with gorpcore fashion began later in the decade, skiwear was a red-hot trend in 2016. That streetwear-meets-slopestyle soiree was thanks in large part to Supreme and The North Face's SS16 collection and its Steep Tech jacket. Steep Tech was a cult-favorite TNF sub-line that was in mainline production from 1991 to 1998 as well as a few random appearances in the '00s, was designed for elite skiers and featured a highly technical aesthetic thanks to its plethora of asymmetrical zippers, unique paneling and plated details. Bold olive/red and blue/yellow colors were contrasted by more muted all-white and all-black options, and branding was kept minimal, with Supreme and TNF opting to let the jackets' unique builds speak for themselves.
SS17 Trans Antarctica Expedition Pullover Jacket
Big, bold and boisterous branding was the name of the game on Supreme and The North Face's 25-item SS17 collection (more than 12 times the size of their first collection a decade ago), and the two's set of Trans Antarctica Expedition Jackets were at the front and center of that effort. Appearing in a whopping five colorways — a yellow/red that gave off the most technical Ronald McDonald vibes you could possibly imagine, a vibrant red/white, a cool blue and teal, a military-style olive, and, of course, a sleek all-black — the offerings were living logomania, the most notable pieces of which were The North Face's Trans-Antarctic patch and American flag detailing on both the chest pocket and back. There was a lot of history packed in these jackets as well: they called back to TNF's famed Trans-Antarctica Expedition Parka from 1990, which, itself, provided some of the flag patch inspiration found on the above-mentioned SS14 collection. They were also the first time the partners used full-on GORE-TEX in a collection after their SS15 effort was imbued with the company's Windstopper material.
SS20 Cargo Jacket
After pumping out a heavily-built and largely divisive set of modular RTG jackets in SS20, Supreme and The North Face returned with a well-received set of cargo jackets for the second installment of their SS20 offerings. With enough pockets to store a whole week's worth of tchotchkes across the front and back, the jackets offered a technical look, but one that was more playful than hyper-serious. This was best spotlighted by an abstract tie-dye-esque pattern that combined various shades of grey, pink and purple, but clean tan and black iterations were produced as well. The SS20 collection is widely regarded as one of Supreme and TNF's best recent efforts, and the jacket is a key piece of that earned esteem.
Honorable Mention: SS11 Windbreaker Pullover
With the exception of the FW08 Denali fleece, most of the jackets you'll see on this list are heavy-duty shells or puffy behemoths designed to handle the harshest degrees of inclement weather. However, the Windbreaker Pullover from the two's SS11 collection, a style that barely missed inclusion among the top nine Supreme x TNF jackets on this list, is more of a lightweight grab-and-go option that lined its water-resistant polyester shell with nylon and was covered in a checkerboard pattern from hood to hem. Red/blue and yellow/white colors brought an element of prep into the tech-infused look, while a tonal black and dark grey colorway served up a much more muted option. Packable hoods and kangaroo pockets completed the offering.
---
The second installment of Supreme and The North Face's Fall 2022 collaboration will touch down worldwide at 11 AM ET on November 25 — save for Japan, where it'll arrive on November 26 at 11 AM JST. Click here to stay up-to-date on all the latest and greatest Supreme news.