From Piste to Pavement: On Streetwear's Love Affair With Skiwear
We track the niche that streetwear is carving out for itself on the slopes.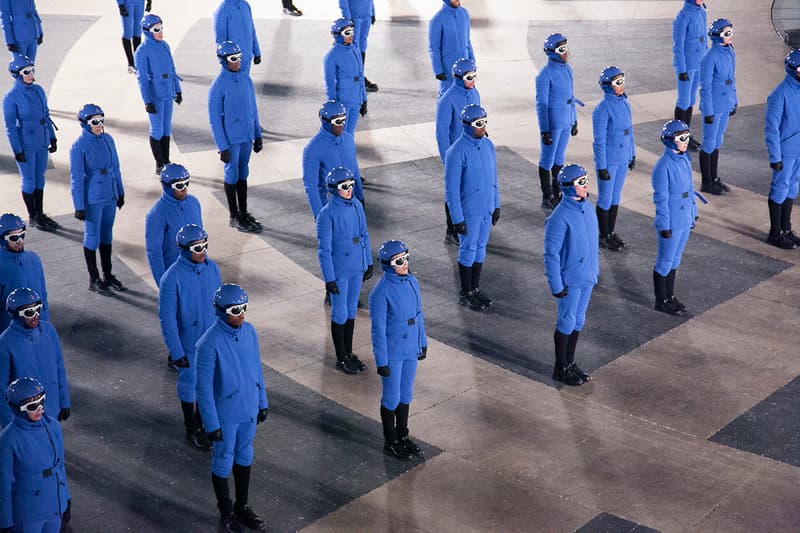 With the slow creep of the fashion realm into everything from indoor football and surfwear to offshore fishing, function under extreme circumstances has become as integral in our choice of fashion as the latest trends. So it follows that skiwear — with its emphasis on durability, performance in subzero temperatures, waterproofing and breathability — is set to become the next frontier in the march of cold-weather athleisure. Skiwear has always been subject to special demands in the respects of both fashion and function, since it needs to perform without fail on-piste as well as look great aprés-ski; not to mention that those who populate the slopes of Whistler, Niseko and Courchevel are often young, moneyed and trend-conscious.
It's little surprise, therefore, that streetwear brands are already beginning to stake their claim within the ultra-functional purview of the slopes – a natural fit, given streetwear's age-old penchant for bold colorways and oversized fits. In this new sector, collaborations between streetwear labels and larger outdoor manufacturers are key, where the streetwear label provides their brand image, design chops and customer base, while the outdoor label provides technical expertise, manufacturing capabilities, and an established distribution network.
One of the forebears to this movement, AK457 is a joint project between Burton Snowboards and the one and only Hiroshi Fujiwara. A longtime and avid snowboarder of 26 years, Fujiwara first became involved with Burton in a three-way collaboration that also involved visvim's Hiroki Nakamura, the result of which was the mid-2000s streetwear-infused snowboarding label, iDiom. After iDiom closed down for economic reasons, Fujiwara and Burton launched AK457 in 2010, gearing it towards back-country snowboarders and taking inspiration directly from Fujiwara's own snowboarding expeditions — he'll embark on up to four trips a month during peak ski season.
1 of 2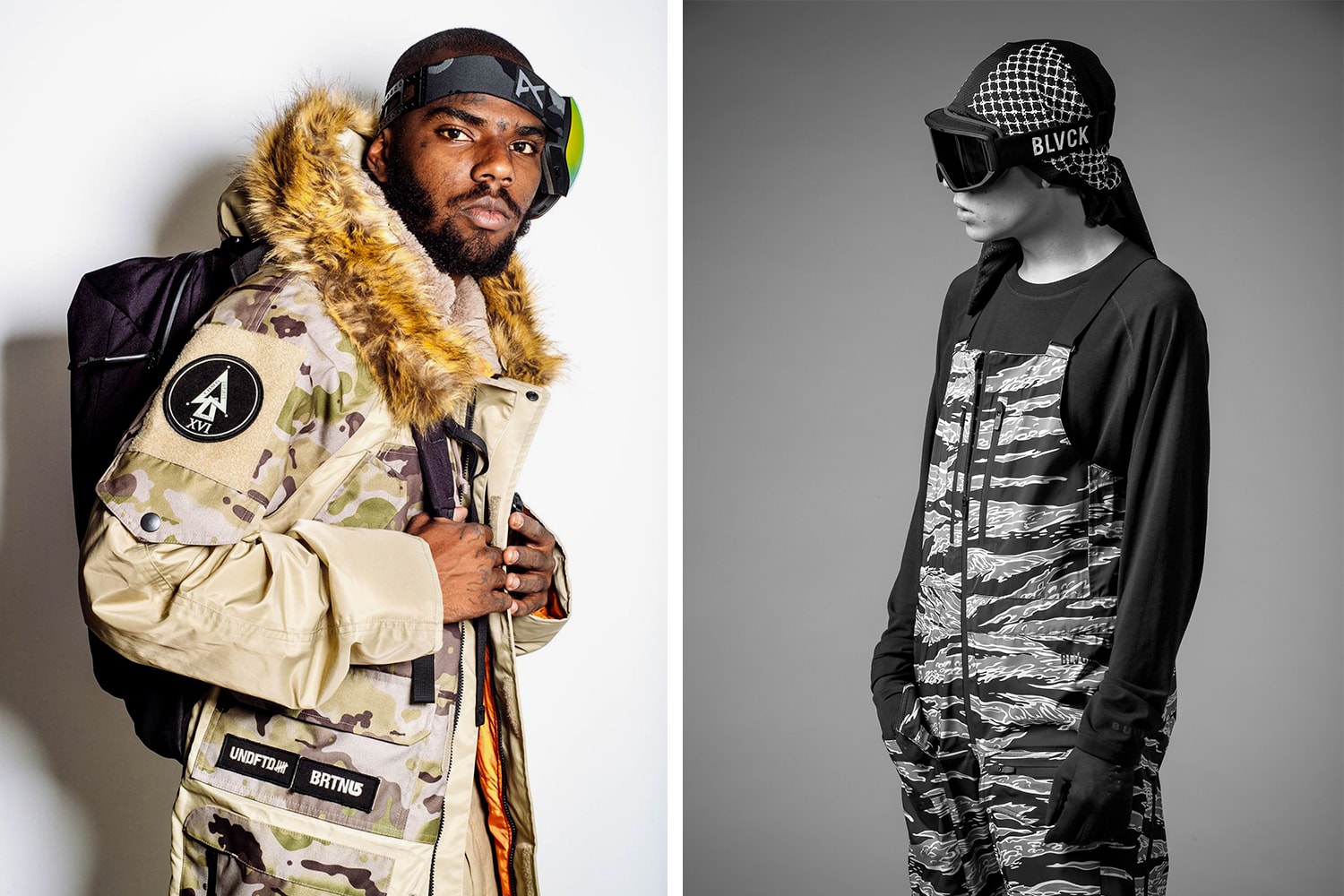 Left:
Undefeated x Burton;
Right:
Black Scale x Burton
2 of 2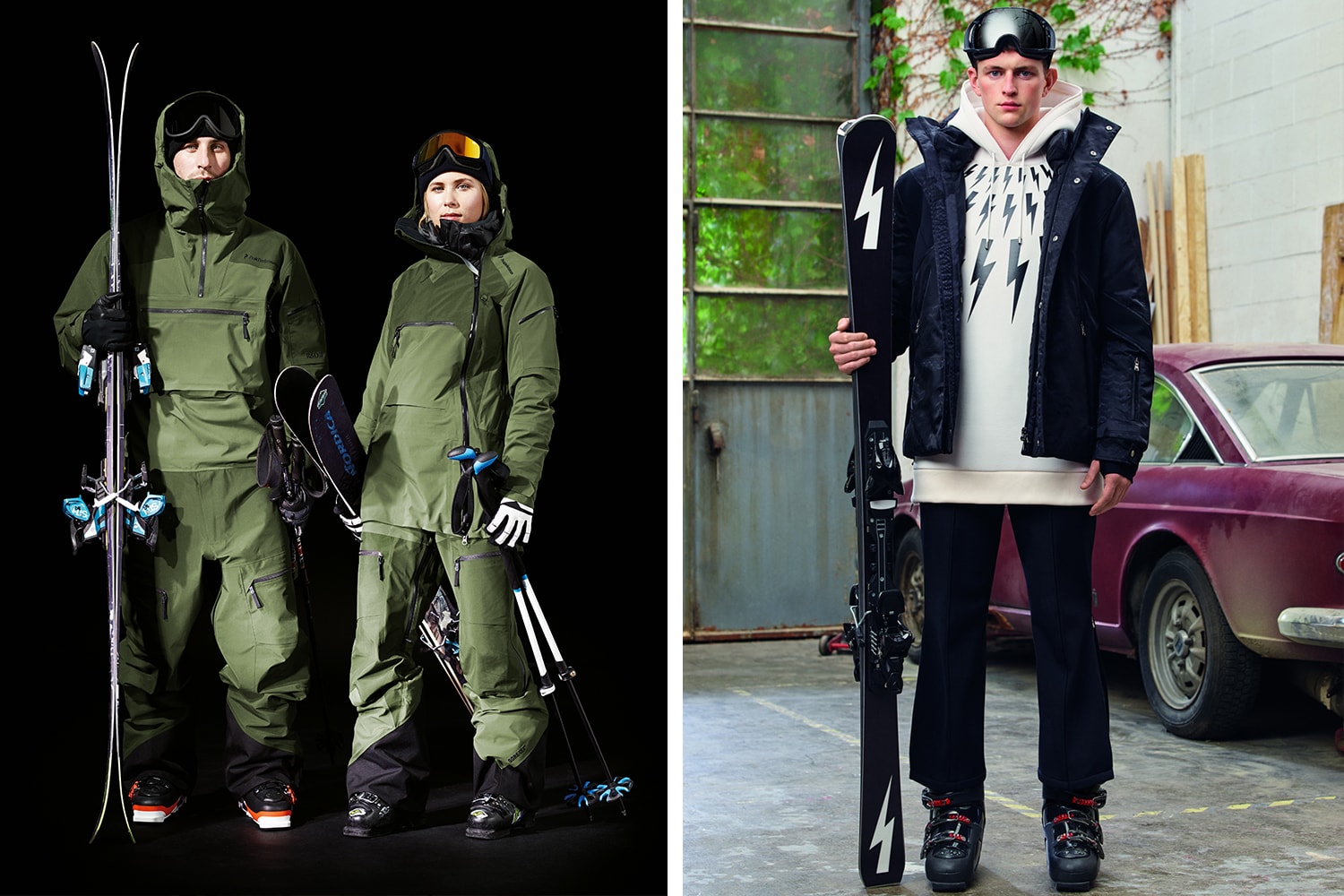 Left: Peak Performance; Right: Neil Barrett
Burton has since tapped into other streetwear designers for their takes on skiwear. Compared to Fujiwara's streamlined yet subdued designs, White Mountaineering's Yosuke Aizawa hasn't shied away from louder pieces incorporating digitized Fair Isle prints and camouflage into his designs for the Burton Thirteen sub-label. Meanwhile, NEIGHBORHOOD's collaborative line does what founder Shinsuke Takizawa knows best, weaving overt Nordic, military and Americana influences with cold weather performance upgrades. Other notable skiwear collections saw Burton partner with Undefeated and Alpha Industries for battlefield-ready snowboarding garb, as well as with Black Scale for a more anarchically-inspired range.
By far the most high-profile partnership, however, is undoubtedly that between market leader The North Face and streetwear paragon Supreme. With each collaborative drop making waves with Supreme's street-ready interpretation of classic mountaineering silhouettes (who can forget the slogan-heavy jackets of Fall/Winter 2015?), the James Jebbia-helmed brand has reached back into The North Face's history of alpine fabric innovation — back to 1991, to be exact — to reintroduce proprietary Steep Tech™ technology in its Spring/Summer 2016 collaboration. Developed with downhill skier Scot Schmidt, the technology proved that clothes designed for the mountain could as easily transition to city streets with its warmth and weatherproof functionalities, as well as strategic pocket placement and modular features. Supreme continues to hash out this ski-streetwear trend with its latest Fall/Winter 2016 The North Face collaboration, which prominently features the waterproof, breathable and fully-sealed Mountain Light Jacket.
Much rarer still are labels that branch out into skiwear without the backing of a more established brand. British designer Neil Barrett is the latest to do so, aiming for a more luxe segment of the market with his combination of technical fabrics with slim-cut silhouettes that mark a departure from the normally baggy fits of traditional alpine wear. This move has also allowed Barrett greater creative freedoms, resulting in a performance collection that aesthetically draws from punk and motorcycle influences and features no shortage of the brand's lightning bolt logo.
1 of 2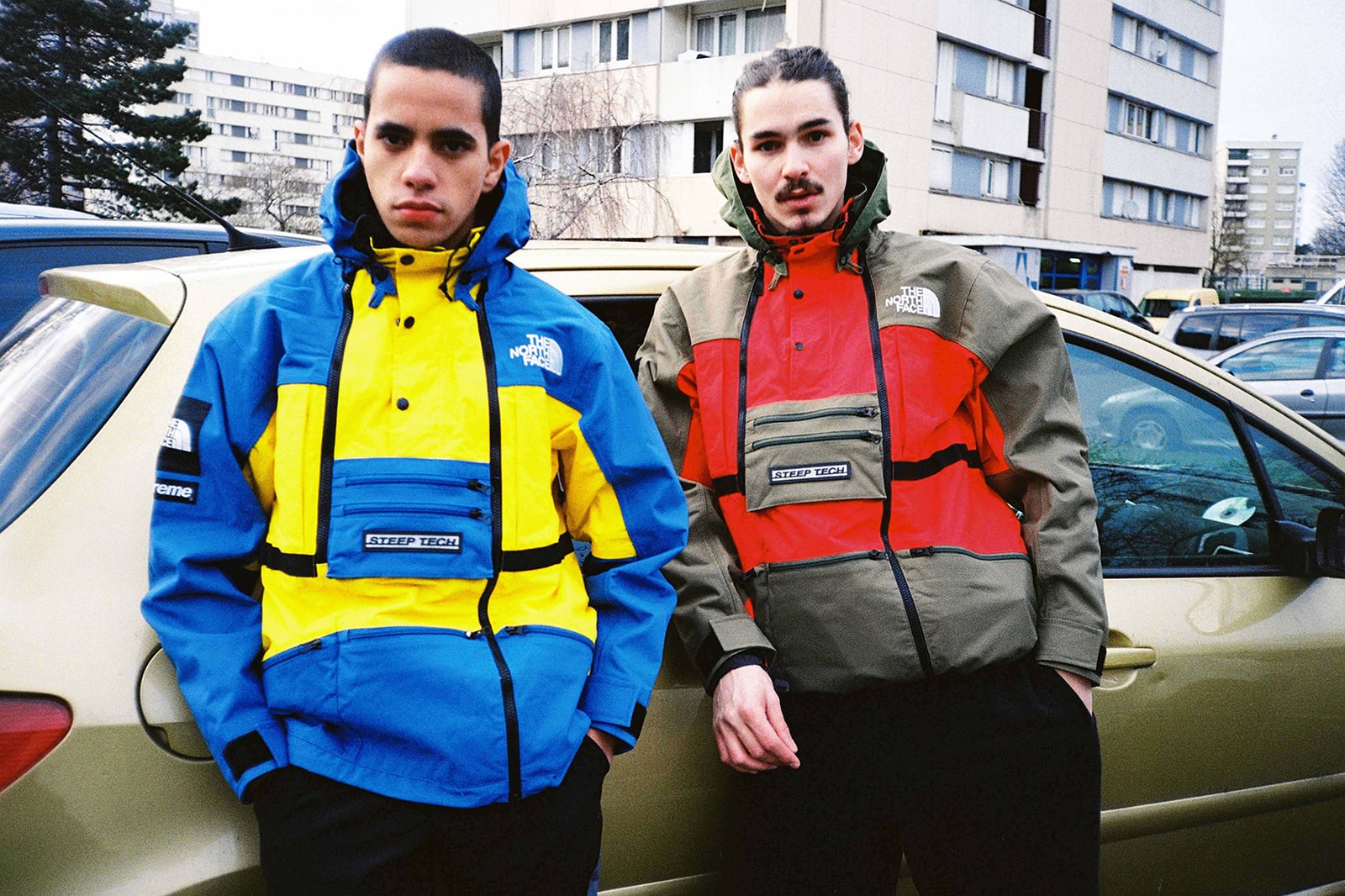 Supreme x The North Face Spring/Summer 2016
2 of 2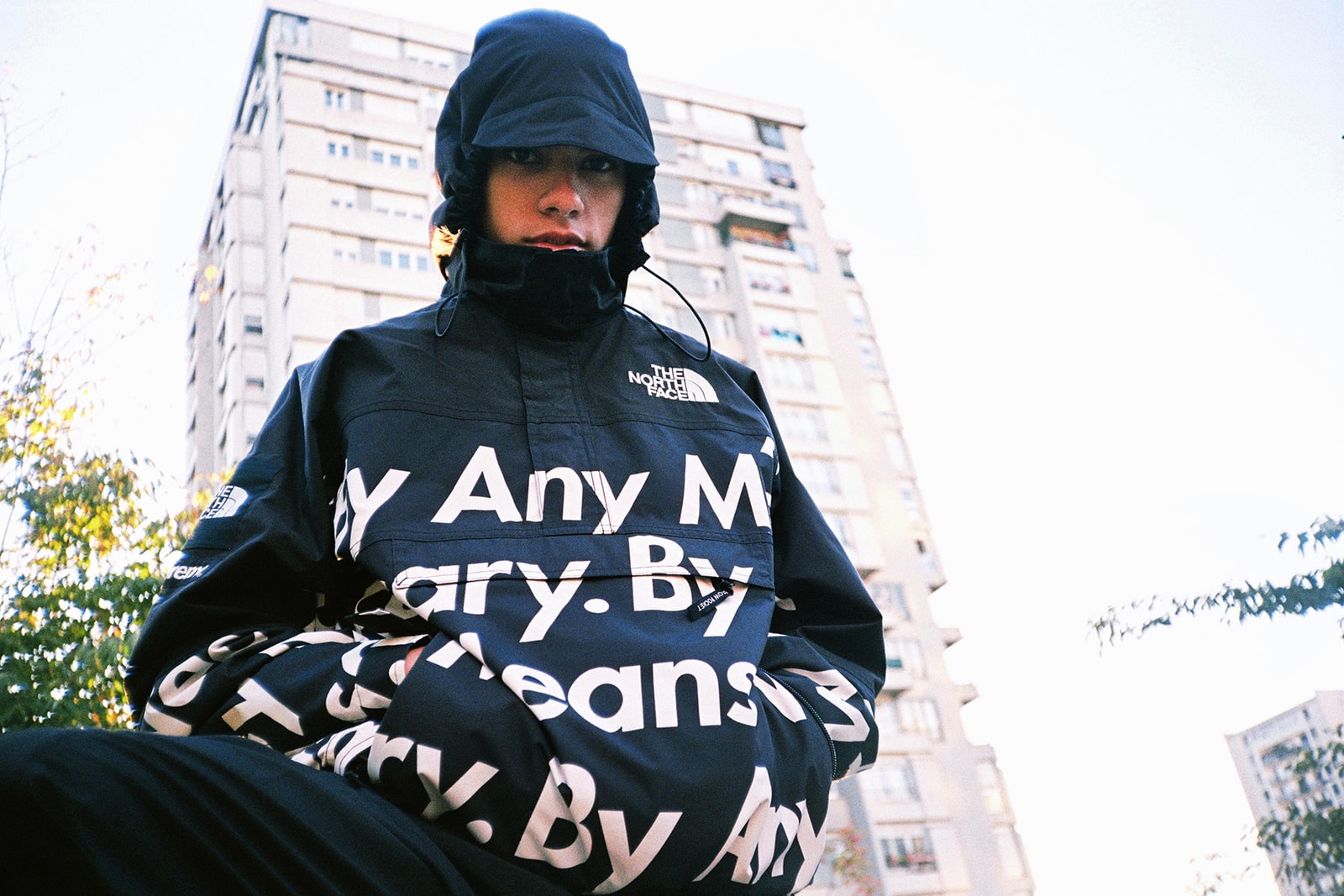 Supreme x The North Face Fall/Winter 2015
Of course, this shift in the skiwear market could not have happened without the corresponding economic impetus. According to Just-Style.com, the global market for performance outdoor clothing is expected to grow to $21.6 billion USD in 2018 from $17.5 billion USD in 2013, and outdoor brands looking to cut themselves a piece of that pie are finding it more and more lucrative to get a foothold in the trend-leading streetwear market, alongside international expansion and launching fashion-oriented in-house sub-labels. Along with a saturation of the outdoor apparel markets in the European and U.S. markets, skiwear manufacturers are becoming more experimental in partnering with brands outside of their traditional scope.
Luxury Italian skiwear label Moncler has managed to do this and more, beating analysts' estimates on its 2015 earnings of $328 million USD with a combined approach of a stellar mainline offering alongside high-profile collaborative collections with the likes of OFF-WHITE and Thom Browne. Its sporting-oriented Moncler Grenoble sub-label (its name harks back to Moncler's place of birth in the French Alps) brilliantly toes the line between functionality and theatricality, with its collections consistently elevating skiwear to the avant-garde — its Fall/Winter 2015 show saw zany winter-ready garments designed for everything from cross-country and tobogganing to a down-filled wedding dress. This sub-label, divided into High Performance, Performance & Style and Aprés-Ski collections, is reiterating Moncler's devotion to its original alpine mandate while reinterpreting skiwear as something playful and expressive, as opposed to the dour designs of yore.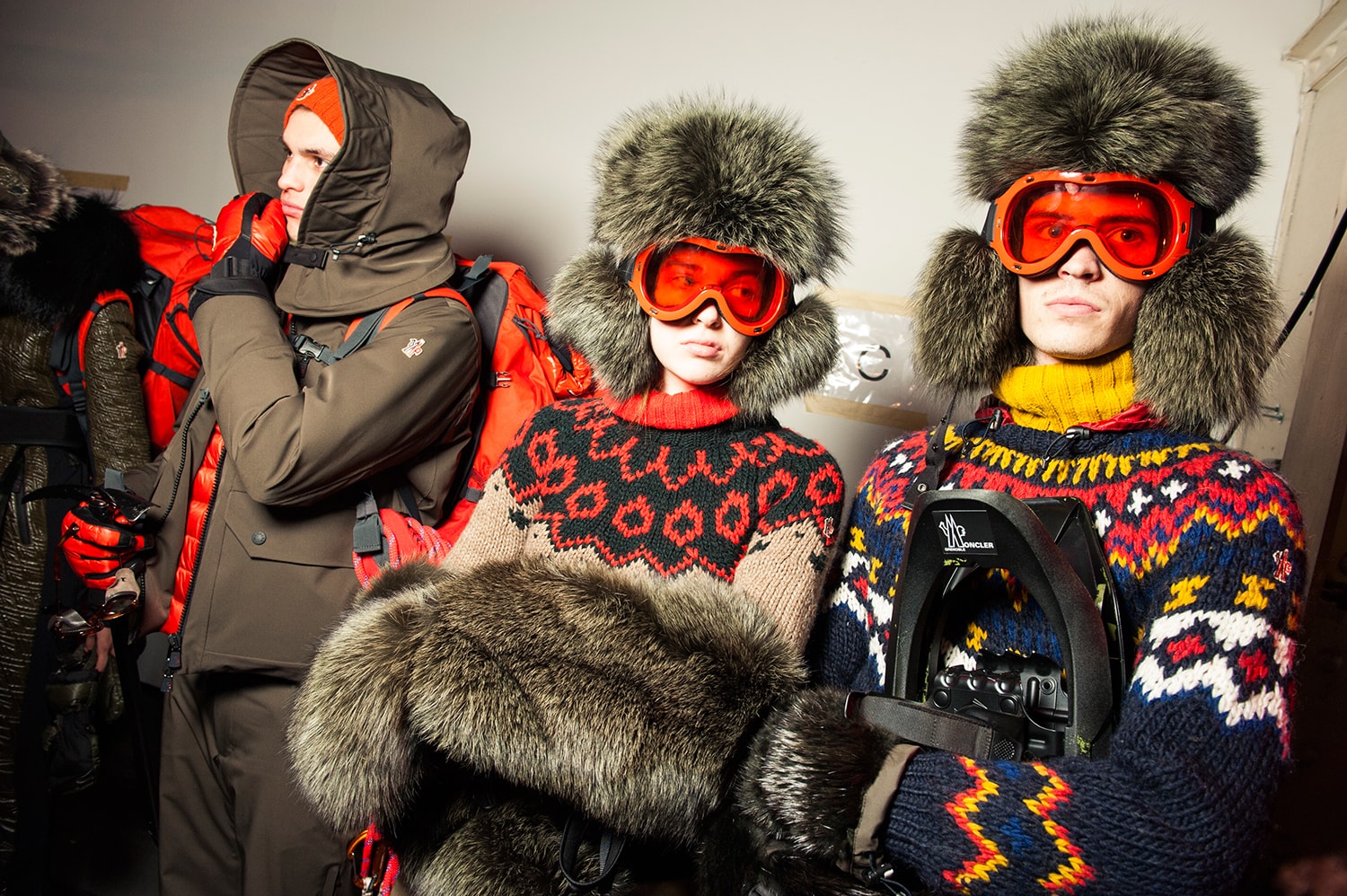 Moncler Grenoble Fall/Winter 2015
As we've seen, skiwear is more than ripe for the taking thanks to changing tastes and market forces, further blurring the line between the city and the mountains. With streetwear's biggest names carving out a place for themselves on the slopes, it's only a matter of time before we see full-on ski gear on the streets of New York and London, miles away from the nearest ski resort. In his interview with The Telegraph, Moncler CEO Remo Ruffini puts it best: "You can go skiing when it's 25 degrees below or you can go to [the opera]. You can have a tailored jacket made by Thom Browne and use it every day in the office. It's about the mix of cultures and ideas."