Here's a Look Back At the World Records, Upsets and Highlights from the 2020 Tokyo Summer Olympics
From Jamaica's podium sweep, a 46-year-old gymnast, to Team USA almost losing to France.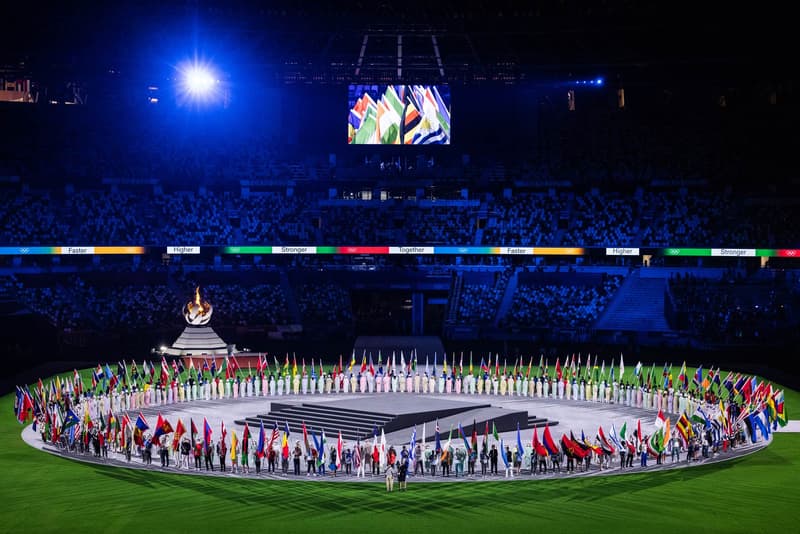 The Tokyo Olympics have come to an end and after two weeks of sports and over 1,000 medals, we can finally take a step back look over some of the momentous events that occurred at the gather of athletes that happens once every four years — or in Tokyo's case, five.
True, this year's Olympic Games happened under unprecedented circumstances which delayed the event by a year, but the true essence of the Olympics was still shown countless times even in the presence of empty stadiums. This year's top three countries from ascending order saw the United States with 39 gold medals (113 total), China with 38 gold (88 total), and finally Japan with 27 gold medals (58 total).
One standout occurrence at this year's Games was that there were a healthy number of records broken along with several heart-warming incidents. While the number of records broken this year sits at 22, down from Rio's 27, this number could have gone either way depending on how you look at it. Athletes did get an additional year of preparation and access to newer sports technology but many argue that, as the world was in disarray, fear of health issues and travel restrictions put a mental strain on Olympians — which makes these numbers even more impressive.
With the Olympics concluding just yesterday, we've decided to put together a list of some of the more memorable moments for those that didn't get a chance to tune in live. This should help put you in the mood for the upcoming Paralympics scheduled for August 24 to September 9.
U.S. Female Track Star Sha'Carri Richardson's Disqualification
Even before the opening of the Games, there was an uproar in the States over Sha'Carri Richardson's disqualification due to testing positive for Marijuana. This suspension for the gold medal track contender led to over 500,000 people petitioning for her reinstatement, and even put her in the spotlight for Kanye West's Donda release date TV spot.
A Ugandan Weightlifter Went Missing
There was a national hunt for Ugandan weightlifter Julius Ssekitoleko who decided to stay in Japan after his failed qualifier in Izumisano, Osaka. He left just a note stating that his time in Uganda was "difficult" and that he was headed towards Nagoya for work. This is not a rare occurrence and there have been many recorded instances where athletes and trainers have sought out asylum during another country's Olympic Games. His disappearance made international headlines.
Someone Started an "Anti-Sex" Olympic Bed Rumor
Tokyo's sustainable cardboard beds were somehow misconstrued as existing solely for the purpose of deterring athletes from having sex and spreading COVID-19. There were over 18,000 of these environmentally friendly beds and it was assumed that being made out of cardboard, they would crumble under additional weight and impact. Irish gymnast, Rhys McClenaghan, debunked the theory by jumping on the bed with all his might.
The First-Ever Street Skateboarding Olympics Event Took Place
Japan landed big in the first-ever Olympic skateboarding event. Bringing home gold in both men's and women's, Yuto Horigome edged out Brazil's Kelvin Hoefler while 13-year-old Momiji Nishiya made history by becoming Japan's youngest Olympic champion. In a surprising upset, USA's four-time world champion Nyjah Huston couldn't seem to get used to the heat in Japan and fell to seventh place in men's overall.
Team USA Basketball Lost to France in Opener but Bounced Back to Win Gold
American basketball fans were worried early on as Team USA suffered one of the biggest upsets in Tokyo as the stacked team lost to France 76-83 on their opening game. This led the internet to change the name from the "Dream Team" to the "Meme Team." The team eventually got it together as they met once more with France in the final game for an 87-83 victory. This was Team USA's fourth successive Olympic gold medal in basketball and was also one of the tightest Olympic basketball finals in almost 50 years.
Naomi Osaka Was Eliminated In Her Third Match
The No. 2-ranked (WTA) women's tennis player, and face of the Tokyo Olympics, Naomi Osaka, was eliminated in her third match against Czech Republic's Marketa Vondrousova. While she dominated her first two opponents, her third match with Vondrousova saw the tennis star struggle to keep the ball in play where she eventually gave into the pressure and lost in straight sets of 6-1 and 6-4.
Simone Biles Withdrew From the Olympics But Returned to Win Bronze in Balance Beam
After shocking fans by withdrawing from the U.S. women's team gymnastics final and all-around event, due to a medical issue, Simone Biles returned to the balance beam event for to bronze medal. Overcoming her mental block, Biles was able to hold her own against top competitors from China and Canada, eventually finishing third for her seventh career Olympic medal.
Lu Xiaojun Became the Oldest Weightlifting Champ at 37
One of the greatest to do it. Lu Xiaojun's technique and teachings have been adopted all across the globe for efficient weightlifting. Known for his tremendous heart, Lu often goes head-to-head with younger lifters in his team for the sheer joy of competing. At 37, Lu went on record stating that this would most likely be his last Olympics and even commented on how the extra year of waiting for the Tokyo Games, going from 36 – 37, was felt negatively in his performance. Clearing 170kg in the snatch and 204kg in the clean and jerk (total 374kg) in the men's 170-pound category, Lu cemented himself as the oldest man to win an Olympic gold medal in weightlifting.
Weightlifting saw a few world records broken with Lasha Talakhadze of Georgia breaking the 485kg total 2021 record in the men's over 240lbs category with 488kg while China's Shi Zhiyong broke the 364kg total in the men's 161lb category with 364kg
The Philippines Won Its First-Ever Olympic Gold Medal
In close to 100 years, the Philippines have never tasted gold. That all changed with weightlifter Hidilyn Diaz. Competing in the women's 55kg category, Diaz outmuscled China's Liao Qiuyun by one kg in the clean and jerk for a 224kg total. Diaz has been training since 11 years of age while battling poverty growing up. Her heart and determination brought home a well-deserved gold.
India Won Its First-Ever Olympic Gold Medal in Track and Field
Neeraj Chopra brought home India's first gold medal in 13 years for his performance in the men's javelin event. The 23-year-old threw a distance of 87.58m to edge out Jakub Vadlejch of the Czech Republic's 86.67m. This was India's first Olympic gold in the athletics category.
Mutaz Essa Barshim and Gianmarco Tamberi Shared Some Gold
In a show of true sportsmanship, high jumpers Mutaz Essa Barshim of Qatar and Gianmarco Tamberi of Italy shared gold. Known for their friendship outside of the sport, both Olympians successfully cleared a 2.37-meter jump but missed the tie-breaking 2.39 meters bar. What happened next warmed the hearts of spectators on an international level. After a brief huddle, the two proceeded to ask the officials if they could tie for gold — which was confirmed possible. Embracing each other, the two went on to celebrate their shared victor with friends, family, coaches, and fans. For Tamberi, this moment was extra special as he carried on to the track his cast from the career-threatening injury that sidelined him from Rio 2016. His cast read, "Road to Tokyo" with "2021" in place of a scratched-out "2020."
36-Year-Old Eliud Kipchoge of Kenya Repeated His Marathon Gold
At 36 years of age, Kenya's Eliud Kipchoge won his second Olympic marathon gold in a row. The marathon world record-holder (2:01:39) finished the 26.2 miles in 2:08:38 and was not only defending his Rio 2016 gold title, but his winning margin of one minute and twenty seconds was the largest Olympic gap since the Munich Games in 1972.
Cheung Ka-Long's Gold in Fencing Created the "Ka-Long" Effect in Hong Kong
The son of two national league basketball players, Cheung Ka-Long is one of Hong Kong's top sporting prospects — he was even named Hong Kong's Most Promising Young Athlete at the age of 16. Coming off a 1-4 score deficit in the finals against reigning Olympic champion Daniele Garozzo, Cheung bounced back to win by a score of 15-11, bringing home Hong Kong's second-ever gold medal. This news instantly converted people in Hong Kong into sports fans, and those that weren't into the Olympics became overnight fans. The frenzy has grown to such a height that the people of Hong Kong have coined the term the "Ka-long effect" with local fencing schools experiencing a surge of parents looking to enroll their kids into the sport.
Swimmers Made a Splash Setting Numerous World Records
Swimming saw numerous records broken with Caeleb Dressel of the United States stealing the show with five gold medals. China also experienced success in the women's 4×200 meters relay where they surpassed 2019's world record 7:41.50 time with 7:40.33. This was the first time since 1996 that neither The United States nor Australia won gold in the 4x200m.
Other records broken include:
Men's 4×100m Medley Relay (USA) – 3:26.78 (New) 3:27.28 (2009)
Mixed 4×100m Medley Relay (GB) – 3:37.58 (New) 3:38.41 (2020)
Men's 100m Butterfly (Caeleb Dressel – USA) – 49.45 (New) 49.50 seconds (2019)
Women's 200m Breaststroke (Tatjana Schoenmaker – South Africa) – 2:18.95 (New) 2:19.11 (2013)
Women's 4×100m Freestyle Relay (Australia) – 3:29.69 (New) 3:30.05 (2018)
Uzbekistan's Oksana Chusovitina Competed in Her Eighth Olympic Game
The well-decorated Uzbek gymnast Oksana Chusovitina celebrated her eighth and final Olympic Game. Competing since the age of 13, the 46-year-old placed 14th in women's vault where her final Olympic performance was met with a standing ovation from other gymnasts from around the world. With the average age of gymnasts in the women's category being in the low 20s, Chusovitina was originally set to retire at the 2000 Sydney Olympics but her son's battle with leukemia thrust her back into the sport in order to pay off the medical bills.
Now for certain Tokyo was her last Summer Game, Chusovitina will remain a legend in the sport with 11 medals at 17 world championships, a number of moves named after her, and a generation of gymnasts that were inspired by her love for the sport.
The Race Track Was Ablaze With Numerous Records
This year's track athletes broke a lot of personal bests. While runners have been attributing their new PRs to Mondo's new track compound, fans were looking purely at the athletes.
The 100m race saw a lot of epic outcomes like Lamont Marcell Jacobs' gold medal finish, China's Su Bingtian becoming the first Chinese runner to make a 100m final, and even Jamaica's insane women's podium sweep. Andre de Grasse's performance in the 200m was also equally impressive.
Records broken in the track category were:
Women's 400m Hurdles (Sydney McLaughlin – USA) 51.46 (New) 51.90 (2021)
Men's 400m Hurdles (Karsten Warholm – Norway) 45.94 (New) 46.70 (2021)
Women's Triple Jump (Yulimar Rojas – Venezuela) 15.67 meters (New) 15.50 meters (1995)
Japan Saw Its Best Olympic Performance to Date
With all the drama and setbacks that Japan faced for the 2020-2021 Summer Olympics, these Games proved that the Olympics could be hosted during a pandemic. While many will agree that having fans and tourists in the city certainly does bring in more excitement, and help offset the rather large costs for hosting the Games, a one-year delay was more than enough. In the end, the Tokyo Olympics ended up being Japan's most successful Summer Olympics in terms of the medal count — they came in third overall (58 is a new all-time high) and beat their past gold medal best of 16 with 27.
For those curious, each Japanese gold medalist will be awarded $45,000 USD for their contribution to this record-breaking Olympic Game for Japan.
To Japan, thank you for the opportunity to compete on the world stage.#TeamUSA is grateful for your hospitality and dedication to #Tokyo2020.@Tokyo2020 | @Olympics pic.twitter.com/nWbkThLNgk

— Team USA (@TeamUSA) August 8, 2021
Over two weeks, over 1000 medals, over 1500 tweets ?

The @Olympics #Tokyo2020 was something special ?

Wherever you are around the globe, we thank you all ❤️

— #Tokyo2020 (@Tokyo2020) August 8, 2021
What's that? Post more #ClosingCeremony pictures! pic.twitter.com/ADJWhwvneW

— #Tokyo2020 (@Tokyo2020) August 8, 2021
The excitement doesn't stop.

The countdown to the opening of the #Tokyo2020 @Paralympics is now underway ?

There will be 22 sports to watch, learn everything here ?

— #Tokyo2020 (@Tokyo2020) August 8, 2021
┏━━┓┏━━┓┏━━┓┏┓
┗━┓┃┃┏┓┃┗━┓┃┃┃
┏━┛┃┃┃┃┃┏━┛┃┃┃
┃ ARIGATO #TOKYO2020 ┃
┃┏━┛┃┃┃┃┃┏━┛┃┃
┃┗━┓┃┗┛┃┃┗━┓┃┃
┗━━┛┗━━┛┗━━┛┗┛

— #Tokyo2020 (@Tokyo2020) August 8, 2021
Beautiful story. 8-time Olympic gymnast. ❤️ #OksanaChusovitina pic.twitter.com/JNDE4VrOpj

— Aline Vera H (@alineverah) July 26, 2021
Let's get it started!

Les Jeux Olympiques de #Paris2024 commencent !
Ouvrons ensemble un nouveau chapitre des Jeux.

Together, let's write a new chapter of the Olympic Games.

??⚫️?? pic.twitter.com/0QGjXfpvGY

— Paris 2024 (@Paris2024) August 8, 2021