Jamaica Sweeps Women's 100m Sprint at Tokyo Olympics
Elaine Thompson-Herah is now the fastest woman alive.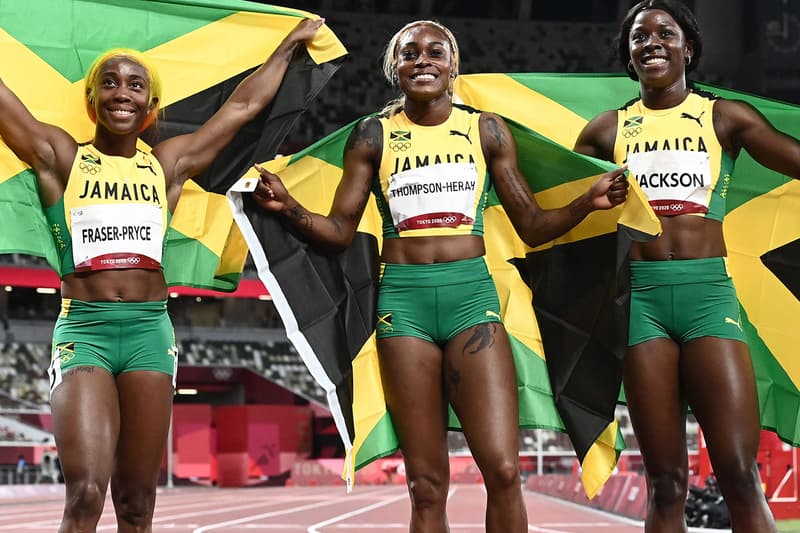 For the second time during the 2021 Tokyo Olympics, a single country has taken all three spots at the podium. A week after Switzerland's performance at the women's cross-country mountain bike event, Jamaica has won all three medals in the women's 100m race.
Elaine Thompson-Herah took gold with 10.61 seconds (she is now the fastest woman alive after passing Florence Griffith Joyner's 1988 Seoul Olympics record of 10.62), while Shelly-Ann Fraser-Pryce and Shericka Jackson took silver and bronze. They both ran 10.74 and 10.76, respectively.
Shelly-Ann Fraser-Pryce now holds the record for having four medals from four different Olympic Games in women's 100m. The three Olympians also have other chances to bring home more medals to Jamaica as all three will also be competing in this week's 4x100m relay and 200m events.
Just a lil girl from BANANA GROUND who liked to run. Believe In your dreams work hard and have faith in God…ETH pic.twitter.com/UrR7UuGZGO

— Elaine Thompson Herah (@FastElaine) July 31, 2021
1.2.3 ??????

— Usain St. Leo Bolt (@usainbolt) July 31, 2021
In other sports news, Japan expands the Coronavirus state of emergency during the Olympic Games.