Team USA Falls 76-83 to France in Tokyo Olympics Opener
Can this 2021 lineup reach the medal round?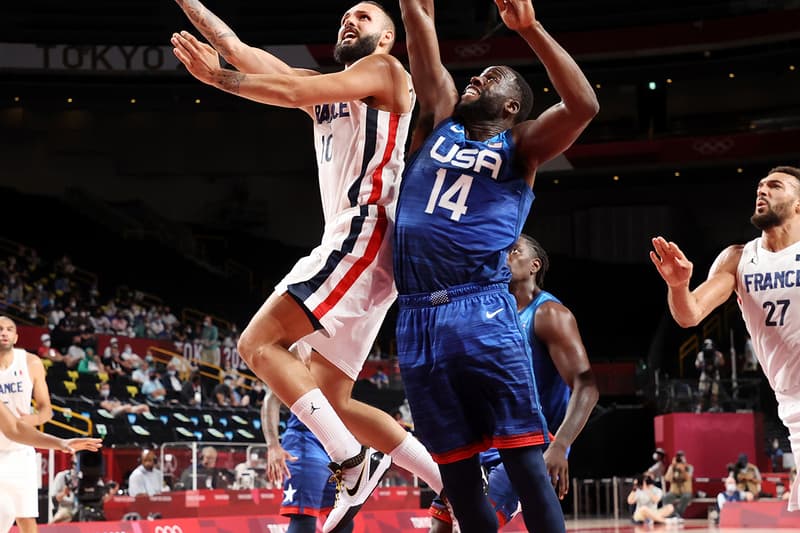 As the Tokyo Olympics has officially begun, Team USA's men's basketball team came out with a shocking 76-83 loss at the hands of France last Sunday. Citizens are having a social media field day about the All-Star packed lineup.
This is the first time Team USA has lost its first Olympic game since the 2004 semifinals against Argentina. France was also the same team that got America eliminated in the 2019 FIBA World Cup quarterfinals.
Although Team USA led by eight points at halftime, France came back with a 25-11 advantage by the third quarter and led with six points during the fourth. France connected on 47 percent of its attempts, while America only shot 36 percent from the field. NBA Defensive Player of the Year Rudy Gobert along with Boston Celtics' Evan Fournier took the reigns for France as Gobert led the team to out-rebound America with 42-36 and Fournier led with 28 points in the game.
Coming straight from the NBA Finals Championship, Milwaukee Buck's Jrue Holiday led Team USA with 18 points, 7 rebounds and 4 assists while Brooklyn Nets' Kevin Durant nabbed four fouls as he finished with just 10 points. Portland Trailblazer's Damian Lillard only managed to cap off with 10 points.
A lot of concerns have been raised after the surprising loss ranging from the team's shooting percentage to leadership under head coach Gregg Popovich as he stepped in for Mike Krzyzewski who led Team USA to three consecutive gold medals.
Team USA is set to face Iran and the Czech Republic within the next few days in order to advance to the quarterfinals.
1992 – Dream Team
2008 – Redeem Team
2021 – Meme Team#USA #Basketball pic.twitter.com/DLUek40a4i

— SportzStew (@sportzstewcom) July 25, 2021
France's Evan Fournier after beating USA Basketball in Tokyo Olympic opener: "They are better individually but they can be beaten as a team."

— Ben Golliver (@BenGolliver) July 25, 2021
Team USA basketball lost to France today??? pic.twitter.com/j1WBS1O99Q

— Syracuse Memes™ (@Cusememes) July 25, 2021
So a HOF coach…a basketball genius who is known for great team culture…just took USA's 1st #OlympicGames L since 2004

Who knew not having the best players in the world like LeBron, AD, Kawhi, Russell, Steph, Klay, Kyrie, Harden would have such an impact on #usabasketball… pic.twitter.com/jCFtbzsPZI

— Sean Strickland (@Coach__Strick) July 25, 2021
Team USA basketball trying to win gold without Steph Curry and no Lebron James pic.twitter.com/uVWGZWCXns

— Rich (@UptownDC_Rich) July 25, 2021
Waking up and checking the Team USA Basketball box score pic.twitter.com/aTERDgSE4r

— FanDuel Sportsbook (@FDSportsbook) July 25, 2021
2012 Team USA basketball will always be the dream team? pic.twitter.com/OhjUEZrIVv

— Nel 릿사 (@LisaLimayo) July 26, 2021
In other Olympics news, Yuto Horigome wins gold in the first-ever street skateboarding Olympics event.