This Toyota CUE Olympic Basketball Robot Is Catching Fans Off Guard
It sunk over 2,000 free throws in a row and can shoot from halfcourt.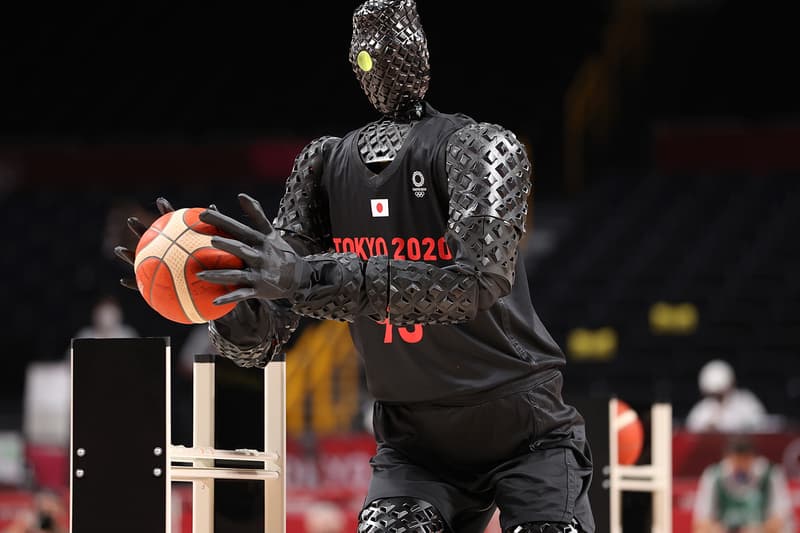 Team USA's loss to France is not the only thing shocking basketball fans at this year's 2021 Tokyo Olympics. During the halftime show, Toyota brought back its basketball-shooting CUE robot for a special demonstration.
For those unfamiliar, the CUE 3 (this version could be an updated version as it does sport an updated "95" jersey number versus its past "93") was first unveiled two years ago where it sunk over 2,000 free throws in a row and five of eight three-pointers.
While it can't dribble or jump, the 6-foot-10-inch-tall robot wowed spectators as it scored a free throw, a three-pointer, then casually wheeled over to the midcourt line to sink a half-court shot in style. The CUE most likely won't be replacing NBA players anytime soon but watching this strange-looking robot pick up a basketball from halfcourt, calculating the perfect arch, then scoring a half-court shot, is a sight to behold. Check it out for yourselves below.
Robots are taking free throws at the #TokyoOlympics.

Automatic. pic.twitter.com/AUoc6zSj4N

— #TokyoOlympics (@NBCOlympics) July 25, 2021
A basketball robot. For your pleasure. pic.twitter.com/5LZF2vpwNg

— Ann Killion (@annkillion) July 25, 2021
Making his Olympics debut, Mr. Robot ? went for 3/3 at the half-time show!#Tokyo2020 #Basketball pic.twitter.com/GEFAJOve7d

— FIBA #Tokyo2020 (@FIBA) July 25, 2021
In other tech news, this solar-powered robot is basically a beach cleaning Roomba.