Yuto Horigome Wins Gold in First-Ever Street Skateboarding Olympics Event
Brazil's Kelvin Hoefler and USA's Jagger Eaton took home silver and bronze, respectively.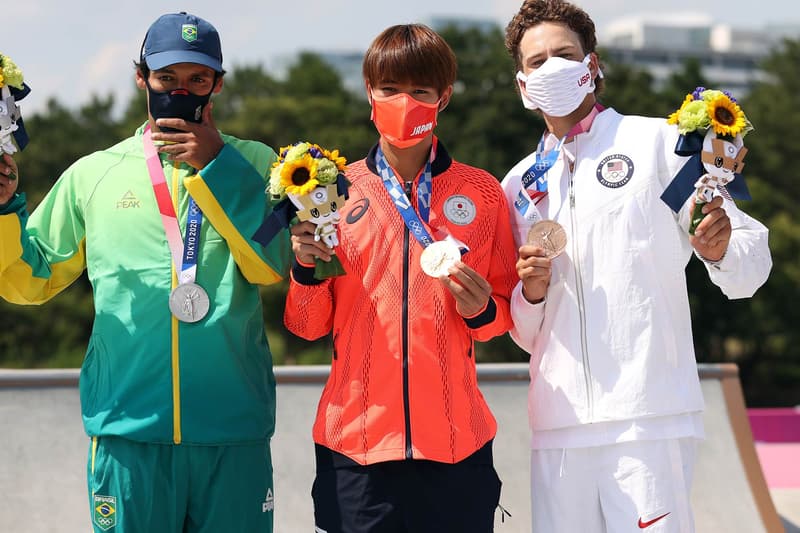 Yuto Horigome has just brought home gold for Japan in the inaugural Men's Street Skateboarding Olympic competition in Tokyo.
Facing seasoned competitors like Team USA's four-time world champion Nyjah Huston, and Brazil's X Games gold medalist Kelvin Hoefler, the 22-year-old Yuto Horigome sealed his number one position with a nollie backside 270 which scored him a 9.50. "I couldn't miss the fourth trick so I put everything I believed and worked for into that trick," Horigome said. "It felt significant to return to Koto ward, it meant so much more for me." Horigome's final score was 37.18.
The end results saw Jagger Eaton of the USA take home the bronze medal while Kelvin Hoefler secured silver at just one point behind Horigome.
Fan-favorite Nyjah Huston fell to seventh place as he wasn't quite used to the intense heat as he reported that his board was experiencing more flex than normal. "Your feet started burning up. Your board gets so hot that it kind of flexes more. That's kind of why I fell on one of those tricks out there. I'm a little bummed at myself, obviously. I would have liked to have landed a couple more tricks out there. But it's still an honor to be out here skating at the Olympics."
In other sports news, Kyle Lowry and DeMar DeRozan may join Los Angeles Lakers.