Headie One and Reuben Selby Discuss Creative Collaboration
A conversation between the British rapper and the emerging designer.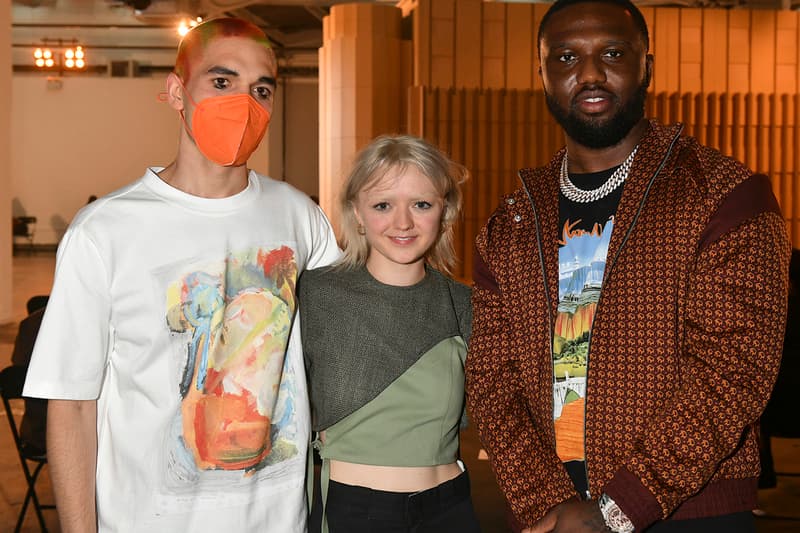 This week's London Fashion Week this week was largely a sedate, low-energy affair: the uncertainty of our current times seemed to be reflected in an overall lack of confidence from many of the city's designers. But one of the few highlights of the week, which gave the proceedings a much-needed jolt of energy, was the second collection presentation from the emergent British designer Reuben Selby.
As one of few designers able to host a physical show (for an audience of 150 friends, editors, and special guests, and produced in line with the U.K.'s COVID guidelines), Selby used his presentation as a kind of paean to the values of collaboration. The collection, made almost entirely from deadstock fabrics, included materials donated by Pangaia, footwear from Salomon, hats from James Pink and garments painted by the artist Alexander James – all curated in partnership with the stylist Harry Lambert (best known as the personal stylist to Harry Styles).
Alongside that, the show was opened with a duo of performances – a DJ set from Selby's partner, the Game of Thrones actress Maisie Williams, and a surprise appearance from the British rapper Headie One.
After the show, HYPEBEAST caught up with Selby and Headie to learn more about the collection, the duo's creative partnership, partnership, and the state of creativity in London.
HYPEBEAST: Reuben, why did you want to present your collection in this format?
Reuben Selby: We specifically decided to show in London this season to reconnect with the city and its culture. There was a big focus on community for this show, so we felt it was really important to put on a show that our friends and family would enjoy and connect with.
We see our shows as art performances and want to excite people watching. When creating concepts for our set designs with Playlab we keep coming back to the themes of oneness and focus, hence the central stage approach. The center-piece of this season's set was a cardboard recreation of a large scale Travelodge hotel. That was the first building I encountered when coming to the city.
Salomon, Pangaia, Headie, Maisie: how did you go about selecting your collaborators this season? Aside from the obvious fact that Maisie is your girlfriend, of course…
Selby: Maisie and I knew we really wanted to bring out a London based rapper — we had been listening to lots of rap and grime in the lead up to the show. We were super inspired by Headie's music, and felt that he encapsulated the London energy we were looking to showcase. We reached out, connected with him and managed to get him onboard.
Headie One: I spoke to Maisie, and I'm a big fan of Maisie. She showed me the brand, and I liked the concept behind it and all the interesting ideas that've been put behind it. And I thought yeah, I'd like to be associated with such creativity and such broad ways of thinking. I think, its's properly different to a lot of things that are going on.
Selby: This show started with the music. Maisie had so many ideas about how it should sound — I asked her if she would be interested in doing the mix as I knew it's something she's always wanted to do and would have a natural gift for.
How about Salomon? Why did you choose to work with them?
Selby: We were heavily inspired by the landscapes and rice fields in the Philippines, and this had a big influence on the design, so when we were looking for shoes we knew that we wanted to work with a brand that had tonal colours and would give a feeling of the outdoors and trekking. There's also an industrial element to the collection and I think the Salomon shoes have a feeling of structure and functionality that was reflected through in all aspects of the creative direction.
Headie, fashion collaborations seem to be something you're doing more and more – your collaboration with Virgil Abloh for Louis Vuitton at the Brit Awards was so memorable. What role does fashion play in your work?
Headie: Actually over the years I've been a big fan of fashion — different kinds of stuff, all of the different new seasons and releases. So I've been to fashion week, couple years ago and I saw loads of underground brands, and I like how interesting it is that people come up with their ideas and put them together. I just like the full process behind it and the creativity.
How does it feel to be back at London Fashion Week?
Headie: I feel London is a very creative city, and I feel you can kinda even tell that from the way the streets are: the paintings, the graffiti, even the way the buildings are built is almost very arty. It's almost like there's loads of different kinds of creatives involved. I feel like fashion week is a great thing to happen in London and now that lockdowns off, hopefully, we can enjoy it to its full potential.
Reuben, what can we expect from you next? Any future projects coming?
Selby: The brand is freeform, so we're always looking at working on new, exciting projects that span across different areas of the creative industries. We're specifically interested in working on outfit designs for in-game experiences and have a collaboration in the works.
And in the coming months we will be designing custom looks for a few of our friends that will be attending red carpet events. The next goal for us is to partner with a retailer and start selling small runs of the SS22 collection. We hope to continue to work closely with our collaborators and sponsors from our shows and bring out exclusive designs.