Best New Tracks: Logic, DaBaby, GoldLink and More
Enjoy the weekend with these 10 music projects.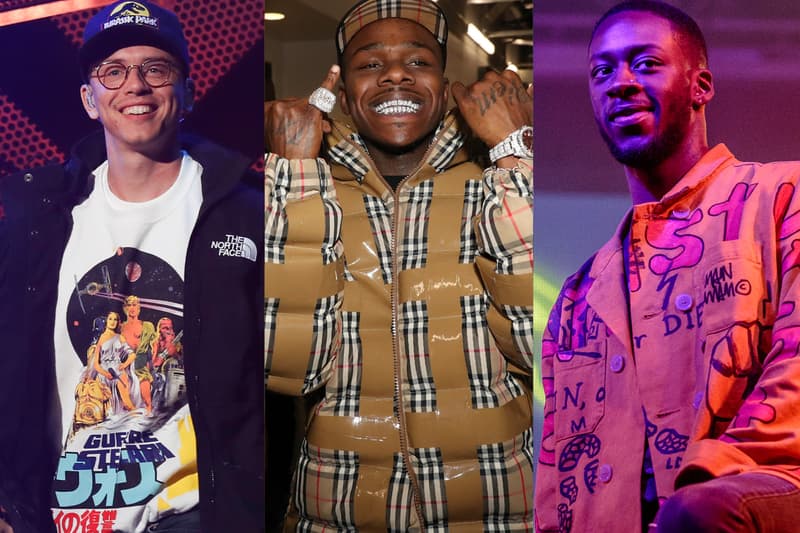 As the week in music comes to a close, HYPEBEAST has rounded up the 10 best projects for the latest installment of Best New Tracks.
This week's list is led by DaBaby and Logic who released the singles "Ball If I Want To" and "Intro" respectively, along with a new full-length effort from GoldLink entitled HARAM!. Also joining this selection are offerings from Olamidé, Yves Tumor, collaborations between Don Toliver and Kali Uchis and Queen Naija and Jacquees, Little Simz, Kojey Radical and an EP from Piers James.
DaBaby – "Ball If I Want To"
As the heat begins to swelter, DaBaby is preparing for a fun summer with his latest cut "Ball If I Want To." The new release arrives with an accompanying music video helmed by the artist himself, officially marking his directorial debut alongside video producer Gemini Vision.
Listen: Spotify | Apple Music
Logic – "Intro"
Logic is emerging from his short-lived retirement with the new single, "Intro." Clocking in at less than two minutes, the track arrives less than a year after the artist announced his final album, No Pressure. Between the record and "Intro," Logic has been busy freely releasing music at his own time, including some cuts in collaboration with Madlib.
Listen: Spotify | Apple Music
GoldLink - HARAM!
Three years after the release of Diaspora, GoldLink is following it up with his the new record HARAM! The 15-track record features contributions from Flo Milli, NLE Choppa, Santigold, Bibi Bourelly, Rich The Kid, emerging international act Fire! and more, and includes creative direction from Joe Perez, known for his work with Kanye West, Nicki Minaj and Pusha T. "If Astroworld is about the theme park that never formalized, HARAM! is the devil's playground on earth," GoldLink said in a statement.
Listen: Spotify | Apple Music
Piers James – A Dying Breed, Pt. II
Piers James has released the followup to his July 2020 EP, A Dying Breed, Pt. II. The seven-track project features the new single "Dreams Of A Dreamer" and previous singes like "Mass Appeal" and "Best Out Here." In a statement, the New Gen: Spring 2021 awardee said, "A Dying Breed is an ode to anyone who is truly pushing their craft, a reminder to never lose your individuality and to never give up on something that you believe in. We're not here for money and fame. We are here to document our life's experiences, share new knowledge, pave new paths & create our own legacies."
Listen: Spotify | Apple Music
Olamidé - UY Scuti
YBNL Nation head Olamidé has delivered his latest project, UY Scuti. Named after the largest-known star in our universe, the 10-track record hears him pull inspiration from dancehall, reggae, amapiano and alté to create his most melodic and personal body of work yet. Olamidé tagged a new crop of rising Nigerian talent like Jaywillz, Layydoe and Fave, along with fellow Naija rap giant Phyno. "For me, it's synergy first and everything else later," he said of platforming new talent. "It's not about working with some huge artist with big numbers for me. I would rather do my thing alone and with people in sync with me. I'm all about longevity, and what's going to stand the test of time."
Listen: Spotify | Apple Music
Little Simz – "Rollin Stone"
As she preps for the release of her upcoming record Sometimes I Might Be Introvert, Little Simz dropped another album single entitled "Rollin Stone." The three-minute track hears the artist's trademark quickfire raps and witty lyricism as Little Simz highlights her ascension and the sheer grit and graft it's taken to get there. Sometimes I Might Be Introvert drops September 3.
Listen: Spotify | Apple Music
Don Toliver x Kali Uchis – "Drugs N Hella Melodies"
Don Toliver and Kali Uchis finally dropped off their highly-anticipated collab, "Drugs N Hella Melodies." Produced by Los Hendrix and DJ Dah, the new track is set to appear on the Cactus Jack artist's upcoming project L.O.A.D., which follows up his debut studio album Heaven or Hell.
Listen: Spotify | Apple Music
Yves Tumor – "Jackie"
Continuing to shift, alter and play with the boundaries of contemporary art and culture, Yves Tumor dropped off their brand new single "Jackie" and the accompanying music video directed and produced by Actual Objects. "We loved collaborating with Yves Tumor on 'Jackie' — we've been massive fans for years," the L.A.-based creative studio said in a statement. "Their work is always so forward looking, and has always been a major inspiration for us. "Jackie" was a chance for us to dig deep into our toolkit and work with some of our most experimental techniques." Fans can also look forward to Yves Tumor live in 2021 and 2022 across the U.S., U.K. and Europe.
Listen: Spotify | Apple Music
Kojey Radical – "2FS/WOOHAA"
Kojey Radical, one of the U.K.'s most thrilling and unique creative voices, shared a pair of standalone singles entitled "2FS" and "WOOHAA." Produced by The Elements and The Fanatix respectively, the energetic offerings is just a teaser for what's to come. "Hard food not fast food; the album is being prepared but I wanted to serve up something to hold the appetite. Eat up – this two are friendly reminders I can rap circles around your favourite as a snack. I'm a problem when I'm hungry," Radical said in a statement.
Listen: Spotify | Apple Music
Jacquees x Queen Naija – "Bed Friend"
Queen Naija and Jacquees reunited to deliver the new cut, "Bed Friend." The collab is set to appear on Jacquees' forthcoming album PTOF, which will be his first full-length release since 2019's King of R&B. A release date for his third studio effort, however, is yet to be announced.
Listen: Spotify | Apple Music