Bury Your Heads in These Music Reads for World Book Day 2021
Celebrating literature that pays homage to artists, movements, genres and personal history.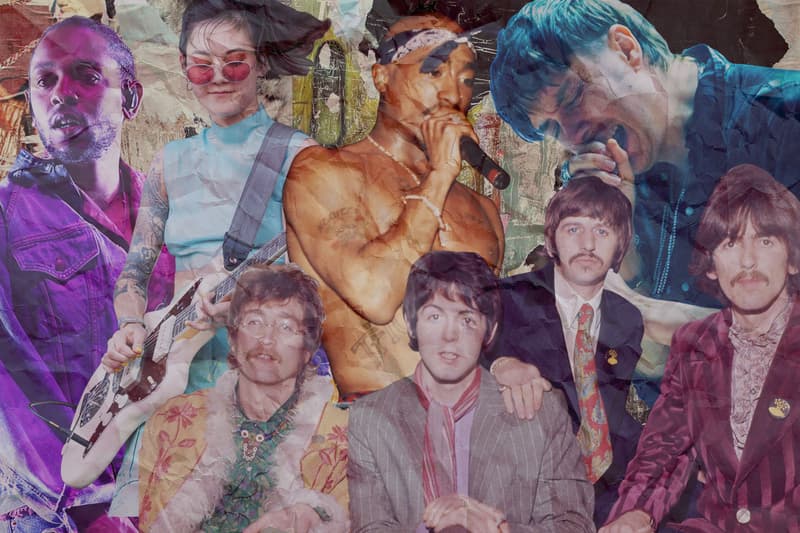 Literature has always gone hand in hand with music. Some of the most revered lyricists of all time, regardless of genre, have spent many hours with their heads buried in a book, some going as far as stating that literature is a huge influence in their music. There's even the Pulitzer Prize — which Kendrick Lamar famously won for his 2017 record DAMN. — that acknowledges achievements in the fields of literature, journalism and musical composition. To celebrate World Book Day 2021, HYPEBEAST is paying respects to the everlasting relationship of the written word and music with a special curation of music reads.
This list includes deep dives of an artist's life, a music movement and genres as a whole, historical examinations on art and music and poetry compilations and memoirs that come straight from an artist's heart.
The Butterfly Effect: How Kendrick Lamar Ignited the Soul of Black America 
Written by Marcus J. Moore
Kendrick Lamar is often considered a musical genius, but many never seem to ask where he got his brilliance from. In The Butterfly Effect, author Marcus J. Moore carefully breaks down and examines both the important scenarios and personal figures in the artist's life to create Lamar's cohesive coming-of-age story. Rather than plainly mapping out how K-Dot and rap found each other, Moore provides a better understanding of how Lamar's creative writing teacher from the 7th grade, his trip to South Africa and the business model of TDE's Dave Free and Top Dawg Tiffith have all played their parts to help transform the artist into the prodigy he is today.
Purchase: Simon & Schuster | Amazon
Meet Me In The Bathroom: Rebirth and Rock and Roll in New York City 2001–2011 
Written by Lizzy Goodman
Lizzy Goodman recounts the reincarnation of New York City's rock scene in this lengthy 2017 title. Accompanied by interviews with the decade's biggest players — The Strokes, The Yeah Yeah Yeahs, LCD Soundsystem, Interpol, Vampire Weekend — and the close friends, journalists and music execs who were all there during the drunken, post-gig 2 a.m. gatherings, Meet Me In The Bathroom shines a light on the community that was built using internet connections, illegal drugs and a common love for music at a time when America was shaken by the events of 9/11.
Purchase: Harper Collins | Amazon
Inner City Pressure: The Story of Grime 
Written by Dan Hancox
Grime has spent the last two decades essentially cementing itself in the mainstream culture, marked by moments that include Dizzee Rascal's debut record, Boy in Da Corner, defeating the likes of Radiohead and Coldplay for the Mercury Prize and Stormzy's Gang Signs & Prayers becoming the first No. 1 grime album on the U.K.'s Albums Chart. The world finally paid attention the sound that took the U.K. by storm, but the road to celebration wasn't easy. Dan Hancox and a selection of MCs, DJs and industry figures narrate these struggles in Inner City Pressure, pinpointing the roles of different governments, the media, radio stations and music venues in attempting to suppress the music movement.
Purchase: Harper Collins | Amazon
Whose Blues? 
Written by Adam Gussow
The history of blues is rooted in the Deep South and the music born of African-American struggles. Over 100 years later, the genre has earned a more diverse audience and expanded into subgenres like blues rock, electric blues and even country blues, but this transformation isn't accepted by everybody. Professor and performer Adam Gussow explores the difficult question of Whose Blues? using literature, history and his own experience on the field, hoping to create a meaningful conversation that respects the genre's roots and the international path it's currently on.
33 1/3
Written by various authors
No list of music reads is complete without the revered 33 1/3 book series. For the unaccustomed, the series was founded by David Barker in 2003 and each of the current published books focus on only one particular album by one artist. The sole subject of each title allows the various authors to meticulously explore each nook and crevice of the record, offering an in-depth read to listeners who want to take a closer look at a body of work. The true beauty of the collection, however, lies in the fact that it caters to all genres — whether you're seeking a title on ABBA, The Ramones, Nas or Neutral Milk Hotel, the 33 1/3 series probably has it.
Purchase: Bloomsbury | Amazon
Here She Comes Now: Women in Music Who Have Changed Our Lives
Edited by Jeff Gordinier and Marc Weingarten
The inequality in music still has a long and bumpy road ahead, but Here She Comes Now celebrates the women who have paved the way so far. Some of brightest writers ban together to pay their respects to the women in music and their influences in the writers' personal lives, discussing the importance of figures from a variety of genres: country superstar Dolly Parton, hip-hop/soul's Mary J. Blige, the ever eclectic Björk, Sonic Youth's Kim Gordon, Fleetwood Mac staple Stevie Nicks, punk rock icon Patti Smith, Nina Simone, Tina Turner and more.
Purchase: Icon Books | Amazon
Contact High: A Visual History of Hip-Hop
Written by Vikki Tobak
Vikki Tobak uses the power of contact prints for her 2018 photo book, Contact High. Featuring iconic images like The Notorious B.I.G.'s famed The King of New York and photographs of Mos Def, Kanye West, Tyler, the Creator, JAY-Z, Wu Tang Clan and more, the title is a visual representation of hip-hop's growth from the late '70s to the early 2000s, paying homage to the figures that led its expansion and the photographers who were there to capture the important moments. The photographers also share personal tidbits of the images they've taken, transporting readers to the moment when these pictures were taken.
Purchase: Penguin Random House | Amazon
Rock Covers. 40th Anniversary Edition 
Written by Robbie Busch and Jonathan Kirby
An album's cover art has always been an important factor in the listening experience, and in many situations, they serve as the visual token for fans to remember the record by. Rock Covers. 40th Anniversary Edition examines 750 of these artworks ranging from The Beatles' Sgt. Pepper's Lonely Hearts Club Band to David Bowie's Aladdin Sane and Pink Floyd's Dark Side of the Moon, and enlists all the important details surrounding the creation of the album art. To add to context, several interviews with industry figures also accompany these artworks, adding a personal touch to the cultural impact of both the records and its covers.
Purchase: HBX
The Rose That Grew From Concrete
Written by Tupac Shakur
Released 3 years after his death in 1996, Tupac Shakur's personal poetry is offered in paperback for the first time in The Rose That Grew From Concrete. The lengthy collection features pieces that the celebrated rapper wrote between 1989 and 1991 and touches on themes of passion, rage, heartache — all of the human emotions that Pac, who is commonly referred to as one of hip-hop's greatest and almost like a god, experienced himself. To make things even more personal, the collection features a preface from his late mother, Afeni Shakur, along with a foreword by poet and activist Nikki Giovanni and an introduction from Pac's manager Leila Steinberg.
Purchase: Blackwells | Amazon
Crying In H Mart
Written by Michelle Zauner
Ahead of the release of her upcoming album Jubilee, Japanese Breakfast's Michelle Zauner pens a powerful memoir in Crying In H Mart. The newly-released title, which was based on her viral 2018 New Yorker essay, touches on the artist's Korean-American upbringing, the loss of her mother and her subsequent attempt to forge her identity. Filled with both heartwarming and painful anecdotes, delicious descriptions of food and Zauner's family photos, Crying In H Mart will welcome you into the singer/author's world with open arms.
Purchase: Penguin Random House