Ranking Travis Scott's Nike and Jordan Brand Collaborations
In celebration of La Flame's 29th birthday, we take a look back on his Nike and Jordan Brand lineage by ranking his 11 retail releases.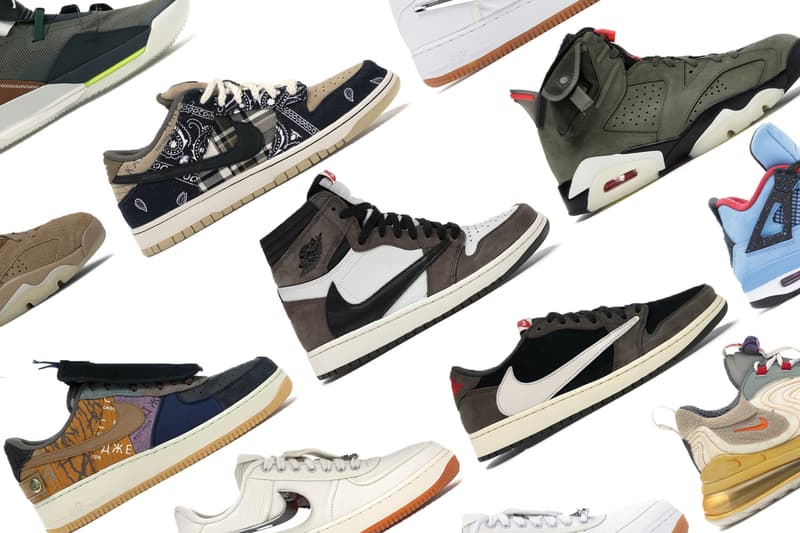 Travis Scott isn't even 30 years old — he turned 29 today, April 30 — but he already holds a lofty seat in the pantheon of pop culture. From platinum-selling albums to partnerships with McDonalds and even his own line of spiked seltzer, Scott is seemingly everywhere you look. Music and business dealings aside, a key piece of how "the one known as Jacques turned into Scott," as T.I. said on Scott's debut album Rodeo, is through his myriad of footwear collaborations with Nike and Jordan Brand.
Since first joining forces with Nike, Inc. by starring in 2017's Air VaporMax "Day to Night" campaign, designing a custom Jordan Trunner and rapping "Nike boys, we don't do three stripes" on 21 Savage, Offset and Metro Boomin's Without Warning album, Scott's sneakers have repeatedly sold out and often dominated yearly "best of" lists. Much like his energetic concerts, they're practically guaranteed to cause a ruckus, and have established an instantly recognizable visual language.
In celebration of Scott's 29th birthday, HYPEBEAST has ranked all 11 of his retail release collaborations with Nike and Jordan Brand. Note that this list excludes samples, friends and family pairs and yet-to-be-released silhouettes like the fragment design x Travis Scott x Air Jordan 1s and Travis Scott x Nike Air Max 1s — only styles that the general public have had a (slim) chance to buy are present here.
11. Travis Scott x Air Jordan 33
Release Date: February 14, 2019
MSRP: $185 USD
Average Resale Price: $251 USD
At the bottom of the list is the Air Jordan 33, the only non-archival silhouette that Scott has ever worked on with Jordan Brand. Though it may be potent in its on-court performance, it's rather plain in its presentation, combining green and brown tones on its upper with Cactus Jack branding on the tongue for a largely forgettable style with no real signifying traits. Although it's not a "bad" shoe by any stretch of the imagination, it's easily Scott's least memorable collaboration — which is why it's at the bottom here.
10. Travis Scott x Nike Air Max 270 React ENG
Release Date: May 29, 2020
MSRP: $170 USD
Average Resale Price: $517 USD
If these rankings were based on campaigns, the Air Max 270 React ENG would be placed much higher. The centerpiece of a "Cactus Trails" drop that featured legendary WWE personality Mick Foley, the 270 React ENG was at once dusty, dirty and colorful, garnering attention for details like a crossed Cactus Jack graphic on the heel tab. However, much like the above-mentioned AJ33, it suffered slightly from being a non-legacy sneaker and may not have the longevity of other styles on this list.
9. Travis Scott x Nike Air Force 1 "Sail"
Release Date: August 10, 2018
MSRP: $150 USD
Average Resale Price: $1,144 USD
Scott's second Air Force 1 collaboration, the "Sail" was essentially a color-shifted version of a more limited release sneaker you'll see further down below. Featuring a full Velcro upper with removable Swooshes, grills patches and much more, it didn't reinvent the wheel but did find acclaim among Force fanatics and Scott supporters alike.
8. Travis Scott x Nike Air Force 1 "Cactus Jack"
Release Date: November 16, 2019
MSRP: $160 USD
Average Resale Price: $591 USD
Where La Flame's first two Air Force 1 collaborations were straightforward in color scheme (if not embellishment), the Air Force 1 "Cactus Jack" was definitely not. A wild, workwear-inspired sneaker with a medley of prints, patterns and materials plus a removable tongue sheath, the "Cactus Jack" was a fitting latter-day embodiment of the madness surrounding Scott's Astroworld album: both brought several divergent parts together into a cohesive whole.
7. Travis Scott x Air Jordan 6 "British Khaki"
Release Date: April 30, 2021
MSRP: $250 USD
Average Resale Price: $787 USD
At the time of writing, the Air Jordan 6 "British Khaki" is the latest and greatest from the Jordan Brand x Travis Scott partnership. Mixing now-familiar utilitarian details with a glow-in-the-dark midsole and a sandy color scheme that makes use of the Cactus Jack palette, the "British Khaki" is one of the Jumpman's strongest spring drops. Its arrival was even bolstered by former NBA player and longtime Jordan family member Rip Hamilton's participation in its accompanying lookbook.
6. Travis Scott x Nike Air Force 1 "AF100"
Release Date: December 2, 2017
MSRP: $150 USD
Average Resale Price: $1,376 USD
This is where it all started. The first retail collaboration between Scott and Nike, the Air Force 1 "AF100" debuted as part of an initiative that also saw designs from Errolson Hugh, Don C, Virgil Abloh and more. Putting Scott, then largely untested in the world of co-crafted footwear, alongside collaborative heavy hitters surely gave his AF1 an instant boost. However, it was decidedly the shoe's design that made it a lasting hit, with a clean white Velcro upper, interchangeable Swooshes, grills and medallions plus a timeless gum sole offering a bold statement: that Scott's sneakers were here to stay.
5. Travis Scott x Air Jordan 1 Low
Release Date: July 20, 2019
MSRP: $130 USD
Average Resale Price: $948 USD
The Air Jordan 1 Low is surely one of the more divisive designs on this list. Some would say it should be much higher, some may say it should be lower, some may say it's fine where it is. Granted, it wasn't helped by its release proximity to what many consider Scott's best sneaker ever, which you'll see below. However, the 1 Low stands in a lane of its own, thanks to an unexampled color blocking scheme and a stunning debut: it was first seen on Scott's feet during a 2019 Grammys performance, giving it plenty of time to marinate before its July release that year.
4. Travis Scott x Nike SB Dunk Low
Release Date: February 19, 2020
MSRP: $150 USD
Average Resale Price: $1,559 USD
Any modern-day sneaker aficionado can go on at length about Nike SB's resurgence in 2020. The Dunk Low was quite literally named the silhouette of the year, and Scott's SB Dunk Low collaboration played a major role in its acclaim. Though Scott and skateboarding don't have much in common apart from a first letter, La Flame's SB Dunk featured all the attributes of an SB classic: high attention to detail, unique design features like a tear-away upper and twine laces, and a hype-building rollout. Scott is a self-proclaimed longtime SB Dunk fan, and his fandom was validated by this design.
3. Travis Scott x Air Jordan 6
Release Date: October 11, 2019
MSRP: $250 USD
Average Resale Price: $634 USD
When La Flame took the stage at the Super Bowl LIII halftime show, sneakerheads were fixated on his feet. Mere moments before running through a brief-yet-vicious set, Scott revealed his Air Jordan 6 "Medium Olive" via an Instagram post, and immediately drove the world of sneakers into a frenzy, much like Justin Timberlake did with his Air Jordan 3 "JTH" at Super Bowl LII the year before.
However, La Flame's fires of hype burned much hotter than the Man Of the Woods' did — and no shock SNKRS drop occurred, fanning the flames even higher. Though Super Bowl LIII was in February 2019, the "Medium Olive" didn't release until October 2019. In that eight-month gap, the fervor around Scott's AJ6 grew and grew before culminating in a raucous release. A year and a half later, Scott's first Air Jordan 6 is still among its best due to its military-inspired color scheme and its unique cargo pocket-equipped collar.
2. Travis Scott x Air Jordan 4
Release Date: June 9, 2018
MSRP: $225 USD
Average Resale Price: $958 USD
With a lot of hype, a little help from NBA sneaker king PJ Tucker and a color scheme inspired by the Houston Oilers, Scott's Air Jordan 4 was a rousing retail debut for his partnership with Jordan Brand. Apart from spawning some of Scott's most desirable friends-and-family sneakers, this AJ4 is unique in that it's Scott's only collaboration to diverge from the signature Cactus Jack palette of earthy tones and muted accents.
It seems that the first is often the best in the world of collaborations. It's hard to recapture the magic of an inaugural release: the pure excitement it brings, the newness and freshness. The Travis Scott Air Jordan 4 was all of those things, and on almost any other list it would take the top billing. However, there's a single sneaker here that it can't conquer.
1. Travis Scott x Air Jordan 1
Release Date: May 11, 2019
MSRP: $175 USD
Average Resale Price: $1,584 USD
That sneaker is Scott's Air Jordan 1. Widely regarded as the top shoe of 2019, the Travis Scott x Air Jordan 1 was a perfect storm, the likes of which rarely come around in the modern-day world of footwear. Though the AJ1 is still Jordan Brand's most popular silhouette in 2021, it was on an unparalleled streak in 2019. Scott was also having a monstrous year, thanks to the popularity of Astroworld and his constant newsmaking with Kylie Jenner. These converging forces caused a perfect storm.
You couldn't escape the Travis Scott x Air Jordan 1, and its acclaim was backed up by its design. The altered AJ1 was centered around a bold backwards midfoot Swoosh, a sui generis detail that's since become a Scott signature. It boasted a white, black and brown color scheme that's since served as inspiration for the popular Air Jordan 1 "Dark Mocha." It had other clever details like a hidden stash pocket in the collar and Cactus Jack hits on the heels. It was the perfect shoe delivered at the perfect time, and it's perfectly deserving of the top spot on this list.
---
Note: Each "Average Resale Price" is indicative of sales figures from StockX, and is current as of April 30, 2020.