"Disaster Girl" Meme Sells as NFT for Nearly $500,000 USD
Zoë Roth, the titular character of the iconic photo, plans to use the proceeds to pay off her student loans.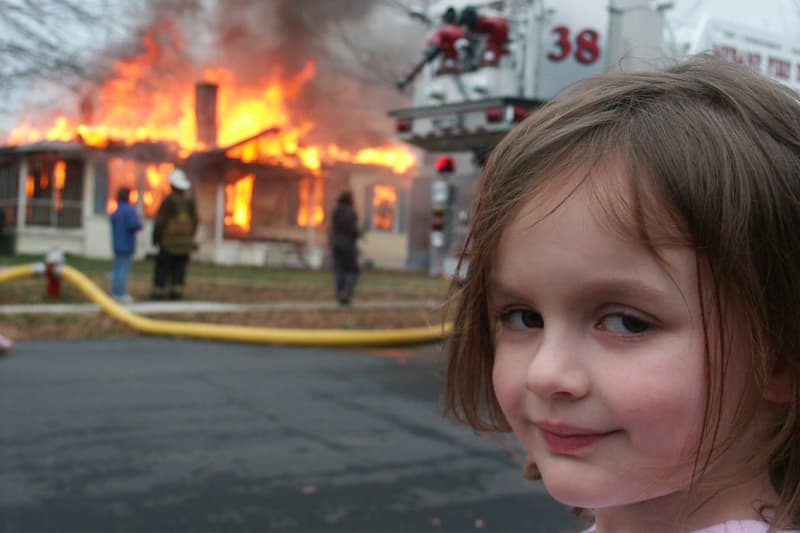 When Dave Roth took a photo of his daughter Zoë Roth standing outside a house in flames in their neighborhood in Mebane, N.C. in 2005, the family could have never guessed that the photo would become an Internet phenomenon, let alone sell for nearly $500,000 USD.
The photo which has now become one of the most circulated memes online was taken when Zoë was only four years old. Though she does not remember much from the moment, she recalls her father, an amateur photographer, asking her to smile. With a knowing look in her eyes, Zoë flashed a devilish smirk as and thus, the "Disaster Girl" meme was born.
In 2007, Dave entered the photo into a photo contest and won. The image has since been edited into different disasters throughout history. Four-year-old Zoë has appeared grinning impishly as the Titanic sinks in the distance, to meteors wiping out dinosaurs. Now decades later, the original copy of the iconic image has officially been sold as an NFT for $495,000 USD.
The NFT was sold to a Dubai-based music production company, 3F Music. The same company spent $411,000 USD for an image from the "Overly Attached Girlfriend" meme in April. 3F Music to the New York Times, "Our management team is always in cooperation with some highly knowledgeable and experienced art advisers who believe that we must grow with technological movements that help us to not only promote our business but also to support artists and the art market."
Zoë plans to use the money earned from the sale to pay off student loans and donate to charity. Although the original copy of the photo is sold by "minting" the NFT, the Roth father-daughter duo are keeping the copyright and will receive 10 percent of any profits that are earned from the sale of the NFT in the future.
In case you missed it, here's an exclusive clip of Michael B. Jordan in action in Without Remorse.