What the Tech? HOMME PLISSÉ ISSEY MIYAKE
From the history of its development to hand pleating techniques and molds, these aren't your regular pleats.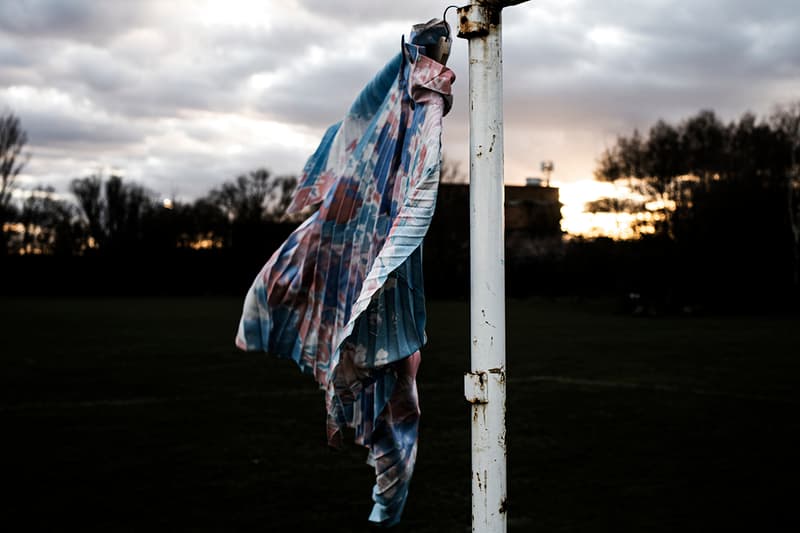 What the Tech? is a new HYPEBEAST series that puts familiar products under the microscope. We'll examine them in detail, lifting the lid on how they work, what makes them special, and what the future holds for them. Rather than looking at the technology you'd find around your home, What the Tech? spotlights materials and product advancements in the fashion, footwear, design, and art worlds, speaking with the brands themselves to get an unfiltered insight.
---
For almost a decade, HOMME PLISSÉ ISSEY MIYAKE's signature pleated trousers have sold out almost as quickly as they've arrived in stock — even with a $400 USD-plus price tag. Admirers of Japanese design have long been hot on its hype, snapping up pieces everywhere before showcasing them at fashion week and on the streets. 
Lately, though, the brand found a new appeal. Those that had invested in its roomy, draped separates found themselves with an ideal lockdown wardrobe. The clothes aren't loungewear, exactly, but they give off an ease that made them feel just right for now — as evidenced by the number of contemporary brands claiming 'inspiration' from their designs. 
Yet aside from comfort and luxury, HOMME PLISSÉ ISSEY MIYAKE offers a level of intrigue that its imitators cannot match. Just how does it make those pleats that never lose their shape? How does it bounce back again and again, how does it dry so quickly, why is it such a go-to for so many fashion lovers? To answer everything and to give us an insight into how it's made, the HOMME PLISSÉ ISSEY MIYAKE team got together to speak with HYPEBEAST for the latest installment of What the Tech? 
The What, Why, and How
HYPEBEAST: Issey Miyake has been researching pleating since 1988. What was the brand exploring and what did it find that makes its work unique?
HOMME PLISSÉ ISSEY MIYAKE: HOMME PLISSÉ ISSEY MIYAKE is a brand created [and] based on the designer Issey Miyake's research of pleating, conducted at MIYAKE DESIGN STUDIO (MDS) since 1988. The research looked at pleating in an original way: pleating a garment after it had been cut and sewn, as opposed to the conventional way of making a garment from pre-pleated fabrics. This way, the pleating completes the garment's form and texture at the same time. With this idea in mind, the research focused on not only experimenting with materials but also exploring pleating techniques and technologies, including folding, twisting, pressing, and crushing fabrics, done by both machinery and hand, resulting in creating a variety of pleated garments.
Some of the findings of the research led to the development of "garment pleating" — the original technology that pleats a garment after it's been cut and sewn — and the launch of PLEATS PLEASE ISSEY MIYAKE in 1993 based on this technology. Garment pleating is unique in that because the cutting and sewing processes take place before pleating*, the technology requires that the fabric be cut in a size larger than the finished garment, as the garment design takes into consideration the fabric's shrinkage after pleating, as well as the ease and comfort of the finished, pleated garments.
*depending on a garment's construction some sewing is done after pleating.
What is a HOMME PLISSÉ ISSEY MIYAKE pleat?
Made from an original fabric and with "garment pleating" technology, a HOMME PLISSÉ ISSEY MIYAKE pleated garment is comfortable and easy to take care of, developed with modern living in mind. The fabric, developed and used since the brand's launch for most of its items, is a lightweight, wrinkle-resistant material that dries quickly. Pleating allows for elasticity that makes the garments fit the body and move with it but not stick to the skin. The width and the direction of the pleats can be adjusted to achieve desired designs and qualities.
The process of garment pleating basically starts with cutting the fabric and sewing it into a garment of a size that compensates the shrinkage after pleating. Then, the garment is transferred to the pleating machine where it is folded and set in a certain way according to the design. To pleat, the garment is fed into the machine and sandwiched between two sheets of paper. The pleating is completed when the garment comes out of the machine and the sheets of paper are cut. After quality inspection, the pleated garment is finished.  
How did HOMME PLISSÉ ISSEY MIYAKE develop its signature pleats?
In 2013, MDS planned and produced a live performance in Japan by the men's rhythmic gymnastics team at Aomori University, where Miyake and his team applied pleating technologies to design costumes for the performers that would best express the ease and fluidity of their body movement. These costumes later became the base from which the brand's first pleats series was developed.
HOMME PLISSÉ ISSEY MIYAKE uses a kind of garment pleating that is designed and adapted from the original. Compared with PLEATS PLEASE ISSEY MIYAKE, HOMME PLISSÉ ISSEY MIYAKE focused more on the cut and construction of a garment, for example how a jacket fits the body, with emphasis on its formal qualities.
The History of HOMME PLISSÉ ISSEY MIYAKE
After all of this research, why did it take until 2013 to actually launch the brand, HOMME PLISSÉ ISSEY MIYAKE?
The research is essentially a making/experimenting process conducted not for business reasons, but for creativity. It explores extensively the potential of pleating in a rather organic way, where a project could begin because of a spontaneous insight obtained from a certain finding. While the launch of the two pleats brands, PLEATS PLEASE ISSEY MIYAKE in 1993 and HOMME PLISSÉ ISSEY MIYAKE in 2013 represent two milestones of this ongoing research, between these two major launches there were many other findings found and technologies developed, which were applied to making pleated garment series for other brands of the company. 
How has the HOMME PLISSÉ ISSEY MIYAKE brand changed the face of Issey Miyake as a whole?
Since its launch, over the years HOMME PLISSÉ ISSEY MIYAKE seems to have grown into a brand celebrated worldwide not only by men but everyone. It was also brought to our attention that as a brand it has reached out to generations of people, both old and young, who were not familiar with the ISSEY MIYAKE brands [before]. In recent years, we have seen on social media how people wear the brand to express themselves, which seems to resonate with the brand's simple, understated design and how it encourages people to mix and match items in any way they want, for either a casual or a formal look.
The Future of HOMME PLISSÉ ISSEY MIYAKE
With the BLEACH LIKE COAT in mind, how are you experimenting with pleats, and how does it differ from other pieces in the HOMME PLISSÉ ISSEY MIYAKE catalog?
The BLEACH LIKE COAT is an application of a pleating technology called "hand pleating," featuring the garment in a unique, pleated silhouette that conveys a sense of volume while not adding any additional weight to it, made possible by the pleating technology. [As the name states], "hand pleating" is a pleating process done by hand. To pleat, the garment is fitted to a hand-pleated mold and placed in a kiln to cure with heat. Unlike the pleating done by a machine that produces parallel pleats, hand pleating allows for a wide variety of pleating designs.
The BLEACH LIKE COAT features a unique patterned design. How is this accomplished?
The bleached pattern is created by actually bleaching a piece of denim fabric, which is then digitally processed and transferred onto the fabric. The garment before pleating is a simple T-shape design, and by using a hand-pleated mold in the shape of a folding fan, the garment takes on pleats in a radial pattern. The pleated pattern of the coat fans out towards the hem, giving it an A-line silhouette, whereas that of the blouson fans out towards the collar, making it look wider around the shoulders. 
What does the future of HOMME PLISSÉ ISSEY MIYAKE look like?
HOMME PLISSÉ ISSEY MIYAKE will continue to create clothing that reflects everyday living and for every occasion in life. In terms of the brand's engagement with sustainability, the Fall/Winter 2021/22 collection "Never Change, Ever Change" featured the first series SOLID PLEATS that uses 100-percent recycled polyester. The brand's mission is to eventually replace all of its pleated items with recycled materials. HOMME PLISSÉ ISSEY MIYAKE will always stay true to its approach to design and making, while it continues to evolve and create original clothing for people's changing lifestyles.