Best New Tracks: Young Thug and YSL Records, Saweetie, IDK x Offset and More
10 music projects to dive into this week.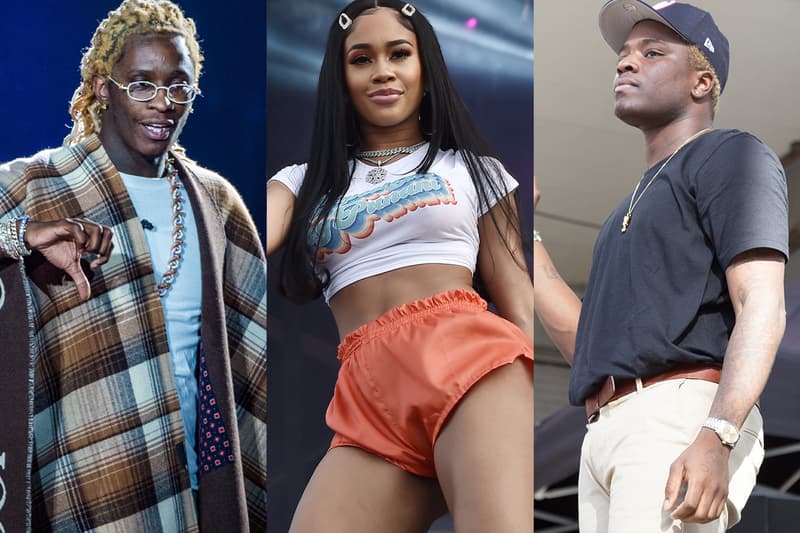 As the week in music comes to a close, HYPEBEAST has rounded up the 10 best projects for the latest installment of Best New Tracks.
This week's list is led by Young Thug and his Young Stoner Life Records colleague's compilation album Slime Language 2, which features a stacked list of guest verses from the likes of Travis Scott, Drake, Kid Cudi, Lil Uzi Vert, Lil Baby and more. Saweetie also joins this selection with Pretty Summer Playlist: Season 1 along with collaborations from IDK and Offset with "SHOOT MY SHOT," Patrick Paige II and Westside McFly with "Big Plays," ALLBLACK, Kenny Beats and Drakeo The Ruler with "Ego" and Queen Naija and Ari Lennox with a "Set Him Up" visual. Rounding out this selection are AJ Tracey, Kenny Mason, Pyrex and Cautious Clay.
Young Thug, Young Stoner Life Records - Slime Language 2
After months of teasing, Young Thug and his YSL Records signees have finally released their highly-anticipated compilation album Slime Language 2. The 23-track project is nothing short of impressive, but the addition of high-profile names like Travis Scott, Drake, Kid Cudi, Lil Uzi Vert, Lil Baby just elevates the record and the YSL crew to a whole new level, showing that great things can be achieved through collaboration.
Listen: Spotify | Apple Music
Saweetie - Pretty Summer Playlist: Season 1
With the warm weather just around the corner, Saweetie is prepping for a Pretty Summer with a playlist roundup. The seven tracks include her collaborations with Drakeo The Ruler, Kendra Jae, Bbyafricka, Lourdiz and Loui, and serves as another prelude to her debut studio effort Pretty Bitch Music.
Listen: Spotify | Apple Music
IDK x Offset – "SHOOT MY SHOT"
Shortly after dropping his cover of Pharrell's "Frontin," IDK enlisted Migos superstar Offset for his new single "SHOOT MY SHOT." The pair can be heard rapping about the struggles of modern love, using witty and luxurious lyricism over siren-like synths and guitar. The stream of new material from the Maryland rapper can hopefully mean that a new project is on the horizon. 
Listen: Spotify | Apple Music
AJ Tracey – Flu Game
West London's AJ Tracey has followed up his 2019 debut studio album with Flu Game. Named after Michael Jordan's legendary 1997 game against the Utah Jazz, the 16-track project represents doing your best despite the adversity. "I feel like that's what [Michael Jordan] was all about," the rapper told NME. "Even with him being ill with food poisoning, he can barely move, but he's dropping points that the other team wishes they could drop. [The album] is about when we go through hard times, but you have to always make sure you put your best foot forward and be great to try to break boundaries. That's what I'm about to release."
Listen: Spotify | Apple Music
Queen Naija x Ari Lennox – "Set Him Up"
To celebrate the deluxe release of her debut studio album missunderstood…still, Queen Naija delivered a music video for "Set Him Up" with collaborator Ari Lennox. The new version of her record includes a number of previously unreleased song including "Love Is…" with J.I The Prince of NY,  a remix of "Butterflies Pt. 2" with Wale and four solo cuts from the Michigan native.
Listen: Spotify | Apple Music
Kenny Mason - Angelic Hoodrat: Supercut
Kenny Mason has dropped off his new 12-track project, Angelic Hoodrat: Supercut. The followup to 2020's Angelic Hoodrat, the record features exciting guest verses from Denzel Curry, Freddie Gibbs, Angel White and Ambar Lucid, and expands on the theme of duality — a representation the concepts of light within darkness, beauty within ugliness and hope within despair.
Listen: Spotify | Apple Music
Pyrex – "Break Through"
Pyrex is revisiting his revered debut project Blood on the Hills with a music video for the Southside and 808 MAFIA-produced cut "Break Through." Directed by SUSCATO, the expressive visual connects the listener to heart-wrenching lyricism without overdoing the romantic aspect of the track. Raw and personal, cuts like "Break Through" is exactly type of music that puts Pyrex in the frontlines of the next generation.
Listen: Spotify | Apple Music
Patrick Paige II x Westside McFly – "Big Plays"
The Internet's Patrick Paige II and rapper Westside McFly are making "Big Plays" ahead of Paige II's upcoming album, If I Fail, Are We Still Cool? The new single follows "So They Say" and "Whisper (Want My Luv)" with Steve Lacy, Allen Love and Durand Bernarr, and is a proclamation of their greatness. "'Big Plays' pretty much speaks for itself," he said in a statement. "'Big plays boss moves' is the energy of the song and the energy I've carried and continue to carry making and this entire album. One of the strongest and one of my favorite affirmations on the album."
Listen: Spotify | Apple Music
ALLBLACK x Kenny Beats x Drakeo The Ruler – "Ego"
ALLBLACK has enlisted Kenny Beats and Drakeo The Ruler for "Ego," a new cut release ahead of his forthcoming album TY4FWM (Thank You 4 F*ckin' With Me). The Oakland rapper is set to feature the likes of Vince Staples, Mozzy, G-Eazy, 4-40, Sada Baby and more, and continues to create music that's deeply rooted in community. "There are people around me who get up every day and work hard without cutting corners. Because of them, I feel like I've got to win—we've got to win," ALLBLACK said in a statement.
Listen: Spotify | Apple Music
Cautious Clay – "Karma & Friends"
Cautious Clay has officially announced the June 25 release of his debut album Deadpan Love with the new single "Karma & Friends." The forthcoming record is set to include previously released singles "Roots," "Dying In The Subtlety" and "Agreeable," and will feature a guest verse from Pivot Gang's very own Saba. In addition to the new project, the 28-year-old will reprise his role the Geechee Band bandleader in the second season of Forrest Whittaker's Godfather of Harlem.
Listen: Spotify | Apple Music