A Ma Maniére's Air Jordan 3 "Raised By Women" Defies Sneaker Gender Barriers
HYPEBEAST spoke to Whitaker Group president James Whitner about the androgynous design's inspiration, the importance of community to AMM and more.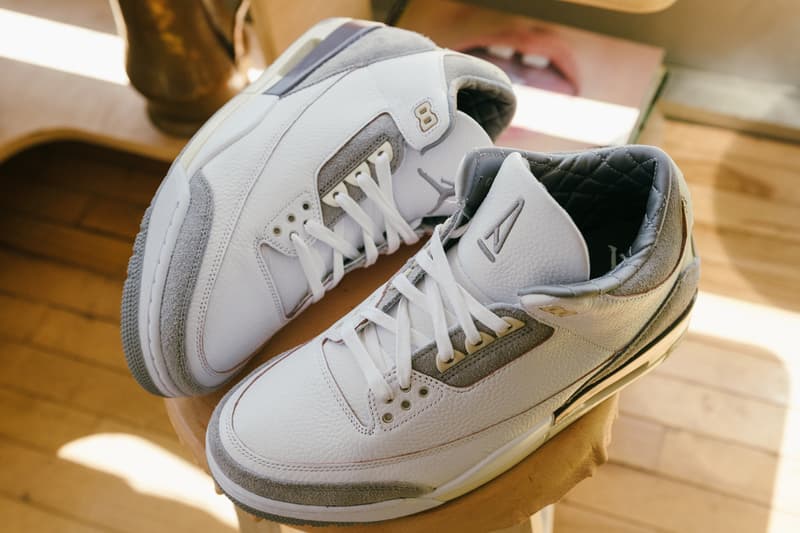 For Whitaker Group founder James Whitner, the Air Jordan 3 is much more than a sneaker: it's part of his life story. "It's my favorite Air Jordan, and it's the first Jordan silhouette my mom ever got me as a kid," he tells HYPEBEAST. With roots this deep, it seems only right that A Ma Maniére — a Whitaker Group cornerstone, alongside Social Status and APB — would focus on the Air Jordan 3 for its new, women-centric collection with Jordan Brand, releasing on April 21.
Whitner sits at the helm of a vast network of sneaker retailers, a unique position that enables him to see shifts in the footwear industry from a wider perspective than a consumer or a brand would. When asked how the world of women's sneakers has changed, he's quick to note that he loves to see old barriers broken down. Then, as conversation shifts towards how men and women want what's cool, regardless of which gender it's marketed towards, he vigorously nods his head in agreement.
"The idea of segregated gender design is antiquated. Just do dope sh*t and the world will embrace it."
"Exactly!" he exclaims. "I love getting women in the mix because it adds more depth and brings a bigger audience. Men don't need to create exclusively for men, women don't need to create exclusively for women. The idea of segregated gender design is antiquated. Just do dope sh*t and the world will embrace it."
This boundary-defying thought process is evident across A Ma Maniére and Jordan Brand's entire collection. "By making [the Air Jordan 3 and its matching apparel] luxurious, this collection is something anyone can play into," Whitner says. "The primary purpose was to make something for women to get really excited about, but also something dope that the fellas would want. [A Ma Maniére] is rooted in a luxury street experience, and we're really attuned to that ethos — which enables us to design freely, without overthinking."
Of course, any collaborative Air Jordan effort from a powerful retailer is going to bring excitement. Recent standouts include UNION's Air Jordan 4 from 2020 and Trophy Room's seemingly unobtainable Air Jordan 1 from earlier in 2021, but A Ma Maniére's Air Jordan 3 and its accompanying apparel are different in three major ways: The collection is made for women but produced in extended size runs so men can get in on the action as well, its pre-release raffle was made available to women before men and its design concept is centered around a "Raised by Women" short film that aims to spotlight the influence and impact of Black women. Much like the choice of silhouette, this inspiration comes directly from Whitner's life.
"I grew up in the '80s, and things were really rough back then," says Whitner. "I was raised mostly by my mother and my grandmother. A lot of Black men in that era were brought up and taught how to be men by these strong women. This collection aims to show the importance of Black women. Not the ones you might see on social media posts, but the mothers, grandmothers, aunts that largely go unseen and unrecognized."
Encapsulating the energy of these impactful women is no easy task. However, the A Ma Maniére x Air Jordan 3 does its best to put their understated — and often underappreciated — grace and elegance with its luxurious build. Uppers are made of white leather with raw seams, and embellished with shaggy gray suede. Ivory-colored detailing lands on the eyestays and heel tab, which uses a Nike Air hit instead of a Jumpman, of course. Silver quilted collar lining works with embroidered tongue details for refined flair. "Work Harder" is present on the lace aglets, a nod to Whitaker Group employee Kev Chao. There's even a rich hit of mauve on the midsole.
Looks aside, the A Ma Maniére x Air Jordan 3 isn't just a shoe that claims to be "inspired" by something with no real physical proof. Whitner's mother's touch is quite literally in the design, as the text graphic hidden under each heel tab is done up in her handwriting. The left shoe reads "all we have is each other" while the right shoe is embellished with "you have to be comfortable walking alone." These messages are seemingly at war with one another. One tells you there's strength in numbers. The other tells you that it's better to be a lone wolf. According to Whitner, the duality is entirely intentional.
"When you grow up in a small community and resources are limited, all you have is each other," he says. "A lot of people like to move in groups, to have each other's backs. That's their strength." Moving on to the right shoe, he explains "As you grow in the world and you step out as an individual, the only way you can make it is if you're rooted in the principles that you were taught and confident in the things that make you uniquely you. A lot of times when you make hard life decisions, there's nobody else in the room: it's you versus you, and you've got to be able to make the right decision."
Bestowing its community with the skills to make those life decisions is at the core of the Whitaker Group's benevolent nature. APB hosts APB YOU workshops. A Ma Maniére has its "Hand Wash Cold" initiative, which played a part in a memorable Air Force 1 collaboration from 2019. Social Status has a BeSOCIAL platform, which puts on a "Free Game" educational series with topics as wide-ranging as the "concept of justice" to women in sneakers and how to go about opening your own business.
"You have to be accessible to the community," notes Whitner. "People who are from where I'm from, they don't have the same support system as people with more resources. We want to be a rock to [those who are less advantaged], a place they can come 100 percent of the time for information and advice. Somewhere where they can see what they need to be doing to get where they aim to go."
"When you're in the pursuit of making more, you also need to be in the pursuit of doing more. As we do better, our community should do better as well."
It's tough for a business to straddle the line between community and commerce. How does an enterprise that's geared towards making money do so without forgetting about its neighborhood obligations? Many outfits try and fail to strike this balance, leading to cringe-inducing "charity" tees or misguided social media statements. To Whitner, a businessman who puts community at the core of his commerce, the answer to that question is simple. "It's what I call social capitalism," he says "To whom much is given, much is expected. When you're in the pursuit of making more, you also need to be in the pursuit of doing more. As we do better, our community should do better as well. The rope that we pull them up on should be even stronger than before."