the filthy project Is For The Filthy People
A Q&A with the South Florida brand eschewing celebrity politics and Instagram clout.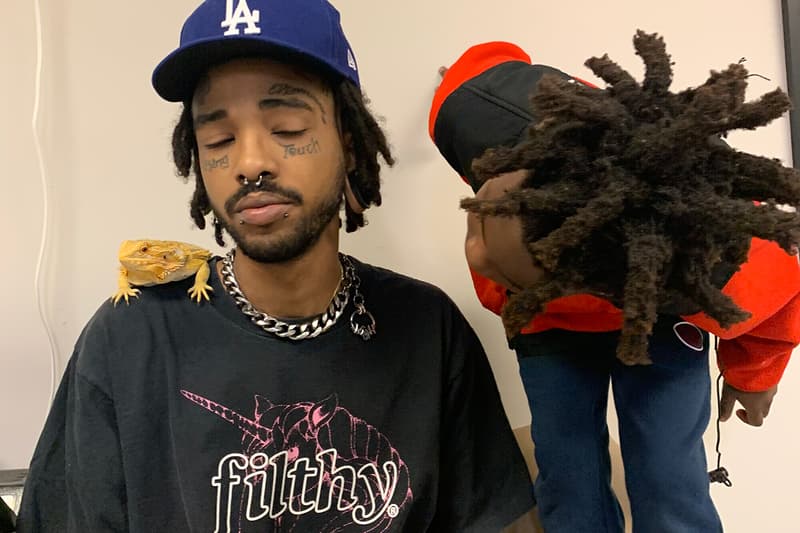 the filthy project couldn't care less about celebrity gifting, immaculate sneakers or keeping any garment, shoe or collectible in "as new" condition; a read through their "About" page and Instagram bio should tell you all you need to know.
Founder Jerry Carnation started buying up domains with plans to start a magazine in 2014 ("stayfilthy.com," "thefilthyproject.com," and finally "veryfilthyshit.com") before publishing the first edition in 2017, soon followed by filthy-branded clothing. The apparel spans reworked vintage, a pair of collaborative Air Force 1s and "doo-doo green" and "doo-doo brown" inside-out T-shirts. "In all honest truth, the T-shirt feels so much better without the hem part or the seam up against your skin," Carnation explains.
The brand, based in Delray Beach, Florida, has its own vision for its future, using the magazine and the clothing line to platform friends and build an organic network, rather than one based on high-profile co-signs. "It's like working out, but not breaking a sweat. How hard are you really going? If you're not getting dirty and stuff, like how hard are you really going?" Carnation says of his brand. "I guess it just is for like the outside street kids. I used to have this thing where it was just like we've been outside so long that we're filthy."
HYPEBEAST spoke to Carnation about the origins of the filthy project, what "not for celebrities" is really about and how to build a magazine like an art festival.
HYPEBEAST: So how did the brand come about?
Jerry Carnation: It kind of goes back to me as a kid. As a kid, I was just always outside. I was that kid outside getting dirty, and then I would go home, put my shirt inside-out, wear it again, come out the next day. filthy's for exactly what it means: the opposite of clean. All the people that's outside getting their hands dirty, like that's the filthy people.
It originally was a magazine idea because I was running a brand before this and doing a bunch of other things, but it was so hard to get any press or media or just like any spotlight. So I was like, damn, maybe I should create a platform that can spotlight underground artists, creatives, just anyone doing things who's getting overlooked. So I figured I'd start some kind of like magazine, then I got around to making clothes with it.
I was curious about the "not for celebrities" angle. What was that in response to?
The brand in general, it's just like super street. It's a statement, you know? People looked at us all the time, because it's like two different worlds. People come up to me like "you like wearing dirty shoes?" And to me, it's not intentional. Like these are shoes; shoes are made to be worn. I just feel like the dirt adds texture to everything, and to me, texture is art.
The whole "not for celebrities," it's not really going against real celebrities. It's just like wannabes. Like a celebrity-*ss person, someone who's chasing the fame, or someone who thinks they're higher than someone else. So it's more so just like, be yourself.
"I kinda really like the underground. I like making as much stuff as I make."
Does being from Delray shape the brand in any way?
I mean, I think the streets is the streets, you know. There's a hood in every city. We're all from the hood, and in South Florida it's pretty lit. I just think the culture's here.
I was just curious since the clothing brands that get attention seem to be in New York or L.A. almost exclusively.
I'm so glad you said that because at first that is what it was. It was so hard to get any kind of exposure, but with things being so internet nowadays it doesn't even matter where you're at anymore. That's why I think the magazine makes it so perfect, which is like the perfect element that fuses all of that: the photos, you get to meet the artists, the clothes, the behind-the-scenes sh*t.
What's the relationship between the brand and the magazine?
The magazine is like an art festival. It's like, if you miss the event, you get to see what's going on. You get to meet these different artists from all over the country who I like. But for the most part, the body of it is the brand — the behind-the-scenes filthy sh*t from parties or me creating. And then I got a ton of homies doing their own sh*t. I'll give them a page to put an ad like towards the back. It's just like a mashup. That's why I don't really treat [the filthy project] like a clothing brand. It's more just like a big *ss art project.
As I was kind of going through the site, some clothes are one-off pieces, some things are reworked vintage. It doesn't seem like there's any playbook to it.
Nothing. There's no rules. There's no set times. There's no collections. It's just, what should we drop this week? What am I thinking about? It all depends on what I find at the thrift store that week. And then I also spend time designing stuff that I plan on running a few dozen of. I love putting out shirts — pieces that I can get manufactured. If I'm able to find a company that can do it for me, then I'll try to run a few pieces like that. There's a lot of stuff on my site that I took down just because they've been sold out too long, but I usually put out more clothing with more runs than the one-offs.
As the filthy project is growing, do you feel like there's a pressure to go the traditional route and try to get those high profile people in your clothes or appeal to a larger audience?
I mean, it has. I've had a few people reach in and try to get their hands on like some pieces, but it's no pressure at all. I think I'm more prepared for it. Before I even started this brand, I had my path set; I knew what this path wasn't going to be. Like, I wasn't going to be clout chasing or after celebrities or trying to get this person in my stuff because having run my older brand, those were a lot of the mistakes I was making. I was wasting a lot of clothes sending out a lot of care packages to influencers, and it works but it doesn't in a way.
I knew that with this, everyone wasn't going to wear my sh*t. So therefore while creating it, I don't think of everyone. I just literally do what I want to do, and I know those who like it will support it, and they'll buy into it.
"All the people that's outside getting their hands dirty, like that's the filthy people."
Do you feel like that model, getting co-signs, is starting to die out?
Yeah. But it also goes back to what I was saying before about it being two worlds. If that huge celebrity was to put on one of my pieces, then yeah, it would attract that mainstream hype and get all these people over to what I got going on. But then like, would I be able to support that? I don't know. In a way I kinda really like the underground. I like making as much stuff as I make. I like keeping my supply right under the demand.
So not chasing mass-production?
Right. And I'm not chasing the dollar. I don't care about the money or the politics of it. Case I got mad homies who every day are trying to either invest or be like, "Yo, you should do this or that," "This just what makes the money." But with me, it's like, this isn't like a clothing brand, clothing brand. I don't care for fashion week, fashion shows. With me it's like it's art. It's not hard work to me. It's literally my passion and sh*t that I want to do. I'm happy with that, and it makes the money because people see that.
And when you try to push it too hard, it can kill a lot of the passion.
It does. Like I had a kid who I kind of brought on helping me out a little bit. I gave him the [Instagram] handle one day, and he went to posting stories about, "Hey, get us to give us to 10,000 followers. And we're going to…" I had tell him chill and show him you've never seen me ask people to follow the page. You've never seen me promote an ad. I don't do that. I'm trying to organically build a following of people — start to really have a core. I had to cut all that out. But yeah, it's just like you're saying: doing all that kind of kills it, makes it no fun anymore.
Where are you looking to take the filthy project in the future? What are you excited for?
I definitely want to build the supply with the demand. So I see, I see us growing as far as that goes. Other than growing the supply, I want to collab with artists and bigger brands on projects that's on the same sh*t we on. I also hope to get the magazine in underground stores and spaces across the world. Put the spotlight on some underdogs!