Taylor Swift and Kanye West's Divergent Political Paths Show How Self-Serving Activism Can Be
Op-ed: Reassessing the importance of a celebrity's co-sign or criticism during the most polarizing presidential election in U.S. history.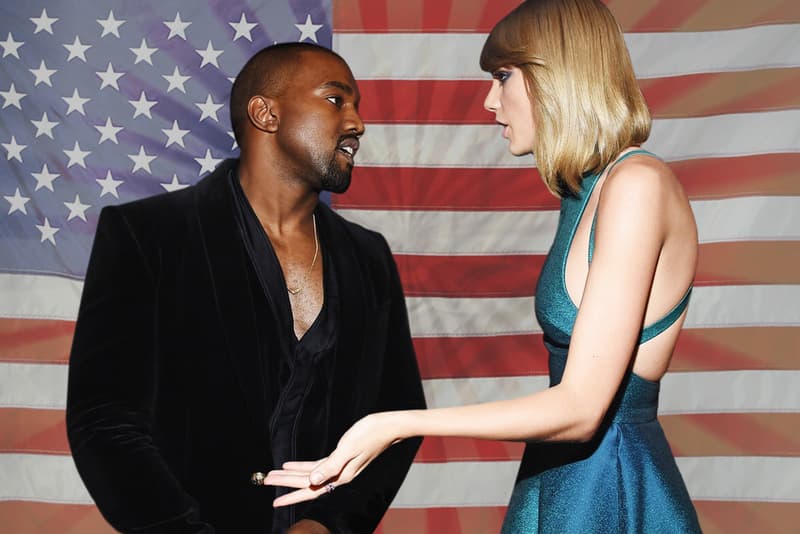 Kanye West's Hennessy-fueled "I'ma let you finish, but…." interruption of Taylor Swift at the 2009 MTV VMAs not only ignited one of popular music's most prominent feuds, it also propelled President Barack Obama to call Kanye "a jackass" and may have laid the foundation for West to transition from outspoken critic of power to prominent Republican ally. Eleven years later, Kanye is running a presidential campaign (likely) coordinated by the Republican Party to take votes away from Democratic nominee Joe Biden. Meanwhile, Taylor Swift has undergone a transformation of her own, evolving from a pop star whose political ambiguity led to allegations of closeted conservatism into a vocal Donald Trump critic on Twitter.
Whether you pay attention to the political opinions of celebrities or not, their respective reaches wield incredible power in the age of all-too-influential social media algorithms. Public figures can no longer afford to be apolitical; given the growing polarization of American politics, one's ideological leanings are now entwined with who they are as a person more explicitly than ever before.
Eleven years after their initial confrontation, Taylor Swift and Kanye West are still battling it out on opposite sides, this time on the political stage in completely divergent and inverted paths. Kanye went from conscious backpack rapper to billionaire conservative presidential candidate running on a religious, pro-life platform, while also praising the benefits of universal basic income and medicare for all. Taylor meanwhile was conservatives' shining light in an all-too-liberal popular music landscape; they applauded when she remained silent in comparison to the political outspokenness of contemporaries like Lady Gaga and Katy Perry — until Taylor broadcast her support of LGBTQ issues and female empowerment in 2018.
The two superstars both draw considerable criticism from the people that used to stand firmly in their respective corners. Regardless of their stances, the political apparatus is more than willing to accept their voices when useful as personal propaganda and for potential electoral advantage. This election year, the relationship between politics and music appears more parasitic than symbiotic.
This past weekend, Taylor tweeted about Trump's reported sabotaging of the USPS in an effort to delay mail-in voting. "He's chosen to blatantly cheat and put millions of Americans' lives at risk in an effort to hold on to power," arguably the world's biggest pop-star tweeted to her nearly 90 million Twitter followers, before shifting to Trump's inept and opportunistic handling of the coronavirus crisis. The thread was shared over 1 million times.
Donald Trump's ineffective leadership gravely worsened the crisis that we are in and he is now taking advantage of it to subvert and destroy our right to vote and vote safely. Request a ballot early. Vote early.

— Taylor Swift (@taylorswift13) August 15, 2020
There's reason to be skeptical about Taylor Swift's — or any celebrity's — turn toward activism. Her co-opting of LGBTQ issues as an aesthetic for her "You Need To Calm Down" single last summer came off as a blatant ploy of self-promotional allyship, but it also set the stage for her growing election outrage projected real-time throughout her social media channels and culminated in her 2020 Netflix documentary Miss Americana.
The film followed her journey of going public with her political views, congratulating herself on finally addressing issues of inequality as if they weren't laid bare for her to acknowledge for years. It touched on the lukewarm excuse for not doing so: she was afraid to enter the political discussion due to the backlash the then-Dixie Chicks received after criticism of President George W. Bush in 2004. The film was more staged than candid. It didn't reveal the fact that Taylor is a descendant of three generations of bank presidents and drove a convertible Lexus as a sophomore in high school. She'd rather be depicted as an underdog who grew up on a Christmas-tree farm in Pennsylvania.
There's an even stronger rationale to approach Kanye West's political aspirations with staunch cynicism, given recent incoherent comments diminishing Harriet Tubman's contributions to abolitionism and alleged fraudulent signatures appearing on his presidential petitions that have since disqualified him from appearing on the ballot in multiple states.
But both Taylor Swift and Kanye West are shining examples of self-serving political advocacy. Their contributions may occasionally highlight worthwhile causes like Kanye's $2 million USD charitable donation and offering to pay for George Floyd's daughter's college tuition, but they often outshine less prominent public figures doing more authentic work.
While Taylor and Kanye operate on extreme ends of the political spectrum given the size of their followings, they are also responding to a climate where popular culture and politics are undeniably intertwined. Celebrity political endorsements are an often-maligned yet inevitable part of the campaign road. Whether it's by moving the goal-posts on how public figures should protest, or criticizing celebrities' privilege for not being a part of this mythic "Real America," conservatives in particular have been quick to spurn prominent voices in the creative industries when they use their platform to speak out. Even performers have been critical of their peers for delving into politics, going back to Dave Chappelle's "Where's Ja?" bit.
Yet politicians continue to turn to celebrities and popular culture to bolster their campaigns. Just as public figures can align themselves with a political movement for their own personal branding benefits, politicians who criticize them for doing so are just as quick to exploit those same figures if they are backing the "right" cause.
Given just how publicly toxic American politics have become, using celebrity faces to push a message across the finish line is an expected, if not essential, tactic for campaigns as the election draws near. Just last week Joe Biden's campaign enlisted Cardi B, fresh off her chart-topping "WAP" single, to interview the Democratic presidential candidate on the mismanagement of the coronavirus, police brutality and education. It was no coincidence. The move trolled the Republican outrage over the explicit nature of the video and allowed Biden, at 77 years old, to openly co-sign a woman of color after her controversial song earned a record-breaking No. 1 Billboard spot and was the subject of countless think-pieces on female empowerment.
Most importantly, it showcased that politicians, at least on the left, are increasingly taking musicians and their political engagement seriously. The Democratic National Convention's musical lineup is as star-studded as years past, too. Over half of the performers are people of color with Common (don't tell Bill O'Reilly), John Legend and Jennifer Hudson all lending their voices to the cause.
Now Taylor has been greeted with a warm reception for her political maturation. Recent headlines laud her Twitter activism. CNN gave her two thumbs up: "Taylor Swift is 100% Right About Donald Trump." Billboard declared "Taylor Swift's Donald Trump Post Becomes Her Most Liked Tweet Ever." But for much of her career, Taylor Swift actively avoided political conversations; that silence came from a place of privilege only given to white pop-centric artists. Compare that to critiques of Beyoncé for first being apolitical and then for being too outspoken, or with the condemnation of J. Cole's similar silence on social justice issues despite his discography examining his pensive "wokeness." Black artists are expected to show solidarity to political movements from the start, but white celebrities can chime in whenever they're ready to.
Racial injustice has been ingrained deeply into local and state governments, and changes MUST be made there. In order for policies to change, we need to elect people who will fight against police brutality and racism of any kind. #BlackLivesMatter

— Taylor Swift (@taylorswift13) June 9, 2020
Taylor was rarely pressed despite years of speculation about her political beliefs. Years later she was criticized as calculated at best, as closeted conservative at worst. In 2012, she told TIME that she tried to keep "as educated and informed as possible" but didn't discuss politics "because it might influence other people," adding, "I don't think that I know enough yet in life to be telling people who to vote for." In 2016, Taylor told Vogue that she didn't openly endorse Hillary Clinton because Trump had "[weaponized] the idea of the celebrity endorsement." All she could spare was a lone Instagram post reminding her followers to vote. While hundreds of thousands participated in the 2018 Women's March on Washington, including fellow celebrities like Rihanna, Zoë Kravitz, HAIM and Lena Waithe, Taylor lended her support from afar. "So much love, pride, and respect for those who marched," she wrote. "I'm proud to be a woman today, and every day." It was a positive gesture, but to many of her followers it was seen as too little, too late.
It wasn't until the 2018 U.S. midterm elections that Taylor broke her political silence to call out Marsha Blackburn, a woman running for Senate in the popstar's home state of Tennessee for having a voting record that "appalls and terrifies [her]." Despite Taylor's about-face, Blackburn ended up overcoming a significant polling disadvantage, winning the close election.
Kanye didn't have the privilege of avoidance. He operated in a genre that demanded he be outspoken politically — and he met that call with open arms. His rise to prominence from JAY-Z's go-to producer to Grammy Award-winning rapper during the Bush administration coincided with the consciousness promoted by the backpack rap movement of the early aughts. He challenged listeners with early offerings like "We Don't Care" and "Crack Music" rooted in America's income inequality and systemic racism, though he has since evolved from proclaiming "George Bush doesn't care about Black people" to being one of Donald Trump's biggest public advocates. The driving force behind Kanye's current presidential run hinges on being contrarian. He often takes it upon himself to speak his version of the truth dripped in bombast and emotion. It isn't hard to see the similarities between his Hurricane Katrina improvisation to his 2018 White House visit and recent South Carolina campaign rally — even if his stances are contradictory.
Taylor hinted that her feud with Kanye (who was backing Donald Trump during the 2016 election) may have played a role in her silence. She told Vogue, "All people were saying was 'She's calculated. She's manipulative. She's not what she seems. She's a snake. She's a liar.' These are the same exact insults people were hurling at Hillary. Would I be an endorsement or would I be a liability?… The two nasty women." That snake imagery referred to a tweet by West's wife, Kim Kardashian. Just days ago, Kanye reignited their feud by tweeting an image of a snake from his Wyoming property. Hours later Taylor criticized Donald Trump's USPS policies via the platform.
Many prominent women of color have been vocal advocates for social justice long before Taylor, but the media is so quick to give Taylor praise for her recent advocacy. Erykah Badu and both her Badu World Market and new livestream platform champion Black artists and inequality issues. Solange went No. 1 on the Billboard charts introducing audiences to what it means to be Black in America and demanding A Seat at the Table. Insecure's Amanda Seales and Emmy-nominated actress Kerry Washington's Twitter timelines are a consistent stream of activism. Beyoncé's recent efforts to support Black-owned businesses and her letter to Kentucky's Attorney General demanding justice for Breonna Taylor have continued to educate. Noname, despite her rejection of celebrity status, has called out male rappers for their silence while contributing countless resources through her Noname Book Club. Taylor's tweets are far from militantly liberal; they just scrape the surface of political activism, but are a step in the right direction for someone new to the concept of open allyship.
"Only as someone approaching 30 did I feel informed enough to speak about [politics] to my 114 million followers… I'm going to do more to help," Taylor told Elle last year. Her late-to-the-party political approach can still appear to come from a place of personal convenience. After not publicly endorsing candidates for a multitude of general elections in order to remain neutral, it was only when America was pushed to political extremes, and criticism surrounding her silence grew loud enough, that she acted.
But her recent efforts following the "You Need To Calm Down" debacle have been consistent and impactful. Her "Support the Equality Act" Petition, aimed at protecting LGBTQ people from discrimination was signed by 2020 Democratic presidential candidates Elizabeth Warren and Cory Booker. For someone who Trump once called "terrific" on Twitter, was invited to the Capitol by conservatives for personal tours in 2015, taking as firm a stance as she has in the past two years has come with considerable risk of alienating her conservative fanbase.
After stoking the fires of white supremacy and racism your entire presidency, you have the nerve to feign moral superiority before threatening violence? 'When the looting starts the shooting starts'??? We will vote you out in November. @realdonaldtrump

— Taylor Swift (@taylorswift13) May 29, 2020
Kanye has eroded much of his early-career goodwill with his current political ambitions. But, one of the rare things he can be commended for is showing his followers how to register to vote in a step-by-step guide (even though doing so isn't as effortless in urban areas as it is in his rural Wyoming). That move does not absolve him of championing misinformation, but given his affiliation with a party that has a lengthy history of voter suppression, it's a positive variable in his otherwise conservative ideology. Raising awareness of the right to safely vote is crucial work in 2020, especially when a fair election process is under threat. The truth about mail-in voting needs to be broadcasted far and wide — especially when the country has been successfully voting by mail since the Civil War.
We shouldn't need celebrities to promote that message as part of their personal branding of a newfound "woke" aesthetic. But celebrity political involvement isn't going anywhere regardless of conservative ire and dismissal. Those who utilize their platform to inform through truth and advocate for democratic values, even if their decisions are derived from a place of privilege and problematic self-promotion, can still make a positive impact during this election year by sharing resources. But when it comes to applauding celebrities who are speaking out with just under three months until Americans begin to vote in a decisive presidential election, we need to be careful about who we praise, retweet and ultimately celebrate as an ally.
Learn how to register to vote here.