How To Make the Perfect Ramen At Home
Get ready to work up an appetite.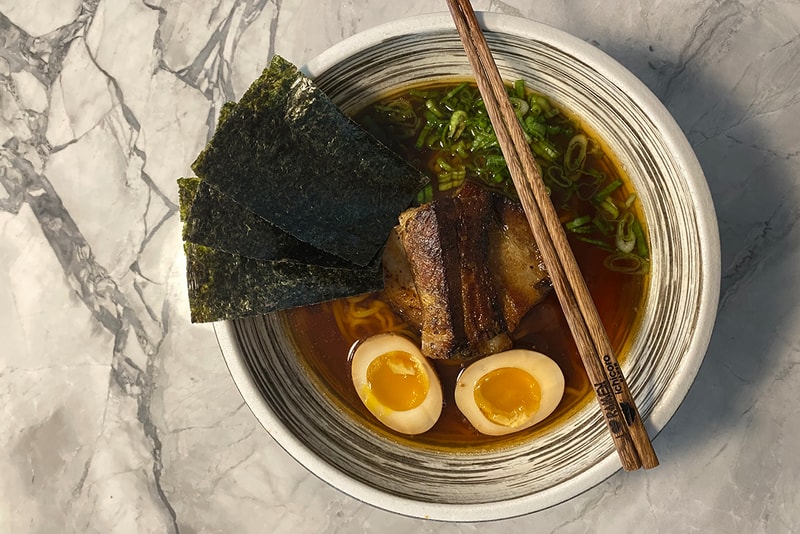 If you're starting to tire of your recipe books after several months of at-home cooking, Ichicoro chef Noel Cruz has your back. For our latest edition of HYPEBEAST How To, Cruz gives us the run-down on how to make his version of homemade shoyu ramen.
First off, you're gonna want to set aside a few days. Cruz starts us off by making the tare: the seasoning which gives the broth its earthy, hearty flavor. Dried kombu, a crucial source of umami, is soaked in water overnight and brought to a slight simmer before Cruz adds the flavorings and aromatics: fish sauce, mirin, ginger and scallion, among other ingredients. He brings the tare back to a simmer for a few minutes before straining and resting the tare again overnight.
Next up is the chicken broth, the soup base for the ramen. Dried kombu makes a second appearance for flavoring, and Cruz also adds apples, carrots and a whole free-range chicken to the pot. Once again, Cruz keeps his broth at a slow simmer — this time for three to five hours.
When it comes to the ramen noodles, Cruz emphasizes that every second counts; the noddles should be added to boiling water, given a quick stir, and cooked for the exact length of time specified on the packaging. The moment they're done, Cruz adds the noodles to the bowl, already filled with the broth and tare. He finishes off the serving with a mouth-watering cut of pork belly, jammy soy-soaked eggs, a sprinkle of thinly sliced scallions and a few sheets of nori.
Catch the detailed breakdown in the video above, and check out our How To videos on making the perfect latte, strawberry jam and Matty Matheson's fried chicken for more at-home cooking inspo.