How to Make Strawberry Jam With Dan Colen of Sky High Farm
Add the fresh jam to your favorite yogurt, cocktail or French toast.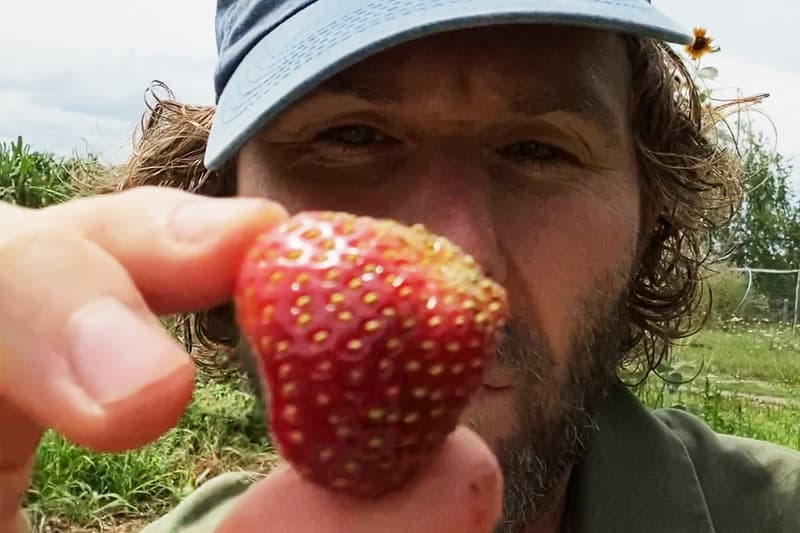 When he's not painting or creating mixed-media works, acclaimed artist Dan Colen is overseeing operations at Sky High Farm. Colen began building the farm back in 2011 with the mission to donate nutritious food to New Yorkers living in underserved communities. He revamped a dilapidated plot of land in New York's Columbia County to create the farm that sustainably grows fresh fruits and vegetables alongside raising livestock. The farm works closely with the Food Bank For New York City, Northeast Regional New York Food Bank alongside local nonprofits.
For our latest HYPEBEAST How To video, we connected with Dan Colen to show us how to make strawberry jam at Sky High Farm. Firstly, Colen heads to the strawberry patches and picks one for a taste test to make sure it's jam-ready. He then brings the ripe strawberries to the kitchen and cuts their tops off. Next, he puts the strawberries in the freezer for some time to lock in their fresh flavor. The strawberries are taken out of the fridge and placed in a pot. He adds one cup of distilled water for 48 ounces of strawberries alongside juices such as organic black currant and grape juice concentrate for elevated sweetness, acidity and to help the jam congeal.
Afterwards, he squeezes two-thirds of a cup of fresh lemon juice and adds an eighth of a cup of date concentrate into the pot. He also scoops a quarter cup of honey and one table spoon of pectin into the mix. With all of the ingredients together, the strawberries are cooked for two hours — stirring every 20 minutes to help skim foam off the top of the pot. Once done, add the fresh strawberry jam to your favorite yogurt, cocktail or French toast. Check out the full process in the video below.
Sky High Farm is set to become an an official 501c3 non-profit charitable organization. To celebrate this achievement, the organization is launching a Go Fund Me campaign to raise money to double its production. "We believe this time of pandemic and societal trauma is also a time of opportunity and enlightenment: it has revealed the deepest inequities in a society where fresh, nutritious food and a safe environment should be basic rights for all. These are pillars of a just society and we're committed to making them strong," as per a statement to HYPEBEAST.
Dan Colen will also participate in an upcoming panel with Linda Goode Bryant, and Qiana Mickie in conversation with Sonia Chopra on contemporary food justice and community food security presented by Gagosian and 92Y. Purchase tickets on 92Y's website this August 6 at 5pm EDT. A portion of ticket sales will be donated to Just Food, Project EATS and Sky High Farm.
For more of HYPEBEAST How To series, learn how to make a breakfast smoothie with BKLYN Blend.
Sky High Farm
675 Hall Hill Rd
Pine Plains, NY 12567