These Are the Must-See Movies and TV Shows Premiering in August
Including Seth Rogen's bizarre 'An American Pickle' arriving at the end of the month.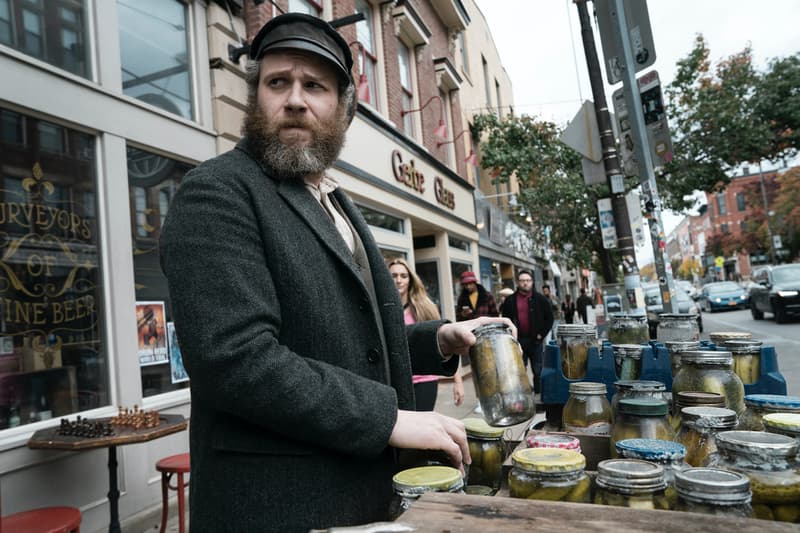 As blockbuster season winds down, films like Mulan and Tenet, which promised to be the first films to debut in theaters following global closures, have been delayed yet again or pushed back indefinitely. The New Mutants, which has been struggling to get on cinema screens for years now, is scheduled to make its debut at the end of August. Although it appears many theaters will be reopening around that same time, we've been fooled before that they would open in July back when Tenet was still on the docket.
Until we get some definitive answers, we've got streaming services like Netflix, HBO Max and Disney+ providing premier content. The bizarre An American Pickle starring Seth Rogen is slated to appear early this month, with Netflix's star-studded Project Power arriving soon after. Meanwhile, Phineas and Ferb the Movie: Candace Against the Universe is expected to arrive on Disney+ at the end of the month alongside HBO's Lovecraft Country.
Check out the list below of the films and TV shows to look forward to in August, ranging from must-see releases to under-the-radar flicks.
Movies
An American Pickle (August 6, HBO Max)
Based on Simon Rich's short story Sell Out, pickle factory worker Herschel Greenbaum falls into a vat of brine in 1920 and emerges 100 years later fully preserved. Herschel manages to track family members who teach him about life in 2020 Brooklyn.
Why it's worth your time: Helmed by frequent collaborator Brandon Trost, the upcoming comedy sees Rogen portray both Herschel Greenbaum, and his great-grandson, Ben. If it all sounds ridiculous, it's because it is. But given Rogen made an animated film about hot dogs (formerly known as glizzies), we're sure he can pull off this absurdity and make us laugh.
She Dies Tomorrow (August 7, VOD)
After waking up convinced that she is going to die tomorrow, Amy's carefully mended life begins to unravel. As her delusions of certain death become contagious to those around her, Amy and her friends' lives spiral out of control in a tantalizing descent into madness.
Why it's worth your time: Blending elements of horror and comedy in the trailer gives us hope that the entire film keeps up the trapeze act. What's more, the film's take on comedy and scares looks wholly original and not a rehash of Scary Movie, Shaun of the Dead or even Happy Death Day (see Palm Springs).
Project Power (August 14, Netflix)
Jamie Foxx, Joseph Gordon-Levitt and Dominique Fishback star in a Netflix original film about a pill that grants superpowers. Although the pill grants people superpowers, nobody knows what will manifest until they try the pill — and it can potentially kill whoever takes it.
Why it's worth your time: It's got blockbuster-quality stars at the forefront, which is desperately needed in this time of no new movie releases. Although we're expected the quality of the film to be more like Netflix's Bright than Ozark, Netflix films have been filling a void this year, and this one looks to do the same.
Phineas and Ferb the Movie: Candace Against the Universe (August 28, Disney+)
Taking place before the events of the series finale, Candace is abducted by aliens, leaving Phineas and Ferb to embark on a journey to rescue her from her captors.
Why it's worth your time: This is a cartoon that defined a generation, and it's good to see Disney cashing in on all of its older IPs for original programming on its streaming service. Outside of David Errigo Jr. who joins the crew as Ferb Fletcher, everyone from the original series will be returning for the film.
The New Mutants (August 28)
The story is inspired by "The Demon Saga," the most popular New Mutants comic book story and sees the teens fighting to stay alive in a secret facility where the young X-Men come to grips with their newfound abilities.
Why it's worth your time: At this point, watching the film move release dates over and over has provided as much entertainment as the film itself will when it does finally see the light of day. Many young actors, like Anya Taylor-Joy and Maisie Williams, are showcased heavily in this film, and it could see serve as the jumping-off point for their film careers.
TV
Star Trek: Lower Decks: Season 1 (August 6, CBS All Access)
Set in in 2380, Star Trek: Lower Decks follows the support crew on one of Starfleet's least important ships. The show focuses on four ensigns as they contend with various sci-fi anomalies while balancing their duties and their social lives.
Why it's worth your time: The show takes cues from new kids on the block Rick & Morty; program creator Mike McMahan is an alum of the Adult Swim show. Hopefully, this new chapter can retain draw of the historic IP while also delivering something fresh to attract new Trekkies on the horizon.
Lucifer: Season 5 (August 21, Netflix)
In season five, Chloe deals with the effects of Lucifer's absence before his abrupt return. At the same time, Lucifer finds clues that say his father is coming to Earth. However, a new covert foe is planning both their downfalls.
Why it's worth your time: The show is based on a DC/Vertigo character created by Neil Gaiman, Sam Kieth and Mike Dringenberg and originally launched on Fox back in 2016. After three seasons, however, Fox canceled the show. Netflix then followed with Lucifer season four in May of last year, with the upcoming fifth season set to conclude the show.
Surviving Jeffrey Epstein (August 9, Lifetime)
Lifetime's latest commitment to exposing rich, awful men is this docuseries on Jeffrey Epstein: the high-profile financier who (allegedly) killed himself while awaiting trial for federal charges involving the sex trafficking of minors.
Why it's worth your time: The story nobody is talking about is still the story people are fixated on to this day. There's so much to uncover, and several conspiracies are still floating around unresolved. The fact this his accomplice has been charged means this event is far from over.
Ted Lasso (August 14, Apple TV+)
Jason Sudeikis stars as a little-known American college football coach who lands a surprising new job—as coach of a professional football (make that soccer) team in England despite having no previous experience.
Why it's worth your time: This may be the premier television show for the streaming service with a lead like Sudeikis involved. It is also a spinoff of the character that Sudeikis first portrayed in a series of NBC Sports promotional videos beginning in 2013.
Lovecraft Country (August 16, HBO)
Following the story of a young Black man in the mid-1900s called Jim Crow, the plot sees him travel across a segregated country on a mission to find his missing father. To his surprise, instead of having to tackle racism, he ends up having to deal with various monsters reminiscent of those in the worlds of H.P. Lovecraft.
Why it's worth your time: Developed for television by Jordan Peele and J.J. Abrams, the series is based on Matt Ruff's 2016 novel of the same name. Films within the horror genre have been elevated by using every day Black experiences as a backdrop to their stories. It's about time to explore that avenue of the genre a bit more with long-form storytelling. Luckily, the guy who shepherded films like Us and Get Out is at the forefront.