Nike, adidas and PUMA Release Statements on Jacob Blake Shooting
Following the "wildcat strike" of the NBA.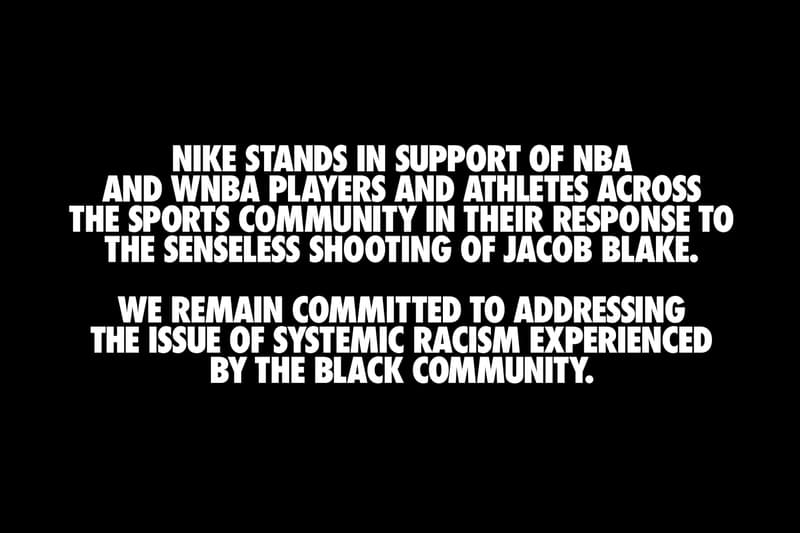 Following the "wildcat strike" of the NBA, footwear giants and athlete sponsors Nike, adidas and PUMA have released its own statements regarding the shooting of Jacob Blake.
"Nike stands in support of NBA and WNBA players and athletes across the sports community in their response to the senseless shooting of Jacob Blake," the brand wrote on Nike News and Twitter. "We remain committed to addressing the issue of systemic racism experienced by the Black community."
adidas followed, "We support all players and coaches across sport who are using their platforms to demand justice. Black Lives Matter."
PUMA shared its statement and reminded everyone to remember the names of the victims. "We support our players and every player in the ongoing fight for equality. This is bigger than the game, and we will continue to be allies to our players in the fight to end systemic racism. #BlackLivesMatter," it said, adding, Jacob Blake, Breonna Taylor, George Floyd, Tamir Rice, Atatiana Jefferson, Walter Scott, Michael Brown, Ahmaud Arbery, Ariane McCree, Terrance Franklin, Michael Dean, E.J. Bradford Jr., Jamee Johnson, Antwon Rose, Stephon Clark, and too many more. #BlackLivesMatter[.]"
The statements arrive after a number of sports leagues and athletes refused to participate in their respective matches in solidarity with BLM. It began with the Milwaukee Bucks and Orlando Magic walking away from their playoff game on August 26, followed by news of the Los Angeles Lakers and Clippers voting to end the NBA season early and tennis star Naomi Osaka sitting out her semifinals match at the Western & Southern Open on August 27.
— Nike (@Nike) August 27, 2020
Black Lives Matter. pic.twitter.com/4LBUGArLb3

— adidas (@adidas) August 27, 2020
Jacob Blake, Breonna Taylor, George Floyd, Tamir Rice, Atatiana Jefferson, Walter Scott, Michael Brown, Ahmaud Arbery, Ariane McCree, Terrance Franklin, Michael Dean, E.J. Bradford Jr., Jamee Johnson, Antwon Rose, Stephon Clark, and too many more. #BlackLivesMatter

— PUMA Basketball (@PUMAHoops) August 26, 2020