Best New Tracks: Nas, DUCKWRTH, Pink Siifu, Smino & More
A handful of noteworthy collaborations and the return of a legendary emcee.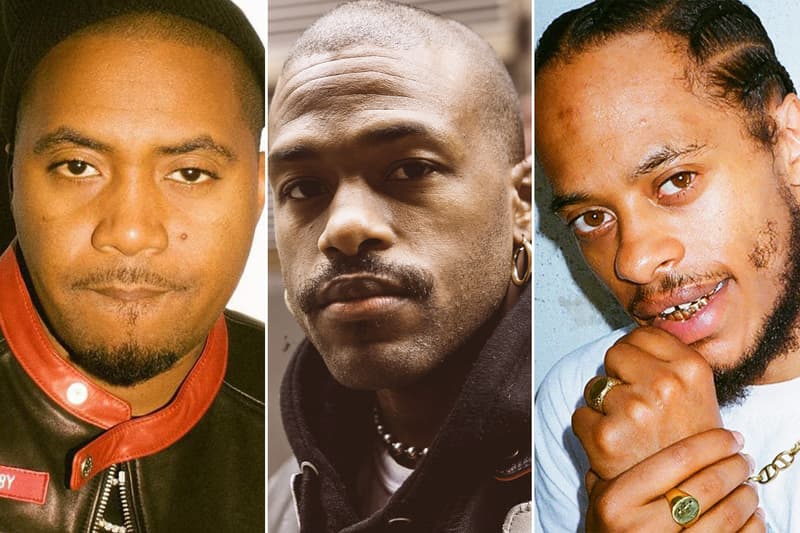 As the week in music comes to a close, HYPEBEAST has rounded up the 10 best projects for the latest installment of Best New Tracks.
Nas and Hit-Boy surprised the music world when they announced an upcoming collaboration. The legendary emcee's 13th studio album, King's Disease doesn't disappoint. It shows Nas weaving his way through intricate production crafted specifically for his lyrical strengths by one of the game's current best, and he remains as thoughtful as ever. DUCKWRTH delivered his new album SuperGood, and it's just that. Tracks are vibrant and smooth, adding soulful R&B with hip-hop as the Los Angeles artist continues to branch out with melodies that veer into pop territory. It's the perfect album to listen to as a summer stuck indoors comes to a close. Elsewhere in music, Headie One tapped Stormzy and AJ Tracey for the first single from his upcoming album Edna, sampling M-Dubs' "Bump & Grind" and the Red Hot Chili Peppers' "Pretty Little Ditty."
Tap in for the full rundown of HYPEBEAST's latest Best New Tracks below.
---
Nas – King's Disease
Nas returns with his 13th studio album King's Disease, his follow-up to 2018's Nasir. The entirety of the project was produced by Hit-Boy with features from Don Toliver, Big Sean, Lil Durk, Anderson .Paak and more. The LP finds Nas energetic and willing to explore new sounds as Hit-Boy brings some of his best production to the table, each track hand-crafted for the legendary emcee. At 46 years old, Nas continues to be introspective, digging deeper into his past and lingering influence on hip-hop.
Listen: Spotify | Apple Music
---
Migos – "Need It" feat. YoungBoy Never Broke Again
Migos and YoungBoy Never Broke Again released their collaboration"Need It" back in May and it was an instant hit thanks to rapid-fire verses and a sample of 50 Cent's "Get In My Car." The music video is just as fun, as the Atlanta trio and YoungBoy take inspiration from the 1996 cult-classic Don't Be a Menace to South Central While Drinking Your Juice in the Hood. Offset as Marion Wayans' is the highlight here.
Listen: Spotify | Apple Music
---
DUCKWRTH – SuperGood
DUCKWRTH returns with his soulful follow-up to last year's critically-acclaimed THE FALLING MAN EP with his new project SuperGood. "I wrote this album to celebrate the wondrous black music that molded me into an artist and the black women that made me a king. If this album can remind you of a time where you believed in magic, then I've done my job," DUCKWRTH said in an open-letter with the album's release. Tracks like "Super Bounce" with EARTHGANG recollect smooth 90s ballads from Outkast while "Coming Closer" expands his sound into outright pop territory. As summer comes to a close, celebrate the remainder of the warmth and extended daylight with SuperGood.
Listen: Spotify | Apple Music
---
Pink Siifu – "Dollar Dr. Dream" feat. Fly Anakin
Pink Siifu is one of the most diverse artists of the current moment. He surprised everyone by dropping his militant punk record NEGRO that demanded social justice and unapologetically confronted America's racist past and present. While he wanted to upend fans' expectation of another smooth and soulful rap record like his 2018 offering ensley, he's still dropping stellar guest-verses on the side. After hopping on Black Noi$e's Oblivion, billy woods and Elucid's Shrines and The Avalanche's Rivers Cuomo collaboration "Running Red Lights," Siifu is back with "Dollar Dr. Dream" featuring Richmond, Virginia rapper and Mutant Academy crew member Fly Anakin. The instrumental is warm and nostalgic, matching the sepia tinted album artwork. Each rappers are at their best. Here's to hoping they keep taht momentum going and connect again.
Listen: SoundCloud
---
Headie One – "Ain't It Different" feat. Stormzy & AJ Tracey
After Drake anointed him as "the best drill artist in the world," Headie One returns with his first single from his upcoming project Edna, tapping Stormzy and AJ Tracey for "Ain't It Different." Producers Toddla T and FRED sample M-Dubs' "Bump & Grind" and Red Hot Chili Peppers' "Pretty Little Ditty." What results is a song that brings together three of the biggest names in the UK's ever-formidable and growing scene, setting each other up for success with contrasting flows and skillsets. Headie One's next project promises to build off the success of his GANG LP earlier this year.
Listen: Spotify | Apple Music
---
Phoebe Bridgers – "Halloween" (Live)
Before live music performances came to a halt due to COVID-19, Phoebe Bridgers played a short set at the Los Angeles Memorial Coliseum. The event kicked off Versus Creative's 50on50 series, which brings intimate sets to stadiums that are usually packed with crowds. Bridgers performed "ICU" and "Halloween" at the outdoor sports multi-purpose stadium that can usually seat up to 77,000 people. In March, 50 fans were able to witness her performance and heard songs from the album Punisher live for the first time. Director Tony Corella captured the stripped-back session, highlighting Bridgers' raw vocals and the personal atmosphere of the set. It's a surreal setting given the empty seats, but captivating nonetheless.
Watch: YouTube
---
Aminé – "Hello" feat. Luke Steele
Aminé has proven that crossing genre lines is an area in which he thrives (his "Hunnybee" Remix of Unknown Mortal Orchestra's hit is a prime example.) The same can be said about his new "Hello" collaboration with Empire of the Sun's Luke Steele. The song was produced by frequent collaborator Pasqué and The Stereotypes and finds Luke Steele's vocals holding down the chorus duties. It's vibrant, up-beat and just experimental enough. It should also make a perfect companion to his critically acclaimed project Limbo (which you should still be featuring in your rotation, by the way).
Listen: Spotify | Apple Music
---
Smino – "Backstage Pass" feat. Monte Booker
Smino and Monte Booker's collaborations are always something special. The duo returned with their latest effort, "Backstage Pass" at the top of the week and it showed off their flawless chemistry and ability to experiment. This time they sampled The Drums' Portamento hit "Money" from 2011. The now-iconic guitar riff can be heard in the backdrop with additional hi-hats. The track will appear on the official Madden NFL 21 Soundtrack.
Listen: Spotify | Apple Music
---
Fireboy DML – Apollo
Rising Nigerian singer-songwriter Fireboy DML doesn't consider himself an Afrobeat star, but rather a proponent of his Afrolife movement. After dropping a number of singles including his biggest to date in "New York City Girl" and "ELI," he returns with his sophomore effort Apollo. He blends genres with features from rapper D Smoke, Wande Coal and Olamide and showcases an overarching pop sensibility with addicting melodies throughout. "This was bound to happen," DML said in an Instagram post promoting the new record. [G]ratitude to God for blessings. [G]ratitude to everyone who worked with me on this album; gratitude to my team (YBNL/Empire), my family and the kings who blessed this project with their presence."
Listen: Spotify | Apple Music
---
Open Mike Eagle – "Bucciariati" feat. Kari Faux
Chicago-born rapper Open Mike Eagle returns with his first studio album in three years, and based on the title alone we're excited to listen to it. Dubbed Anime, Trauma and Divorce, the project will release October 16. Open Mike tapped Kari Fuax for the introductory single "Bucciariati". In a press releasing announcing the upcoming full-length, Open Mike hinted at what he's been up to these past few years. "This is the sound of a broken man sifting through the pieces while trying to rebuild, the struggle to self-critique while practicing self-care. Do you disassociate by envisioning yourself as the lead in your favorite anime, or do you reflect on your headass behavior? Tattoos and beer or push-ups and smoothies?"
Listen: Spotify | Apple Music
---