I Would Like the Supreme x Pat McGrath Lipstick, Please
In Pat McGrath, the indomitable streetwear brand has found the perfect beauty partner.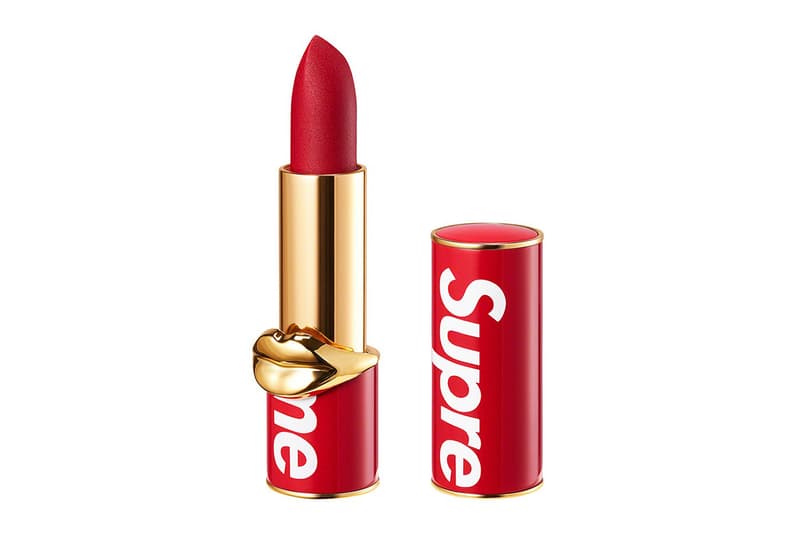 As far as I'm concerned, there's only one product in the Supreme Fall/Winter 2020 launch that really matters: a red lipstick, made by none other than Pat McGrath. I can hear the screams already: first pearls, now red lipstick? Are we trying to turn the hypebeasts into a bunch of '50s housewives? What next, quaaludes and Betty Friedan?
And so what if we were? A little Betty Draper hausfrau drag never hurt anyone. But truth be told, it's about time Supreme dipped its proverbial toe into the beauty world. It's been sitting on an iconic color for over two decades now, which it's used to turn quotidien objects into expensive collectibles with just a wink and flash of red. Red lipstick manages to be both an inimitable classic and daringly in-your-face all at once. Unlike the skincare boom or no makeup-makeup trend, red lipstick leaves you nothing to hide behind. As such, it's just the kind of iconoclastic product Supreme need only dress up with a bit of Futura in order to make it its own.
So what took Supreme so long to jump into lipstick and, for that matter, beauty as a whole? It could be that the brand needed makeup to crossover just enough into its core hetero-male audience to do so, or that after making everything from kayaks to nunchuks, it had simply run out of Supreme-branded accessories for its collectors to covet.
But, it's also possible Supreme just needed the right partner to validate its entry into the beauty sphere: enter Pat McGrath Labs, perhaps the only beauty brand with the authority and influence to match Supreme's own cult following.
Pat McGrath is far from the first successful makeup artist to launch a brand — her peers François Nars, Charlotte Tilbury and the late, great Kevyn Aucoin have all done the same and well before McGrath launched her first product in 2015. But McGrath has what Supreme has, and what countless other brands can only hope to cultivate: a dedicated community, who worship McGrath with such reverence and affection that they call her "Mother."
Born in 1970 in Northampton, England, McGrath made her way into makeup through the '80s London club scene. Her work with musicians like Caron Wheeler led to work with fashion stylists, including then-fashion director of i-D, Edward Enninful. McGrath's keen eye for color — a sharp contrast to the prevailing neutral palette of the '90s — caught the eye of model Amber Valletta and eventually one of her most frequent collaborators, Steven Meisel. Only after honing her craft for decades in countless covers, runway shows, editorials and as global creative design director for Procter & Gamble, did McGrath put her own name on some makeup in 2015.
McGrath did not launch her brand with a full line, however, but with a handful of limited-edition kits released over the course of nearly two years, each of which sold out in minutes and became social media fodder for their distinct (if environmentally-unfriendly) sequin-filled packaging. Those first few sets directly reflected her runway creations; Gold 001, which included a gold pigment and clear mixing liquid, launched in October 2015 after McGrath had drenched models' lips in gold at Prada's Spring 2016 show. 2016's Lust 004 release, comprised of red glitter, lip gloss and red lipstick, captured the bold glitter lips of Raf Simons' Spring 2013 Dior couture show.
Those first launches established Pat McGrath Labs as a destination for freeform artistry rather than a corrective, prescriptive take on beauty. She had created a world that superseded whatever trends were percolating at the time, informed not just by her months of limited-edition releases but her entire career. The arrival of McGrath's permanent line in 2017, with her Mothership eyeshadow palettes and MatteTrance lipsticks, had 25 years of expertise and — yes, that word — hype engineered into it from the start.
But despite her influence on the industry, McGrath is by no means limited by the fashion bubble. A scroll through her Instagram feed reveals not only the artists and colleagues in McGrath's sphere — ranging from drag queen Violet Chachki to beauty influencer Jackie Aina — but also clues into the otherworldly inspirations and references that make up her idea of beauty. The Girls by Tamara de Lempicka, Marilyn Monroe in Gentlemen Prefer Blondes, disco queen Donna Summer — her ability to freely cull from art, music and film rather call to mind the work of her latest partner, Supreme.
But now, onto the lipstick. The Supreme lippy uses McGrath's MatteTrance lipsticks formula, this time encased in Supreme red in lieu of their usual black bullet. If I may give an endorsement to the line — the matte texture is surprisingly weightless on the lips, a bonus for lipstick newbies not used to wearing a layer of product on their mouths. They have a powdery rather than slippery feel that leaves a velvety finish but doesn't suck the life out of the lips like some matte products.
As for the shade itself, the fittingly named "Supreme" is a blue-toned red, created exclusively for the brand. That said, the color isn't breaking any new ground. It looks likely to be a brighter version or even a dupe to an existing shade in McGrath's line: Elson, a blue-based, bold red named for supermodel and McGrath muse Karen Elson (who also inspired Elson 2 — a bright orange-red). It's a shade found in just about every makeup line under the sun, from MAC's perennially popular Ruby Woo to new classics like Fenty's Uncensored or Alexandria Ocasio-Cortez's favorite lip color, Stila Beso.
But that's not the point is it? After all, no one's buying a Supreme tennis ball or coffeemaker expecting a revolutionary tennis playing or coffee brewing experience. The subversive familiarity is precisely what you're after. And trust me, even if you've never worn makeup in your life there's nothing to be afraid of in a tube of wax and colored pigments. You might even like it.