What's the Now and Next of Men's Cosmetics?
As old societal norms are discarded, more men are taking care of their skin and nails than ever before. Faculty is here to lead the charge.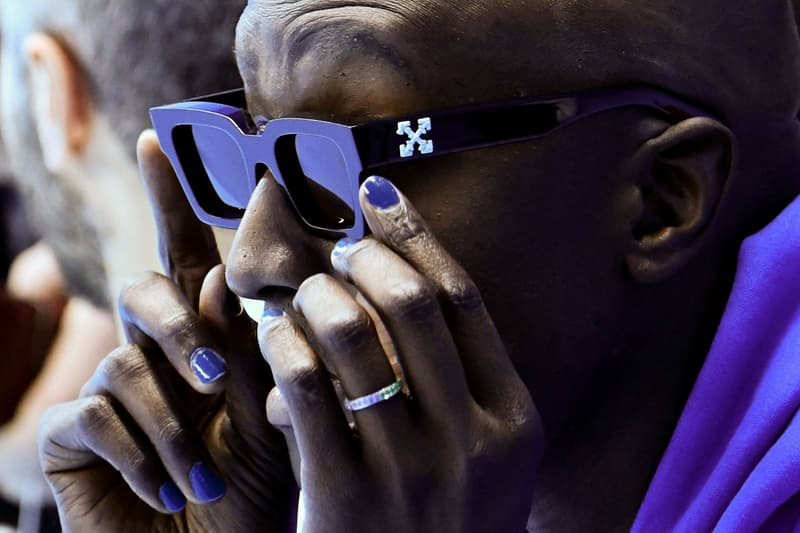 Do you paint your nails? If so, do you remember the first time you did? I'll make it personal: I do. It was right before COVID-19's U.S. onset in early March. In retrospect, that's not that long ago, but with how time's been moving in 2020 it feels like eons. As much as I'd like to assign some deep, philosophical meaning to the act, that would be disingenuous. I just wanted to get my David Bowie, my Lou Reed, my Kurt Cobain on. I'm a lifelong Rage Against the Machine fan who gleefully dances around the fringes of what's considered "normal." I saw painting my nails as a perfect opportunity to do just that.
In 2020, for most "in the know" individuals from the worlds of hip-hop, fashion, skateboarding and more the idea of men wearing nail polish or participating in other forms of grooming has been completely normalized. Even though they may not partake in polish themselves, they won't bat an eyelash at someone who does. These are the early adopters. The open-minded thinkers, and stewards of street culture who are responsible for taking a trend and gradually shifting it towards full mainstream acceptance.
Today, Hollywood stars, designers and socialites like Timothée Chalamet, Virgil Abloh, Rami Malek, Harry Styles and Luka Sabbat are often spotted in makeup or with painted nails. Even hip-hop, a longtime bastion of alpha dog male machismo has come to accept — even embrace — male grooming with amorphous individuals like Young Thug, A$AP Rocky, Latin trap superstar Bad Bunny and bassist Thundercat leading the charge.
That's not to say men haven't been painting their nails and applying makeup for decades. Far from it, in fact. Painted nails and makeup have long been commonplace in everything from drag to punk rock, metal, K-Pop and more. Think Chicago Bulls legend Dennis Rodman. Think KISS. Think RuPaul. But what's different from Dennis to Rami and Luka? The kind of man who's willing to participate in beauty has changed, so who's going to serve this new sect of early adopters?
Enter Faculty, a men's-only cosmetic brand founded by Umar ElBably and Fenton Jagdeo. Faculty takes men's cosmetics and presents them in a way that's familiar to the modern, on-trend male consumer: by following the model of limited-edition streetwear to create desire and hype around a product in an evolving realm. Although their mission may be complex and layered, they're attacking it in a direct fashion: "We just want to make your daily skincare and nail kit really f*cking cool" states ElBably.
"The same way that masculinity is evolving, men are being introduced to taking care of themselves." – Fenton Jagdeo
Cosmetics and grooming is a colossal industry. Forbes pegged its total value at a whopping $532 billion USD in 2019. It's minted young "billionaires" like Kylie Jenner and arguably birthed the YouTube/Instagram influencer: you need look no farther than a James Charles or Manny MUA for proof. Nevertheless, men's product and beauty routines seem largely confined to the influencers, artists and tastemakers listed and pictured above.
However, we're seemingly on the cusp of a mainstream men's cosmetic explosion. U.S. pharmacy chain CVS recently announced that it would carry men's cosmetics brand Stryx in 2,000 stores, about a quarter of its locations. This is an undeniably large bet from a national chain that typically serves average middle age, middle American consumers. Men's makeup moving into the mass market in this way is a huge breakthrough, considering attempts from luxury fashion houses over the last decade-plus — Chanel, Tom Ford and Jean Paul Gaultier — have been few, far between and largely unaffecting.
It's clear that the market is there for the taking. It just needs the right entity, one that can communicate in an authentic fashion with the open-minded Gen Z consumer who desires quality and cares little for gender-specific products.
Faculty is certain that it's the right brand for the job, and is planting its flag at the forefront of the forthcoming cosmetic revolution with an original concept of "third wave masculinity." According to ElBably and Jagdeo, the first wave of masculinity is traditional alpha male machismo, a longstanding ethos centered around bullish, win-at-all costs dominance. The second wave of masculinity was a backlash against this domineering mindset, one pushing for men to disavow the first wave's time-honored nature. Faculty wants to combine these two divergent mindsets in its "third wave," which — much like third wave feminism — champions freedom of expression and allows participants to craft their own ideals about what "being a man" really is. "There's no one way to be you, no one way to be masculine" says Jagdeo.
At its core, this "third wave" concept is an appealing combination of the first two waves: it takes the hardy, confident nature of the first, but masterfully melds it with the inclusivity and free thinking of the second. In the Faculty lexicon, you still can be powerful and decisive, but by defining masculinity on your own terms — be it by painting your nails, applying makeup, or partaking in other cosmetic activities.
"There's nothing that makes [cosmetics] gendered at all, it's all up to perception" – Umar ElBably
Of course, some men will feel trepidation partaking in cosmetics. It is a paradigm shift of sorts that's not without its macho stigmas. However, ElBably puts things into context by comparing it to stanchions of street culture. "Why do you wear APC? Why do you gravitate towards Frank Ocean's bleached hair? You make these decisions because people have given you permission. At the end of the day a nail polish, a concealer — they're just chemicals. There's nothing that makes these gendered at all, it's all up to perception. We're just providing the option, and if you want to start using beauty products, we're there for you."
Jagdo puts it more bluntly: "All politics aside, it's just f*cking cool. We're making it the norm because people want it."
In the world imagined by Faculty there are no rules: you present yourself however you want to present yourself, opinions be damned. It's parallel to the rise of gender inclusivity in sneaker culture. Men and women want the same shoes and generally have the same idea of what's desirable, so major footwear companies like Nike, Jordan Brand and adidas have begun producing extended size runs of popular silhouettes like the Air Force 1, Air Jordan 1 and YEEZY BOOST 350 V2. This leaves what's "dope" up to the entire consumer base instead of force-feeding it to a specific male or female sect. In its own way, this open mindset breaks down the barriers put up by traditional ideas of gender and leaves only the best product standing.
"The same way that masculinity is evolving, men are being introduced to taking care of themselves. Even putting lotion on would've seemed crazy at one point in time," says Jagdo. "We're now at a new point on the third wave masculinity adoption curve where the innovators are passing [men's cosmetics] down to the early adapters, who will then pass it down to the mainstream."
This "third wave" informs and influences Faculty to its very core, ranging from the chemical makeup of its products to how they're presented. Championing freedom of expression, Faculty wants you to embrace your masculinity however you see fit. This open-mindedness is backed up by science: the products aren't only marketed towards men, they're specifically designed for them. All of Faculty's skincare products are non-comedogenic — in layman's terms, this means that they don't clog the wearer's pores. This is tremendously important for men: typically, they have more and much larger pores than women do. These formulas may be geared towards men, but Faculty believes they're beneficial for everyone. "If you go to any male, female or anyone in between and ask them, 'Would you rather use a product that clogs your pores or one that doesn't,' they're always going to say, 'one that doesn't,'" says ElBably
The streetwear comparisons go much further than unisex sneakers, however — and are a thought-provoking topic to the Faculty crew. "Similar to streetwear, cosmetics are how you choose to express yourself, to present yourself," muses Jagdeo. "At the same time, expression is more than the way you look, more than the product you put on your face. We view Faculty as a streetwear brand, and [our products] as tokens of expression. It's not just skin deep."
ElBably continues this ethos: "There's no bounds to expression, be it in streetwear or cosmetics. It's an entirely open world, one without limitations. It's up to you to define what you really are. Because streetwear made fashion 'cool' for the everyday guy, it gave guys the permission to start caring about themselves in ways that were traditionally seen as very feminine. In that way, Faculty is indirectly a streetwear company — we just focus on beauty products."
As far as the product itself, Faculty will employ the "drop" model pioneered by brands like Supreme, Palace and countless others, releasing a single item on a specified date. When it's gone, it's gone. "Restock" is not a word you can or should expect to see in the Faculty lexicon. This "thrill of the hunt" has proved fruitful in the world of streetwear. To some, it may seem counterintuitive, but any clothing or footwear aficionado will tell you that the harder something is to discover and the more opaque the process around acquiring it becomes, the more desirable it seems, and Faculty is looking to adopt this release schedule in a new fashion. The brand's launches are set to kick off with "Moss" nail polish, a rich forest green shade with just a trace of glimmer. It's made in the USA and set to drop today, July 14 via SMS notification — you can text "FACULTY" to 29071 for updates and check out the Faculty webstore as well. Monthly drops of other nail and skin products will follow over the course of the year.
Faculty itself, the evolution of men's grooming and a new norm of beauty standards can be summed up by one final musing from Jagdeo: "We don't see it as a business opportunity. We see it as an opportunity to change culture, and change the way we talk about masculinity."
As far as me? I'm still painting my nails — I must say, Faculty's Moss polish is smashing — and although I haven't taken the leap of faith just yet I'm gradually warming up to the idea of trying a concealer or other face products. Like Faculty would tell you, masculinity is what you make it. Why not make it dashing?
---
Faculty Moss Green Nail Polish