Polished Chaos: Pink Siifu's 'NEGRO' Is Unapologetically American
The artist speaks on the senseis who led him to his new punk record.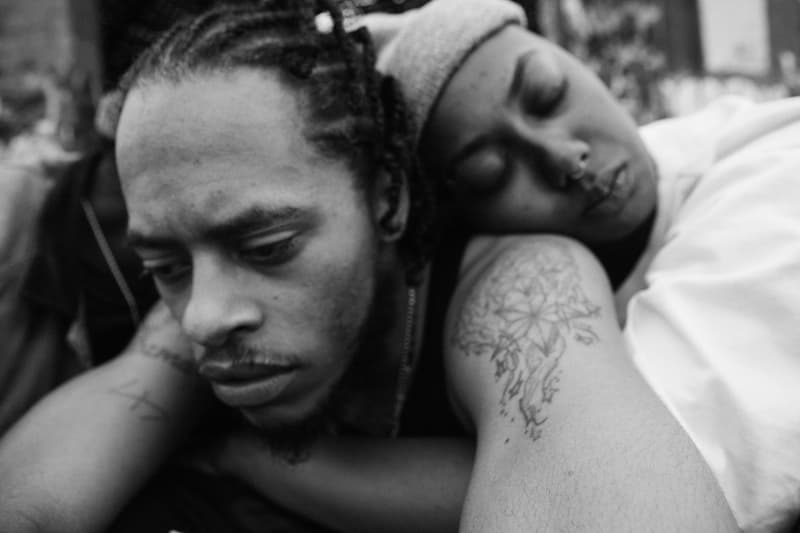 When I called the ever-prolific artist known as Pink Siifu, born Livingston Matthews, to talk about his latest full-length project NEGRO, he immediately recognized my Ohio area code on his caller ID and compared it to his Cincinnati one. Even if Cleveland and Cincinnati are at opposite ends of the Buckeye state's Midwestern spectrum – it's a four hour drive slicing through the center of the state via I-71 South – the distance was close enough to have the familiarity bridge the gap on our first phone call.
At the time, Siifu was holed up in his Los Angeles apartment, soaking up the sun and finding new ways to invent visuals, tapping into his creative drive amidst the unprecedented times and limitations of the coronavirus pandemic. But his mind was still on one of the few cities that he's called his hometown.
"People's patience is a little bit better, but people are still crazy out there though," he said of his time spent in Ohio. "You can still get shot… or robbed. It is mad peaceful though. I low-key want a crib out there just to have because Cincinnati, that's the hometown. I always wanna pull up there."
NEGRO stands out in his near-endless discography full of exciting and unexpected left-turns. Pink Siifu's Bandcamp would take over a week to listen to from first project to last. His need for experimentation is worthy of an obsessive compulsive diagnosis. Siifu's eclectic list of inspirations and relocations from Birmingham to Cincinnati, time spent in New York and now Los Angeles have given him a perspective that's devoid of cliche and solely his.
He opened up his latest album with the ",NEGRO" music video that aligned with his critically acclaimed if not somewhat criminally overlooked enlsey from 2018. The track sampled Eddie Kendricks' 1977 classic "Intimate Friends" with a nostalgic video complete with subtitles so you could digest every word. Then came the album.
The premiere of his album's title track was a purposely placed misdirection, as NEGRO aligned more with his first punk record, fuck(demo). It's politically charged with an anger and frustration of four years adjusting to the surrealism of American life under the current regime. Its album cover depicts the artist painted with acrylic. He's battered and bruised, his blood leaking onto the American flag in the background.
While Pink Siifu compared the time in government-mandated quarantine to house arrest, the opportunity to learn more from his influences so that he can venture deeper down the infinite rabbit hole of discovery is not lost on him. He's always learning, always looking for the next artist to spark his future creative detours. Siifu thrives in organized chaos.
Following the release of his latest full-length LP, NEGRO, Pink Siifu joined HYPEBEAST to talk about his tireless pursuit of genre exploration, his blatant disregard toward expectations and his ever-growing list of senseis.
---
"You see Pink Siifu at a festival and you don't know what to expect from that artist with that name. Because I'ma do everything."
HYPEBEAST: Where are you for the current coronavirus quarantine?
Pink Siifu: I'm in Los Angeles, California. I'm with my roommate, my friends, my friend Sylvia who shot the only video that's out right now for NEGRO. I'm chillin' at the crib. I shot a couple of videos though through this quarantine sh*t. [Coronavirus] put a lot of sh*t on pause because I was supposed to do probably five videos. I was gonna do two in New York then I was gonna come back and do a couple but then that shit just put all those old videos on hold so I was like, "F*ck it, I at least gotta do two," so I ran 'em. They're gonna come out soon.
That's great that you're still creating. As an artist, adapting to the times to tell your story and doing more with less from a limitation perspective can spark something unexpected I'd imagine.
That's facts. It feels like prison but I'm so happy it's not prison. I ain't never been locked up before but my dad been locked up and I know a lot of n*ggas that's been locked up for a long time, but this is the closest I can get to that. This is like being in a box. This like low-key house arrest. It's making me have that perspective, "At least you ain't locked up, at least you ain't dead." There's so many that already died off this sh*t, or n*ggas who know n*ggas that died off this. Thank God [coronavirus] ain't affect no one in my family… yet.
You dropped the title track with the visual, and then listening to the album, it tells a completely different story, sonically. What inspired the punk-infused, noise-rock sounds with those energetic and abrupt beat switches?
Just the Black experience really. Definitely artists that I listen to. I grew up on Cudi for real, for real. Andre 3000 is my favorite artist period and Love Below is one of my favorite albums. It's probably 'cause he just flipped it with jazz, with like a play. I loved that. To Pimp A Butterfly is one of my favorite albums for that same reason. I love when n*ggas f*ck with jazz so that's probably why. Anything that just flips and is unexpected I f*ck with. I grew up on Outkast and the different sonics in their sh*t. The Dungeon Family — I'm from Birmingham — so they're literally the heroes of my city.
My ex put me onto Bad Brains and this live show that they did — Bad Brains Live at CBGB 1992 — and that changed my life. I found out about [metal band] Death through my homie Ringgo — Mndsgn. Gonjasufi is one of my favorite artists and his music will just make you feel like you in a desert with a shotgun on you. Just protected and powerful. I love Death Grips… Badu one of my favorite n*ggas too. I f*ck with her with how she can group people into her albums. That's what I be trying to do.
Those are a ton of influences. You've moved around a lot in your past too from Birmingham to Cincinnati, Los Angeles and New York. How have the experiences shaped your sound?
It definitely helped shape my influences because of my homies and what my friends were listening to. People I've met along the way. I be trying to make my music sound like what Birmingham make me feel like and what Cincinnati make me feel like. Along the way, the producers I meet add elements of where they from. I still believe that it's all about where you're from, too. It's definitely about where you at, but where you're from plays a big factor in how your sh*t sound.
I like sitting in the studio with four n*ggas and just being like, "Yo, where you from? Oh you from Chicago. Alright, where you from? New Orleans. Atlanta. Cali." Then we're about to make some different sh*t because of those backgrounds. If you're a musician then you probably played in the church so you'll sound different. Your swing will be different, your whole style. I low-key miss home.
How'd you decide on the album title?
I was shuffling through a couple names. It was gonna be called To Be Angry. I had a demo called fuck(demo) that I got four of the songs on the album from that. I'm just a n*gga in America and I feel like that word explains the experience. Like white people can't say n*gga but they've been saying Negro and that's instilled in us. Low-key it has the same effect. It's a weird word because it holds a lot of memories and history.
That's why I took a picture of the flag — I picked that [album] cover from an old photo of me that I shot with Eric Coleman. Then on the painting I got scars and the blood is on the American flag. All that sh*t combined is what Negro means when you hear that sh*t. Junkyard from Florida painted it. He did the cover of my first punk project and I told him I was gonna do a full-length but it just took me a minute. When I was ready I sent him the photo and I was like, "Just repaint this." He killed it.
The fact that the project was almost called To Be Angry is fitting too because that anger, frustration and even exhaustion is palpable throughout. It's a timely political record. How are you feeling about America these days, especially in an election year?
Man, America is on some a** (Laughs). It don't matter who you are: Democrat, Republican. Right now? Everybody feel the same way. So if everybody feel that way, then what the f*ck really going on, my n*gga? Now it's no argument. We all know America been f*cked up on some other sh*t. Slavery, reparations and all that other sh*t that n*ggas don't wanna talk about. But hey, I'm American.
I definitely want a crib somewhere else overseas but I'm from here and I ain't really going nowhere. I would think this is the soundtrack to evoke someone to change sh*t but I don't know all the political answers. I ain't all that up to date. I just know n*ggas need to know their mayors in their cities and we need to have that n*gga's number in our phones. There's n*ggas like Westside Gunn and Nipsey Hussle who tapped in with mayors. So there needs to be more like that because we ain't gonna see the change we really need until we see a little bit.
"I ain't never had no family reunion. All my family reunions are funerals, so I've had hella family reunions if we talking that."
When did you find the importance of protest and of community when setting out to record a full-length punk album?
Man, that's just Black sh*t. Me having a big family and me having hella cousins. Going to funerals. I ain't never had no family reunion. All my family reunions are funerals, so I've had hella family reunions if we talking that.
Then there's finding your family in this music sh*t and that's the same thing. It ain't even no pressure. The people on this record are who I'm inspired by. Zeroh, who mastered it, is one of my favorite artists. He changed my whole perspective on music when I came to LA. Everyone that worked on this are n*ggas I'm inspired by, my homies, my family. There's different layers of relationships but anyone on this is one of those.
What did you learn from Zeroh through this project?
I mixed the whole album, but Zeroh mastered it. Zeroh's my n*gga but he's one of my senseis bro. I got a few of senseis. Zeroh is sensei, Badu is sensei, Jill Scott is sensei, Thebe — Earl Sweatshirt — is sensei. Ganjasufi sensei. Three stacks, Big Boi, there are so many n*ggas in my book that are senseis. BbyMutha, Liv.e. Artists who inspire me and I wanna be like. Dilla, Sun Ra, Amiri Baraka.
I've known Zeroh since 2013. We definitely got closer through this but we go way back. And he got an album coming out and his sh*t crazy. I feel both our albums are like Tekken, like Jin and the other n*gga. Both dark, from different perspectives but it's some Black sh*t as an experience. But his sh*t crazy dark though, all shadows going down in a Harry Potter forest. My sh*t sound like fire, his sound like black smoke. I wanted him to scream on it, but he just mastered it. That's all I needed.
You teamed up with Slauson Malone again and reached out to Nick Hakim for "run pig run." How'd that collaboration happen?
I just got off FaceTime with Slauson Malone and he was congratulating me. Slauson really changed my whole sh*t. He one of those senseis as well, but he's really my bro. We the same age and man, he's so crazy. I needed him on this album. Even the way I sequenced it was inspired by him and Bad Brains. Because of him I had to go off mad different.
It had to be polished but had to be chaos. Nick Hakim plays punk music with Onyx Collective. A lot of n*ggas don't know that. He showed me some of that and I needed him on my album. I told him, "You can scream on some sh*t or you can send me a beat." One of the beats he sent me was a 12-minute weird a** jam session with him and Jasper [Slauson Malone]. I took a loop from that. I distorted it and made it sound more f*cked up. They were messing with screwdrivers and a broken guitar. When they sent me it, I thought they were gonna send me some pretty sh*t, but it was weird and scary.
You also dedicated the first track to Ras G. How'd he influence your career?
Have you heard Back on the Planet by Ras G? Listen to it again. If you don't do anything else please listen to [that album's] intro. Because the intro of that album is what this song is a tribute to, like directly. When I heard that, it blasted me off. Through Ras G's music I learned through Sun Ra and he's one of the biggest influences to my whole ideology.
He just taught me you can think outside of the box with nothing. He always stayed five albums ahead. He would do one-offs with different labels. He'd have like 20 albums on-tuck just to send off to n*ggas. He was so productive, bro. I've seen [Ras G's] Afrikan Space Program live at Low End [Theory]. Everything they did for the LA beat scene community — it made me pride myself in being Black. His bass on his speakers — if you never heard him you missed out. You felt that in your heart and ain't nobody else can do that.
"White people can't say n*gga but they've been saying Negro and that's instilled in us. Low-key it has the same effect."
You mention the Christopher Dorner shootings on this album too. What was it about that situation that made you want to reference it?
When I found out what he did, it was like a movie. It was different for me. He's the n*gga in my movie that I never got to make. I'm gonna remember that n*gga forever. I'ma make that movie for sure. I'm definitely making movies, bro. After my next solo album, and I got 3-4 [projects] in between that, I'm about to take a break and do movies because I grew up in theater. Lakeith Stanfield definitely got me inspired.
What would you say to people who gravitated toward your last album, 2018's ensley so much then are presented with the drastic change in sound with this record?
I wanted you to get caught by surprise, bro. I wanted everyone to get caught by surprise. That's why I put out that first song.
Yeah it was definitely trippy. That first visual and song was so soulful and then I was playing the first three songs on the album and I was like, "Wait a second, did he send the right project?"
(Laughs). Then you go all the way to the end and hear that sh*t. It's a trip. It's a journey. When I picked my name, you see Pink Siifu at a festival and you don't know what to expect from that artist with that name. Because I'ma do everything. This [album] is a testament to that. Because ensley, bro I do not know when I'm gonna make a full rap album where I'm just rapping on every song again. I purposely did that. Those beats are so soulful, I wanted to sing so much on ensley, but I was like, "Nah, I've never put out a full rap album where I just rap."
I did that for my family. Check that off. What's next? That's how I move. It's gonna go jazz, it's gonna go soul, it's gonna go blues. Experimental, psych-rock, funk. That's all I grew up on from Prince, Parliament, D'Angelo. I love Grace Jones, n*gga. I ain't about to make no country or bluegrass. Duh. But I feel like I can make anything. It's all Black music at the end of the day, so run that sh*t.