Robert E. Lee Statue to be Removed From U.S. Capitol
Finding a new home at the Virginia Museum of History and Culture.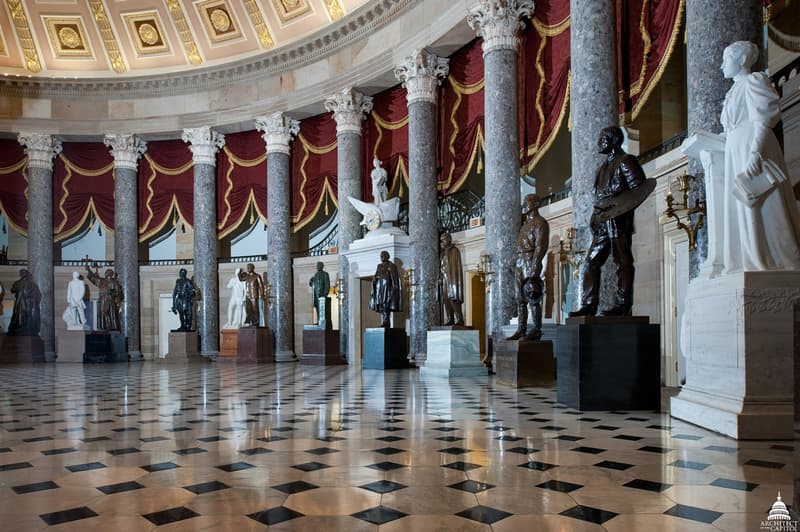 Amid the Black Lives Matter protests that took place nationwide in the wake of the murder of George Floyd, a large crowd in Virginia vandalized and attempted to topple a 130-year-old statue of Robert E. Lee. Virginia Governor Ralph Northam ordered the state's Department of General Services to take down the the statue immediately, stating that "we can no longer honor a system that involved the buying and selling of enslaved people." Another statue of Lee, which is located in the United States Capitol building, is facing removal as well — although this one will find a new home at a museum.
Earlier this month, Commission for Historical Statues in the United States Capitol voted unanimously to move the statue to the Virginia Museum of History and Culture in Richmond. Last month, the U.S. House of Representatives passed a bill to remove Confederate statues from the Capitol's National Statuary Hall, which includes 100 statues contributed by 50 states. "I commend and support the Commission's decision to promptly remove this relic from the halls of Congress and replace it with a new statue that embodies the inclusive Virginia we aspire to be," Northam wrote.
The Commission for Historical Statues' decision to remove the Capitol's Lee statue coincides with the controversy surrounding the statue of the same Confederate general located on Monument Avenue in Richmond. Although Northam announced plans to remove it, he was met with resistance by Judge Bradley Cavedo, who said the state is a party to a deed that was penned in March 1890 stating that it will "faithfully guard" and "affectionally protect" both the monument and its 40-foot pedestal. The decision also follows ongoing debate that says all Confederate monuments across the U.S. should be removed.
In other news, a new campaign called AFROSURF hopes to document Africa's overlooked surf culture.