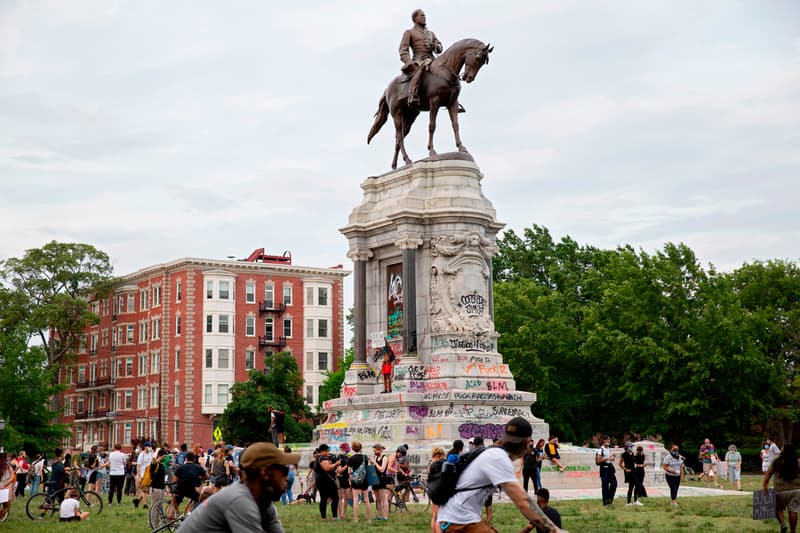 Richmond Judge Temporarily Blocks Virginia Governor's Order to Remove Controversial Robert E. Lee Statue (UPDATE)
The injunction will prevent the statue's removal for the next 10 days.
---
UPDATE (June 10, 2020): Last week, Virginia Governor Ralph Northam announced plans to remove the controversial statue of Confederate General Robert E. Lee. Recently, however, a judge in Richmond issued an injunction to prevent the removal of the statue for the next 10 days, citing that the state is a party to a deed that was penned in March 1890 stating that it will "faithfully guard" and "affectionally protect" both the monument and its 40-foot pedestal. The order goes on to mention that it's in the public's interest to wait for the case to be resolved before removing the statue.
"[Gregory's] family has taken pride for 130 years in this statue resting upon land belonging to his family and transferred to the Commonwealth in consideration of the Commonwealth contractually guaranteeing to perpetually care for and protect the Lee Monument," the complaint stated, as per the Associated Press.
Northam's order to remove the 21-foot Lee statue was fought with a lawsuit from a descendant of an old Virginia family, William C. Gregory, who is also a descendent of two signers of the aforementioned deed, as per Artnet. Alena Yarmosky, a spokeswoman for Northam, said in a statement that the governor's administration is still reviewing the order.
The statue has been vandalized during recent Black Lives Matter protests in Richmond. On Monday, demonstrators projected a portrait of Floyd on the pedestal along with the words "Black Lives Matter" Richmond's city council has unanimous endorsed removing all of the statues, The Richmond Times-Dispatch reported.
---
ORIGINAL STORY (June 5, 2020):
On June 4, Virginia Governor Ralph Northam announced plans to remove the statue of 130-year-old statue of Robert E. Lee — the general of the Confederate Army during the American Civil War. Northam's decision to remove the controversial landmark comes amid the recent Black Lives Matter protests that have taken place nationwide in the wake of the murder of George Floyd. This past weekend, a large crowd vandalized and attempted to topple the Lee statue by force. An image of Floyd with the words "NO JUSTICE NO PEACE" was also projected onto it.
Northam has ordered the state's Department of General Services to take down the the statue immediately. It will be kept in storage indefinitely while his administration "work[s] with the community to determine its future," as per Artnet ."In 2020, we can no longer honor a system that involved the buying and selling of enslaved people. Yes, that statue has been there for a long time. But it was wrong then, and it's wrong now. So, we're taking it down," Northam said in his press conference statement. Having added: "That statue has been there for a long time. It was wrong then, and it's wrong now. So we're taking it down."
Today, we're here to be honest about our past and talk about our future.

I strongly believe that we have to confront where we've been in order to shape where we're going.

— Ralph Northam (@GovernorVA) June 4, 2020
Richmond's mayor Levar Stoney also announced plans to remove all Confederate statues along Monument Avenue on July 1 when a new measure will take effect, granting Virginia's cities and counties permission to alter or take down their own Confederate monuments. The state itself has more Confederate monuments than any other with the city of Richmond, which was the capital of the former Confederacy, being home to prominent statues of Confederate leaders including Lee, J. E. B. Stuart, Jefferson Davis, and Thomas "Stonewall" Jackson that are all erected on Monument Avenue. Across the United States, however, there are a total of 770 Confederate still standing with approximately 1,800 Confederate symbols or names are emblazoned on public spaces such as government buildings, schools and parks, as per Lecia Brooks, spokesperson for the Southern Poverty Law Center.
"Richmond is no longer the capital of the Confederacy—it is filled with diversity and love for all—and we need to demonstrate that," Stoney said in a statement.
For years, civil rights activists have demanded that Confederate monuments be taken down. The statues are seen as symbols of racism that not only pay tribute to former slave-holders, but also reflect a system of racial inequality. Those who don't want the statues to be removed argue that they represent American values and Confederate history. "That statue [Robert E. Lee] is also a symbol of hate and oppression in a bygone era that characterizes black people in Virginia as less than and sought to dehumanize us and institutionalize us as beneath white people." said lawmaker Del. Jay Jones in a tweet.
In the days since Floyd was killed in police custody, artists have taken to social media to share original artworks, created in both physical and digital mediums, to honor Floyd's memory, Ahmaud Arbery's, Breonna Taylor's as well as those of Black victims of police violence and racism.
Brilliant. A projection last night on the Robert E. Lee monument in Richmond. (Photo: Coleman Jennings/VPM News) https://t.co/AKNwr2HqB5 pic.twitter.com/0TO0fRrMwC

— John Edwin Mason (@johnedwinmason) June 4, 2020